Deduno solid, but Twins can't provide support
Pinto homers in ninth as right-hander on losing end of pitching duel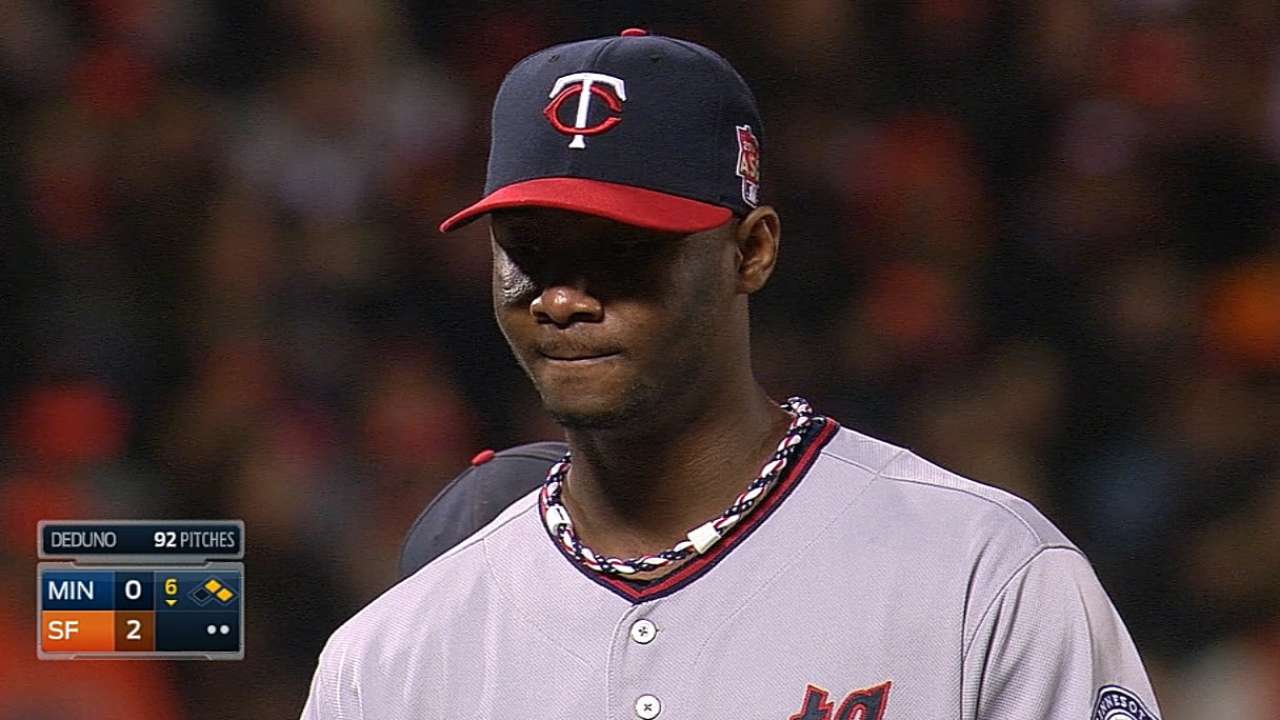 SAN FRANCISCO -- The Minnesota lineup had no answer for Giants starter Ryan Vogelsong on Saturday night at AT&T Park in a 2-1 loss.
Minnesota's cold offense meant right-handed starter Samuel Deduno was saddled with the loss despite a solid effort on the mound. The Twins avoided their third shutout of the season when Josmil Pinto led off the ninth with a homer off Giants closer Sergio Romo, but it was the only offense they could muster.
"We had an opportunity and that's what you look for," Twins manager Ron Gardenhire said. "Not enough offense tonight and mostly that's because of their pitching staff."
At least Deduno (1-3, 3.48 ERA) did his part, going 5 2/3 innings and giving up two runs on four hits and three walks while striking out four.
It marked Deduno's fourth start since taking over a rotation spot for an injured Mike Pelfrey (groin) earlier this month. Since moving to starter, Deduno is 1-2 with a 3.97 ERA, which is encouraging given that Pelfrey is still working to improve his velocity at Triple-A Rochester.
More than anything, Gardenhire said he's encouraged that Deduno has been able to bounce back strong after undergoing shoulder surgery last September.
"We'll keep running him out there," Gardenhire said. "You earn your spots up here and he's definitely doing that. I don't think anybody -- if he keeps pitching like that -- is going to take his spot in the rotation."
Hot-hitting Giants third baseman Pablo Sandoval started off the scoring with an opposite-field solo shot off Deduno in the second inning. Deduno said he elevated a changeup to Sandoval on his home run, but that he was happy with his outing overall.
Upon hearing that Gardenhire plans to keep him in the rotation going forward, Deduno said, "That's my goal. That's what I've been doing for many years. I want to stay."
In retrospect, Gardenhire also pointed to a botched double-play attempt in the bottom of the sixth inning as a key sequence in the loss. The Twins weren't able to turn a 6-4-3 to double up Buster Posey at first base, allowing Angel Pagan to reach third.
Pagan would eventually score the game-winner on a sacrifice fly from Sandoval.
"They didn't score many, either; it was just one of those games," Gardenhire said. "We missed one double play, there's your second run and that's pretty much the ballgame as it turned out. Didn't know it at the time, but as it turned out, it was a big play."
Minnesota's best opportunities to score happened in the early going, but Vogelsong appeared to find a groove as the game progressed. The Twins put runners on first and second with one out during the top of the first and hit doubles in both the second and third innings, but had nothing to show for it.
Vogelsong (3-2, 3.20 ERA) continued his strong month of May with another quality start. He finished 6 2/3 innings, allowing three hits and one walk while striking out seven.
"He spots his pitches and he's got that good cutter on both sides of the plate, the good offspeed and mixes it up really well," Twins outfielder Jason Kubel (0-for-4) said. "As long as he's hitting his spots, he'll be very effective."
After seeing the Twins draw six walks against Giants righty Tim Lincecum on Friday night, Vogelsong said his plan was to stay aggressive.
"Watching Timmy last night, I saw they were spitting on some pitches that were pretty close," Vogelsong said. "All the studying I did, I saw that's something that they do. So I just really tried to attack the strike zone, get ahead and get in counts I wanted to be in and make them have to swing."
Through the first two games of the series in San Francisco, the Twins have gone a combined 0-for-14 with runners in scoring position while leaving 17 runners on base. While Kubel acknowledged the team needs to generate more offense, he and his manager were both happy with the club's effort Saturday night.
"We came in at the end against one of the better closers and put up a run against him, put up a fight and cut it back down to one run," Kubel said. "As long as we keep fighting every night, every day, we should have a lot more chances."
Alex Espinoza is a contributor to MLB.com. This story was not subject to the approval of Major League Baseball or its clubs.