Maurer's rough outing dampens retro night
Righty chased in Astros' five-run fifth; Jones' hit streak at 14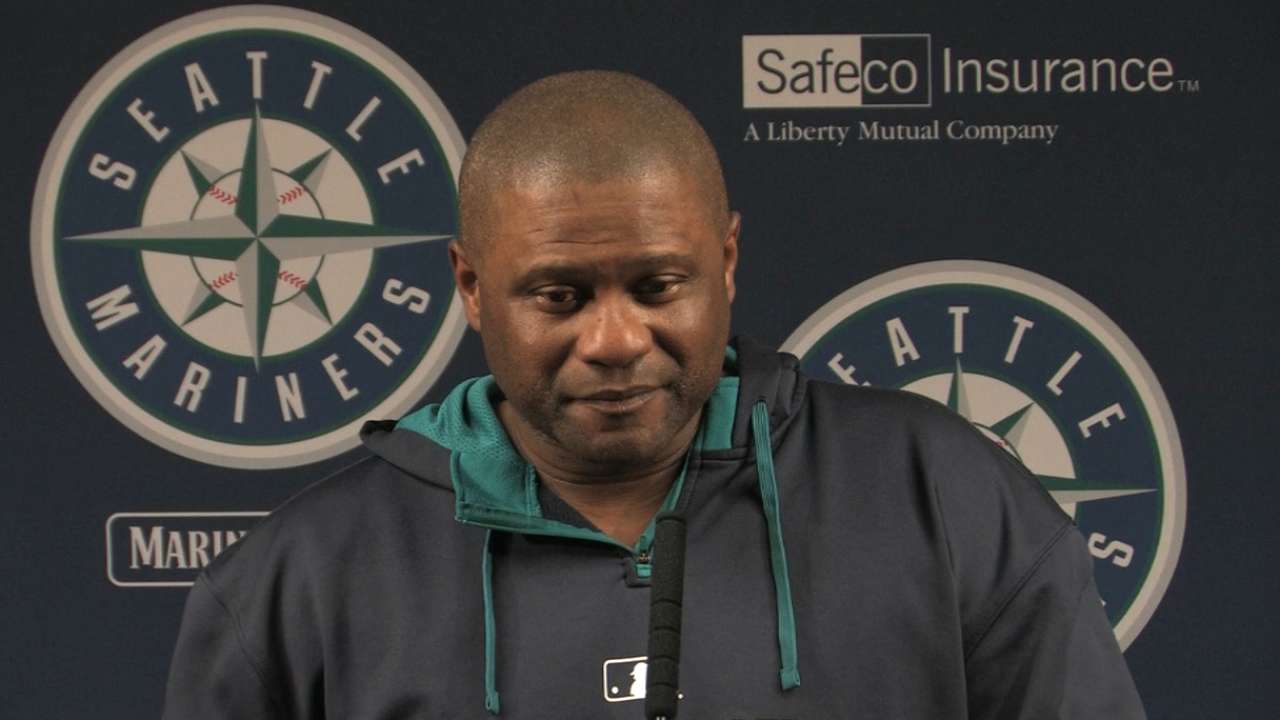 SEATTLE -- Don't look for Seattle skipper Lloyd McClendon to go modeling the 1979 Mariners uniforms again anytime soon.
After his club turned in one of its poorer efforts this year in a 9-4 loss to the Astros in Saturday's Turn Back the Clock Night, McClendon was asked if he wanted to burn the throwback uniforms and caps sporting the old Mariners trident.
McClendon thought for a moment before responding with a half-smile.
"Out of respect, no," he said. "But do I want to wear it anymore? No."
Indeed, the Mariners will look to flush this one as quickly as possible after Astros rookie right fielder George Springer launched a pair of two-run home runs off Mariners right-hander Brandon Maurer and proceeded to spoil Seattle's recent run of success with a runaway win in front of 21,585 fans at Safeco Field.
Maurer couldn't turn back time or the Astros, as he continued his seasonlong struggle, falling to 1-3 with a 6.99 ERA by allowing six runs on six hits over 4 1/3 innings.
Veteran catcher John Buck, who has caught most of Maurer's outings, said there hasn't been one common theme to Maurer's implosions. The youngster has looked sharp at points in virtually every game, and he recorded 11 straight outs Saturday until running off the rails in the fifth.
"No, it's different situations," Buck said. "If it was all of a sudden he's getting whacked around and it's obvious, then yeah, that's a trend. But if you were to really look back and evaluate and look at film and see the way he's getting beat, it's different ways.
"Tonight unfortunately it was a couple of home runs that hurt him that were big hits, but it hasn't been that. One time, it was walks. Another time, it was a couple bleeders, he got hurt with ground balls. Our defense failed him on one day that I remember in particular. I think he's fallen victim to that stigma. But the stuff I'm catching is still sharp."
And that is why the Mariners have continued giving Maurer opportunities, as the youngster brings a mid-90s fastball and some quality breaking pitches but hasn't been able to put it all together with any consistency.
Since being called up following injuries to James Paxton and Blake Beavan, the 23-year-old Maurer has managed to go beyond five innings in just one of his six starts.
McClendon declined to get into whether Maurer will be given another start to find himself. Paxton threw his first rehab start Saturday in Triple-A Tacoma but went just three innings and doesn't figure to be ready for at least one more Minor League outing. Erasmo Ramirez is another option to return, though he's 0-3 with a 4.94 ERA in four Tacoma starts.
"I'm just looking at tomorrow's game right now, trying to win a game tomorrow," said McClendon, who'll have Hisashi Iwakuma on the mound Sunday looking to clinch the series win in a 1:10 p.m. PT start.
McClendon had plenty of reasons to look ahead after his team threw out a clunker against an Astros team that had lost four straight coming in and was starting a pitcher in Brett Oberholtzer who was 0-6 with a 5.68 ERA.
"That wasn't much of a game," McClendon acknowledged. "We didn't give ourselves much of an opportunity. Nobody ever wants that type of game, but when it happens, it happens. You move on and get ready for the next one."
Things didn't get much better after Maurer's early departure, as the bullpen saw its streak of 15 2/3 scoreless innings snapped when Tom Wilhelmsen allowed three runs in 1 2/3 innings. Wilhelmsen hadn't given up a run in 12 2/3 innings over his previous 11 appearances, but walked four and allowed two hits in a rugged outing as well.
"Just one of those days," said Wilhelmsen, echoing a common clubhouse theme. "We'll get 'em tomorrow."
Seattle dropped to 24-24 with the loss, though this still stands as the first time the Mariners have been at .500 after 48 games since 2007, and the club is currently a game out of a Wild Card playoff spot. Houston improved to 18-32.
The Astros jumped on Maurer for two runs before he could get an out, as Jose Altuve walked on five pitches and Springer launched the first offering he saw for a two-run opposite-field home run.
Maurer settled in after that, retiring the next 11 batters before the wheels came off in the fifth as Houston scored four more runs -- capped by Springer's second homer -- before McClendon pulled the youngster with one out.
"I lost conviction. I wasn't throwing with confidence in my pitching," Maurer said. "I don't know. It just kind of went away, I guess."
Seattle answered the Astros in the first inning against Oberholtzer, when Kyle Seager laced a bases-loaded grounder that led to two runs scoring when first baseman Marc Krauss threw wide to second base.
But the Mariners had no counter to the seven runs Houston posted in the fifth and sixth frames. Springer, one of baseball's top young prospects, went 2-for-5 with five RBIs and now has six homers and 20 RBIs since being called up April 16.
Mariners second baseman Robinson Cano extended his career-best streak of games reaching base to 31 with a 2-for-4 night and two runs scored, raising his batting average to .330. That streak is the longest by a Mariners player since Ichiro Suzuki reached in 43 straight games in 2009.
Rookie center fielder James Jones extended his hit streak to 14 games with an infield single in the second, though he needed a replay review to overturn the out call on his grounder to third.
Seager tripled and scored in the eighth to cap a 2-for-4 night as he's now hit .295 over his past 31 games to raise his average to .248.
Greg Johns is a reporter for MLB.com. Follow him on Twitter @GregJohnsMLB as well as his Mariners Musings blog. This story was not subject to the approval of Major League Baseball or its clubs.