Springer's two dingers lift rainbow-clad Astros
Oberholtzer fans eight in six frames to notch elusive first win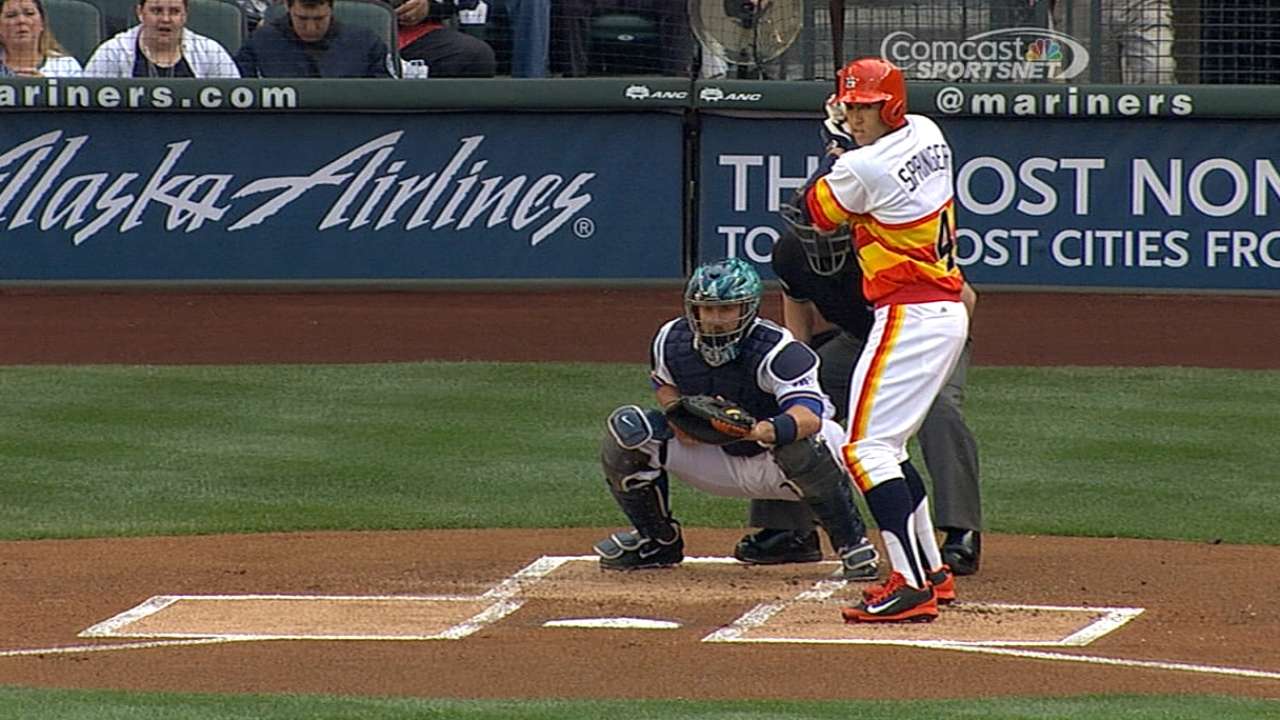 SEATTLE -- Welcome back, George Springer.
After sitting out a pair of games in which the Astros scored a total of two runs, the rookie outfielder returned to the lineup Saturday night at Safeco Field and belted a pair of two-run homers and drove in a career-high five runs to spark a 9-4 win over the Mariners.
Springer, who injured his right hip flexor Wednesday in Anaheim and sat out the first two games in Seattle, hit a two-run homer to right off Brandon Maurer on the first pitch he saw in the first inning and added a two-run blast to left off Maurer in the fifth that put the Astros ahead, 6-2.
"That's pretty impressive," Astros manager Bo Porter said. "To sit out for a couple of days and the first pitch you see, to hit it out of the ballpark the opposite way, that's definitely good to see. Today was a really good team win all the way around."
Behind the rookie's big day, the Astros snapped a four-game losing streak and enjoyed their biggest offensive day of the year, setting season highs in runs scored while wearing 1979 throwback rainbow jerseys. Houston also matched a season high with 11 hits.
"That wasn't much of a game," Mariners manager Lloyd McClendon said. "We didn't give ourselves much of an opportunity. We've had our share of close games this year, and that's a little tough to handle. Nobody ever wants that type of game, but when it happens, it happens. You move on and get ready for the next one."
Springer became the first Astros rookie to have a multihomer game since Hunter Pence in 2007. All six of his home runs have come in the last 13 games, and he's hitting .278 with 11 runs scored and 14 RBIs during that stretch. He's hitting .293 in May.
"Just tried to get something good to hit and hit it," Springer said of his first homer. "I obviously hadn't played in a couple of days and was just trying to hit something hard and was able to hit a homer. I really wasn't trying to."
Springer heaped praise on Jose Altuve, who was on base ahead of him three times. Altuve went 2-for-4 with a walk and has hit safely in 15 of his last 16 games, during which he's hitting .423. The multihit game was his 11th in the past 14 games as he pushed his league-leading hit total to 68.
"They're concerned about him and he can run, and with him on base, it makes it easier for me to be more selective and still be aggressive," Springer said. "The home runs tonight were all on him. He got me into a good hitting count and I was able to hit from there."
Porter has found a potent 1-2 combination at the top of the lineup.
"It's one of those things where obviously Altuve is swinging the bat extremely well," Porter said. "He's one of the best base stealers in the game, which puts a lot of pressure on the other team. Pick your poison. George is a really good fastball hitter. If you want to spin him, Altuve is probably going to steal the base, or if you bounce them, he's going to advance to the next base. And if you throw fastballs, George is going to put a good swing on it and hit it hard somewhere."
That offensive outburst was good news for Astros left-hander Brett Oberholtzer, who picked up his first win since shutting out the Mariners on Sept. 1 last year. He was 0-10 in 11 starts since that win, though his 4.55 ERA in that span was indicative of a lack of run support.
"I haven't had fun in a while pitching, and tonight I definitely had fun," Oberholtzer said.
He began the year in the Astros rotation and went 0-6 with a 5.68 ERA in seven starts before being sent down. He made two starts at Triple-A Oklahoma City and was 1-1 with a 3.75 ERA before being recalled Friday to give the other starters an extra day of rest.
"What helped me best by going down there, it's a slower game," he said. "It's the Minor Leagues. For me, it's a good opportunity just to step back and reevaluate myself and get myself corrected ... really get my mental state of mind back and know who I am and what I do best and try to establish that again in the big leagues."
Oberholtzer went six innings and allowed three runs (two earned) and six hits with eight strikeouts. He has allowed four earned runs or fewer in all 15 of his Major League starts, which is the longest such streak by a lefty in team history.
"Obie did a great job attacking the strike zone," Porter said. "That's one of the things that we talked to him about when we sent him down. Not only attacking the strike zone, but he did a good job of pitching in, which had plagued him. In his first stint up here this year, he had gotten away from his effectiveness on the inner third of the plate, and he got that back today and really attacked both sides of the plate."
Brian McTaggart is a reporter for MLB.com and writes an MLBlog, Tag's Lines. Follow @brianmctaggart on Twitter. This story was not subject to the approval of Major League Baseball or its clubs.