Bloomquist earning increased time at shortstop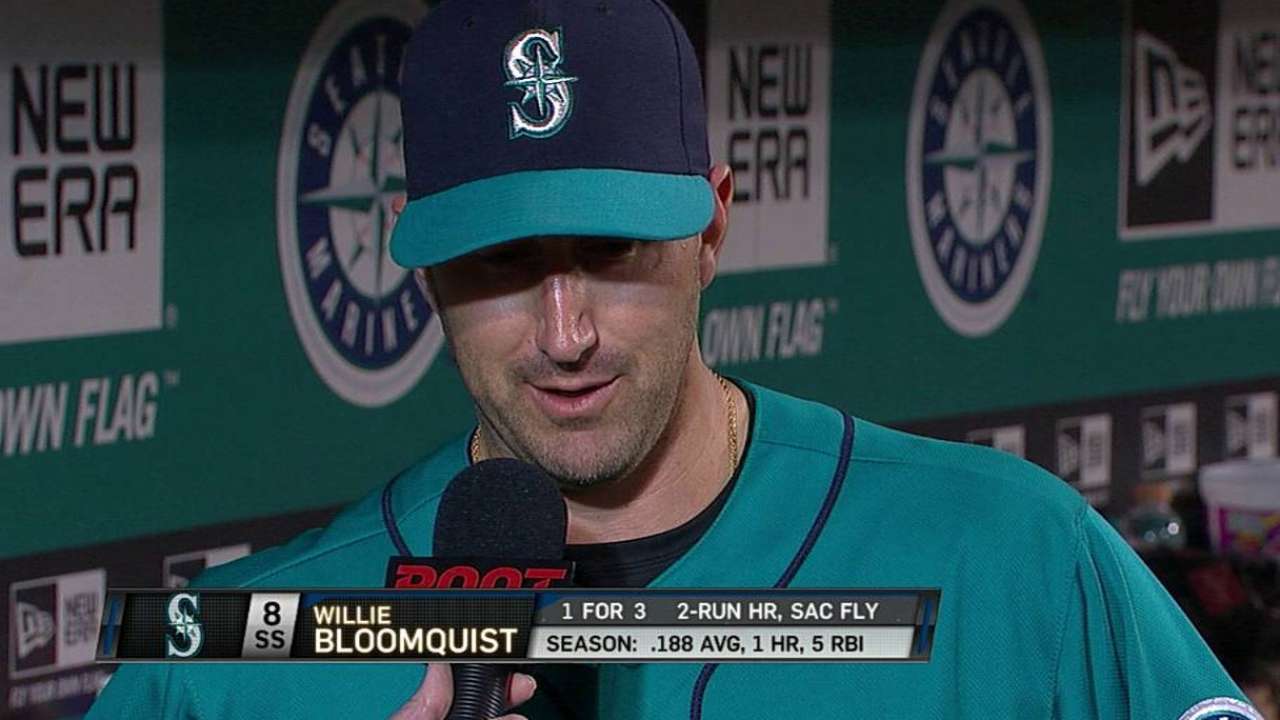 SEATTLE -- When Willie Bloomquist signed with the Mariners as a utility player, he didn't know exactly when or where his playing time would come, but he vowed to be ready for whatever possibilities arose.
Now with Brad Miller struggling, Bloomquist finds himself getting most of his opportunities at shortstop and he was in the lineup there for a second day in a row Saturday after going 1-for-3 with a home run, sacrifice fly and three RBIs in Friday's 6-1 win over the Astros.
Bloomquist is hitting just .188 in 18 games (12 starts), but this will be his ninth appearance at shortstop and sixth start there. He's started four games at third base, two in left field and one at second.
Manager Lloyd McClendon likes to say that players make out the lineup by playing well and forcing their way into the action, and this appears to be one of those cases.
"Willie had a good day yesterday," McClendon said prior to Saturday's game with Houston. "We'll see if we can do it again. We need the offense. Hopefully that will get him going and we can keep it going."
But the 36-year-old Bloomquist knows his situation as a utility man means it isn't quite as simple as just playing if he performs.
"No, I take one day at a time and when I'm in there, I try to do the best I can," he said. "If that leads to me playing more, the next day or whatever, great. If it doesn't, I'll take every day as it comes. It's not my first rodeo where I have to try to earn some things. So I don't put a lot of stock into it. I just come and play as good as I can when I'm given an opportunity and leave it at that."
McClendon usually tells Bloomquist the night before a game if he's going to be starting the following day, so he doesn't have to come in and search for the lineup card to see if he's penciled in.
"I know some days Kyle Seager has the flu or whatever and things happen, but for the most part, I like knowing the day before if I can," Bloomquist said. "I knew I was playing last night. For me, that's just an at-ease thing. One thing I hated as a young guy was coming to the ballpark and kind of peeking around the corner and seeing if I was playing. This lets you go home at night and rest easy, knowing you're playing tomorrow, and do what you need to do to get ready. They've done a nice job with that."
But some things can't be foreseen and Bloomquist knows his job is to be ready for anything. Right now, that means more time at shortstop.
"A team's needs change day by day and week by week," he said. "That's just something I have to be ready for. I'm playing shortstop today and it might be somewhere else tomorrow. That's my job, my role, and I have to be prepared to play 'em all."
Greg Johns is a reporter for MLB.com. Follow him on Twitter @GregJohnsMLB as well as his Mariners Musings blog. This story was not subject to the approval of Major League Baseball or its clubs.