Hundley traded to O's, will be missed by teammates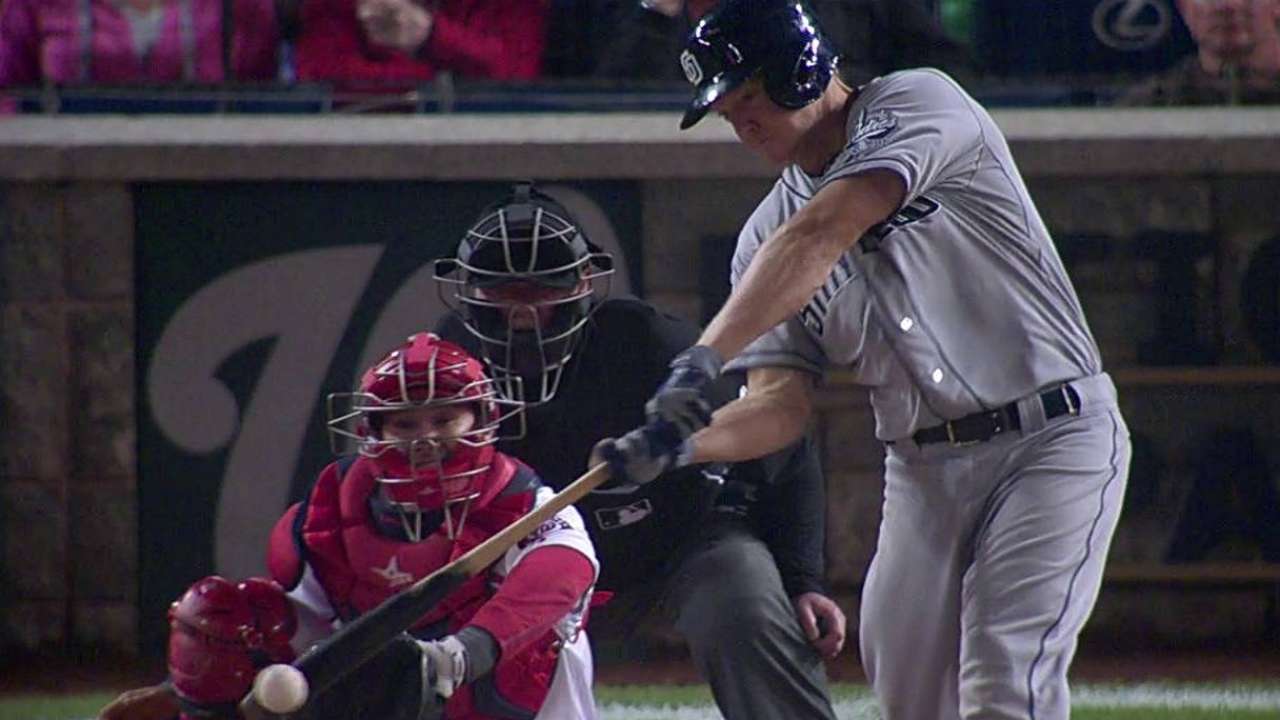 SAN DIEGO -- The first person Will Venable met when he arrived in Eugene, Ore., in the summer of 2005 was Nick Hundley.
They were two strangers on the lowest rung of professional baseball's food chain, bonded together by their pursuit of reaching the big leagues and, as Venable said, something much more immediate.
"I needed a place to live," the Venable, the Padres' outfielder. "He was my first roommate."
This story held relevance Saturday as Venable recounted the early days of his relationship with Hundley, who after playing parts of seven seasons with the Padres, was dealt to the Orioles for relief pitcher Troy Patton earlier in the day.
"Even if you know things like this happen in the game, after 10 years of playing together, the one thing you know for sure if Nick will always be there … he always has been," Venable said.
"He's not just one of my baseball buddies, but he's one of my best friends."
While trades are part of the game, and the Padres didn't figure to carry three catchers all season, that deal that moved Hundley, 30, came as a shock to many of his teammates -- and Hundley, too.
"I know there have been discussions and all that stuff, but you never really think it's going to happen," Hundley said by phone as he planned on an evening flight to Baltimore.
"I loved it. I loved everything about San Diego. I grew up a lot and learned a lot. I got to play with Greg Maddux, Trevor Hoffman, Will Venable, Chase Headley, a lot of guys. I feel so very fortunate. The only thing I regret is not winning the NL West."
Hundley, a second-round pick in 2005, the same year the Padres took Venable and Headley, hit .238/.296/.389 in parts of seven seasons with the team. He was hitting .271 this season in 59 at-bats, getting limited playing time at catcher behind Yasmani Grandal and Rene Rivera.
Hundley was the Padres' Opening Day catcher from 2010-2013. His best season with the team came in 2011 when he hit .288 with nine home runs, 16 doubles and 29 RBIs.
"I know from a player's standpoint when you're drafted and raised in an organization, and been here as long as Nick has, it's emotional to leave your first organization," said San Diego manager Bud Black, the only big league manager Hundley has had.
"Nick has such a great heart and was a great Padre. He was truly on board form a team aspect, unselfish player. That was a tough one."
Black was just one many people Hundley talked about on Saturday who had an influence on his life and career.
"It was easy to lay it on the line for him. I would compete with him anytime. He's such a great fit for the Padres," Hundley said of Black. "He's been great to me from the first day I met him. He's had my back a lot.
"And to play with guys like Chase, Will and Tim Stauffer for eight, 10 years, these days, that's unheard of."
Hundley worked closely with former big league catcher and current Padres assistant general manager A.J. Hinch on his framing and receiving skills from the start of Spring Training and into the season and Hundley showed vast improvements in those areas.
Hinch called the deal "bittersweet."
"Nick is one of the good people you come across in this game," Hinch said. "I think one of Nick's greatest attributes is that as an established Major Leaguer, he still wanted to get better. So that meant not taking questions about his defense personally."
Now Hundley gets a new lease on his professional career as he heads to the American League and to the Orioles with starting catcher Matt Wieters on the disabled list. Hundley said he'll take his work ethic to Baltimore with him with the desire to prove that he can still be an everyday catcher.
"If you don't improve, the game will pass you by, and pass you by quick," Hundley said. "I feel that as long as I'm healthy, I can be a productive Major League catcher."
Corey Brock is a reporter for MLB.com. Keep track of @FollowThePadres on Twitter. This story was not subject to the approval of Major League Baseball or its clubs.