Buckner solid in spot start, but Wood dominates
Quentin's eighth-inning homer narrows the gap but threat falls short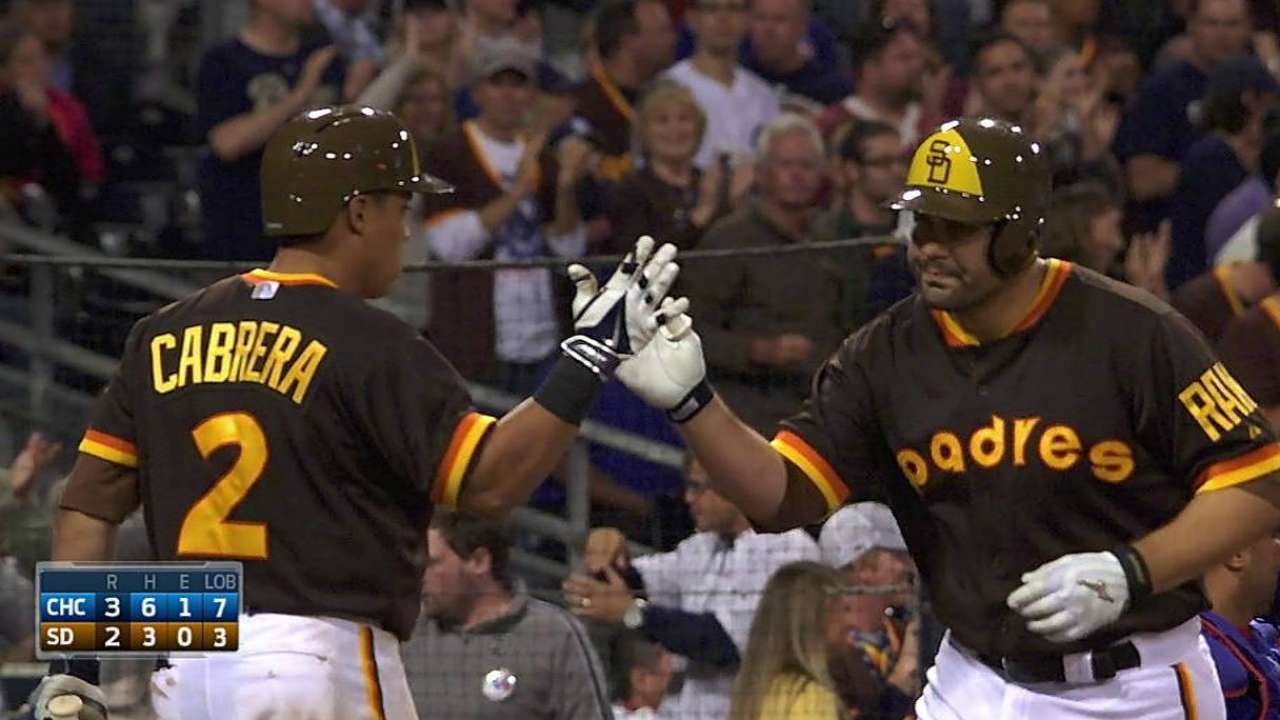 SAN DIEGO -- There's no telling how, or if, things would have been different on Saturday had Cubs' first baseman Anthony Rizzo not pulled a Chase Headley line drive out of the cool air with a leaping grab in the ninth inning.
But in a one-run game, and with momentum seemingly tilting from the Cubs to the Padres, a different result, Headley thought, could have easily changed the direction of the game.
"It would have gotten real interesting," Headley said.
Instead, the Padres, their offense shuttered for most of the night, were left to explain away how they were derailed in a 3-2 loss to the Cubs before a sold-out crowd of 42,107 at Petco Park.
Really, the answer was pretty easy, as Cubs pitcher Travis Wood (5-4) held the Padres to two hits over the first seven innings before getting into a mess in the eighth inning.
All told, Wood allowed two runs on three hits in 7 1/3 innings with two walks and three strikeouts.
"He had a low fastball with late life in the hitting area. It's a quick arm, a live fastball and it has some action in the hitting area down," said Padres manager Bud Black. "It was tough to dig it out."
Not when the ball is elevated, which is what happened in the eighth inning when Wood (5-4) made his lone mistake of the game. After walking Yasmani Grandal, he served up a long pinch-hit, two-run home run to left field by Carlos Quentin that cut the Cubs' lead to one run with one wave of the bat.
One powerful wave, that is.
"That was a big one," Black said. "He's a dynamic offensive player. And that's one of the hardest things to do [pinch-hit]. He's done it twice in the last week."
Quentin had a pinch-hit home run in a victory over the Rockies exactly a week ago. The following day, he suffered a groin strain running the bases and then missed the next four games before getting his first at-bat at Petco Park against the Cubs.
"He has that damage potential," Headley said.
But few others in the Padres lineup do, or have, this season. The Padres (22-28), who scored a season-high 11 runs in a victory on Friday, looked like a different team against Wood, who induced quick outs on balls in play early in the count. He got three outs in one inning on six pitches. Another time, it took him five.
Black said this wasn't a case of impatient hitters pressing, but more a testament to Wood and knowing what could happen if you try to work deep counts.
"That's aggressive. You look at video and see what pitches do and you've got to attack," said Black, who noted that his hitters didn't expand the strike zone early but instead looked for strikes to drive early in the count.
The Cubs (18-29) didn't have a lot of success early on in the balls-in-play department as Padres starting pitcher Billy Buckner, officially added to the roster before the game from Triple-A El Paso, used his big curveball and changeup to work through the Cubs' lineup.
The Cubs got to Buckner (0-1) for a run in the fourth inning and then struck for two in the sixth inning, with Luis Valbuena lining a ball into the seats in right field for a 2-0 lead. Two batters later, and after a double by Nate Schierholtz, the Padres intentionally walked the No. 8 hitter Darwin Barney in order to face Wood, who was hitting just .176.
"I felt all right but toward the end of the game, I started missing over the plate," Buckner said. "I was a little anxious when I got out there but I was able to settle down some. I just stopped executing and I missed out over the plate."
But Wood lined a ball into left field for a 3-1 lead, giving the Cubs a little cushion -- one that they would need after Quentin's home run.
"I understand it, but I was a little surprised," Wood said of the walk to face him and the result of it all.
In the ninth inning, and facing Cubs' closer Hector Rondon, Chris Denorfia grounded out to shortstop on the first pitch he saw. Headley lined out to Rizzo on the first pitch as well. Finally, Rondon used all of two pitches before getting Seth Smith to ground out to end the game.
Had Headley's line drive fallen -- it appeared headed toward the right field corner -- the Cubs would have had to deal with Smith, who entered the game hitting a team-best .333. But that scenario never did materialize for the Padres.
"It's a funny game like that sometimes," Headley said. "I got a pitch I was ready for and the guy made a nice play on it."
Corey Brock is a reporter for MLB.com. Keep track of @FollowThePadres on Twitter. This story was not subject to the approval of Major League Baseball or its clubs.