Pudge, Pedro, Thome take in Cooperstown
Trio of stars all eligible for Hall of Fame candidacy in coming years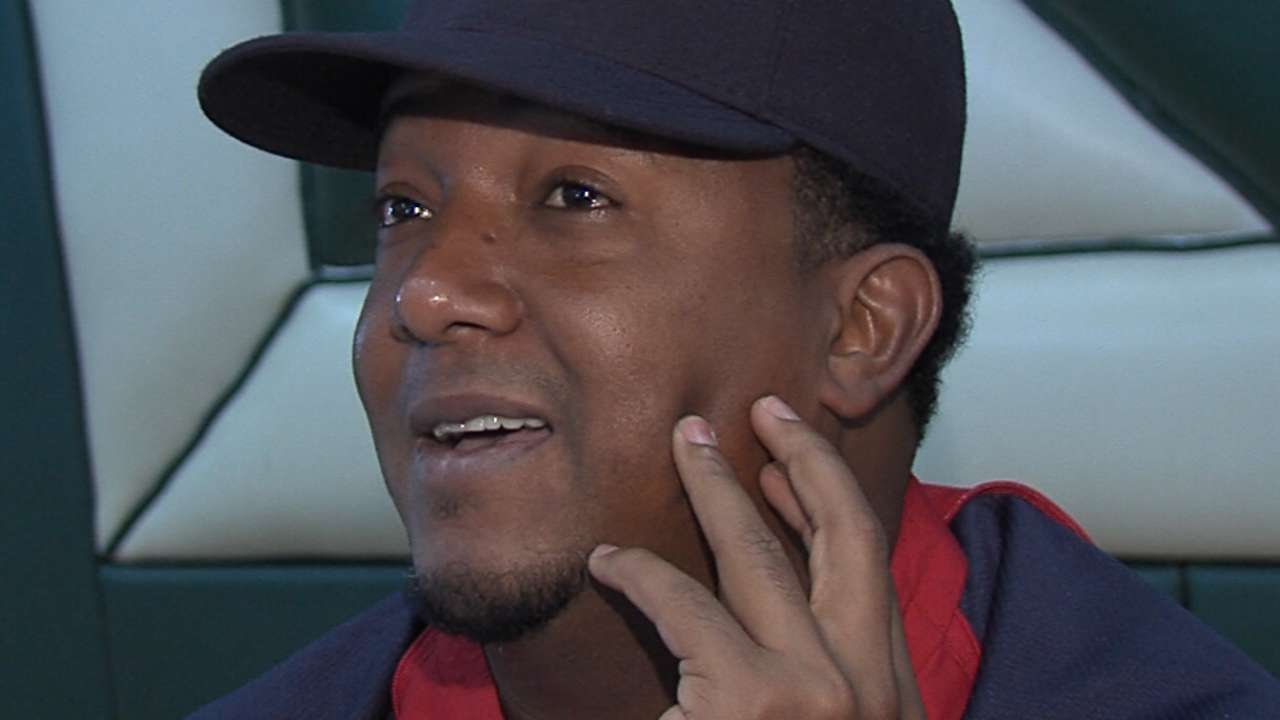 COOPERSTOWN, N.Y. -- Every Major Leaguer dreams of someday having his own weekend in Cooperstown.
For six former players and managers -- Bobby Cox, Tom Glavine, Tony La Russa, Greg Maddux, Frank Thomas and Joe Torre -- that weekend will come this year on July 25-27. Two months before those six are enshrined in the Baseball Hall of Fame, a trio of potential Hall members spent the weekend in Cooperstown taking part in the Hall of Fame Classic.
Pedro Martinez, Ivan Rodriguez and Jim Thome were visitors to the place they one day hope to join.
"That's every player's dream," Rodriguez said. "Just to have a great career and be able to end up in this town a few years after that career is over."
Of that trio, Martinez will have the first crack at gaining entry into the Hall of Fame. Martinez will first be eligible next year, while Rodriguez will have to wait until at least 2017 and Thome until '18. For now, the three settled for simply taking in the sights and experiences of the National Baseball Hall of Fame and Museum -- though Thome admitted it was difficult not to think about a potential induction weekend.
"You're definitely, in the back of your mind, going to think about it. How could you not? Especially being here in Cooperstown all weekend," Thome said. "It's one of those things that you have to let run its course, though, out of respect. But there is a sense of dreaming. We all have to dream -- you dream as a little boy, you dream in high school and even as a big leaguer."
Thome is already well-represented in the Hall of Fame. He and his father, Chuck, previously delivered his 500th home run ball to Cooperstown -- the first ever artifact to be personally delivered to the Hall by the player responsible for it. In an on-field ceremony prior to Saturday's Hall of Fame Classic, Thome -- who finished his career with 612 home runs -- announced that he also wanted to donate the ball from his 600th home run.
"That brought back some memories," said Hall of Famer and former teammate Roberto Alomar, who served as a coach in Saturday's exhibition game. "Jim Thome's a great teammate, but also he's a great person. It's great that he donated his 600th home run ball to the Hall of Fame today."
At a time when the election results are more difficult than ever to predict, Thome doesn't foresee it being a very relaxing process when he's eligible for candidacy in a few years.
"You can't really know what to expect, because you're not in that moment yet," Thome said. "I'm not sure how I'll feel, but you can start to kind of envision it. I've thought about it a little bit, and I'm sure I'll be nervous, but as players, we're very superstitious. So I'm just going to let it play out and see how it goes."
Rodriguez took the same stance, choosing instead to just enjoy this weekend in Cooperstown and not worry too much about whether or not he'll have a more memorable trip to New York at some point in the future. He certainly seemed relaxed and at home in Saturday's exhibition game, jokingly testing the umpire's vision after he was hit by a foul ball, then later throwing his batting gloves at first baseman Jeff Conine after Conine snagged a line drive and doubled Rodriguez off first base.
"To be honest, that's not my choice," Rodriguez said when asked about the prospect of getting into the Hall of Fame. "It's not up to me to decide. Whether that happens or not, I think I had a good career. I played the game hard for the fans and my teammates and everybody. The only thing I can do is wait a couple more years and see what happens."
If they get the results they're hoping for, the wait will certainly have been worth it.
"Making your dreams come true is what life is all about, no matter who you are or what they are," Thome said. "So it would be a very special day, no doubt about it."
Paul Casella is a reporter for MLB.com. Follow him on Twitter @paul_casella. This story was not subject to the approval of Major League Baseball or its clubs.