A's drop finale as offense remains stagnant
Pomeranz's scoreless streak ends after 18 innings in rough outing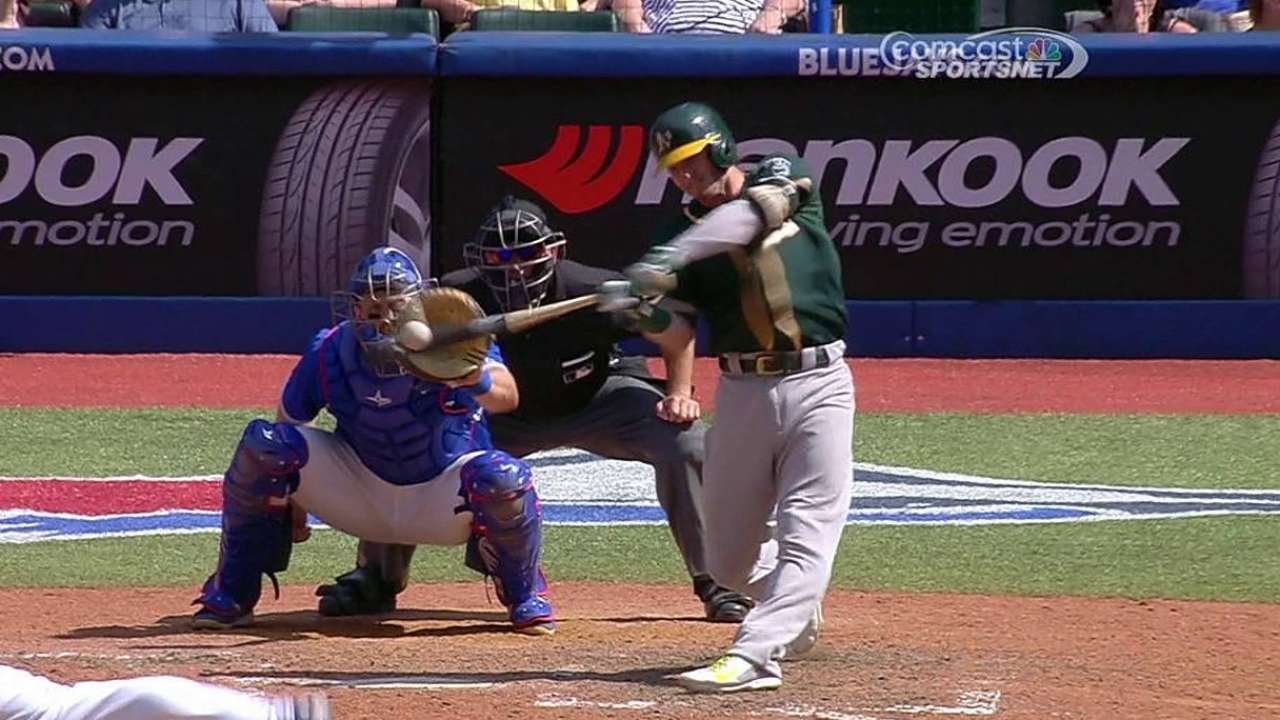 TORONTO -- The A's are finally heading home, and with extra baggage.
The club exited Toronto hauling its first streak of four consecutive losses in more than a year, after being swept away by an aggressive and powerful Blue Jays club with a 3-1 loss in Sunday's finale at Rogers Centre.
It marked the end of a nine-game road trip that began oh so promising.
The A's demolished the Indians in Cleveland, plating 30 runs in three games to form the beginnings of a five-game winning streak. But even their victories against the Rays in St. Petersburg weren't overwhelming. Both resulted in just three runs, even with only one hit recorded in the second game.
Three consecutive contests of two runs followed, and on Sunday the A's only managed one on Josh Donaldson's eighth-inning leadoff shot to right-center, his 11th homer of the season.
The club is batting .172 over its past six games, totaling just 13 runs in that span, after posting a .286 average and 75 runs in their previous 11 contests.
"We're just not getting the same swings we were earlier," said manager Bob Melvin. "You go through these things, you just have to fight your way through it. We're not always going to score seven, eight, nine runs a game, and right now we're going through a drought.
"But the effort was really good today. Guys battled all the way to the end. Never thought we were out of the game. We didn't get too many hits and haven't been doing too much offensively, but they still battled."
Blue Jays lefty J.A. Happ struck out a season-high seven in as many innings, despite facing a stacked right-handed A's lineup that put together only four hits and three walks off the southpaw, not once advancing past second base.
The 30-20 A's, now clinging to a two-game lead over Los Angeles in the American League West in advance of a seven-game homestand against the Tigers and Angels, had not dropped more than three games since losing five straight from May 6-10, 2013.
"We're putting together competitive at-bats," said catcher Derek Norris. "Everyone's just falling in the same boat with some bad luck right now. We're hitting some balls good and we had a couple questionable balls here that were hit well and didn't go out of the park. Our offense is very powerful, so it's just the way it falls sometimes.
"Sometimes you get it and it goes 50 feet farther than you thought it would, and sometimes you feel like you got it when you don't. Some days you feel like you're strong but just weak, and I think that's just how it goes sometimes."
The offense's struggles, occasionally magnified on a club that consistently gets excellent pitching, this time coincided with a mediocre outing from Drew Pomeranz, who had strung together three consecutive starts of five scoreless innings.
This time, the lefty gave up two in just four-plus innings, walking a season-high four with three strikeouts on the way to his first loss since joining the A's rotation.
After extending his scoreless streak to 18 frames, Pomeranz offered up a one-out solo homer to Edwin Encarnacion in the fourth -- the first baseman's 12th of the month and 14th overall -- and proceeded to give up back-to-back hits to Brett Lawrie and Dioner Navarro before walking Steve Tolleson to load the bases, prompting a visit from Melvin.
The manager opted to go with righty Jim Johnson, who limited the damage to one run.
Pomeranz's pitch to Encarnacion was right where he wanted it, he said, but the southpaw wasn't as pleased with most of his others.
"Obviously they've been swinging it well," Pomeranz said. "I think I maybe tried to locate a little too much instead of going right at guys, and I ended up walking too many people and being in bad counts a lot. I wasn't attacking guys like I should've, just missing a little bit."
The Blue Jays recorded their final run in the seventh off righty Luke Gregerson, with Jose Reyes boarding on a leadoff single and stealing two bases before scoring on Bautista's sacrifice fly.
Toronto has won a season-high six in a row.
"They handed it to us. You gotta give them credit," said Melvin. "They played well.
"Two completely different road trips for us. When you start out, looking at who we're playing and say we'll get a winning record, you'd probably be happy about it. But when you win the first five, it's pretty disappointing to lose the next four."
Jane Lee is a reporter for MLB.com. Read her blog, Major Lee-ague, and follow her on Twitter @JaneMLB. This story was not subject to the approval of Major League Baseball or its clubs.