Eckstein spends time with fans on Classic weekend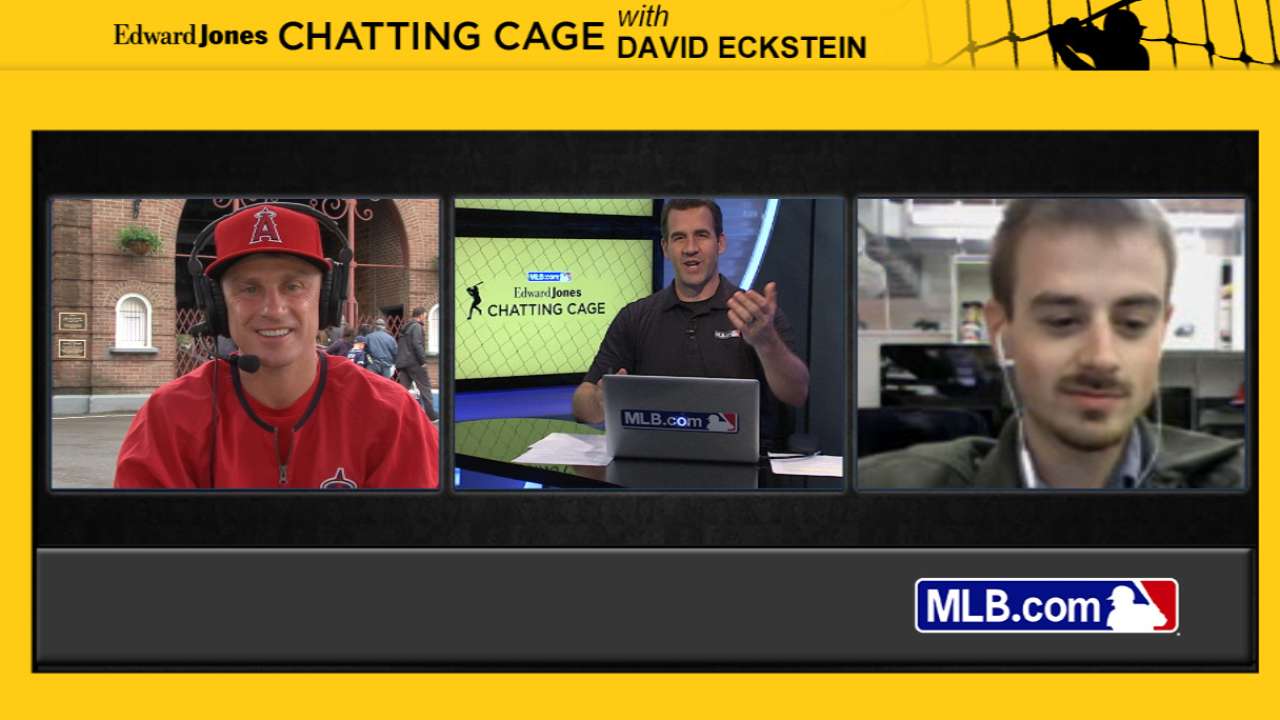 COOPERSTOWN, N.Y. -- Though the weather cooperated enough Saturday for David Eckstein to play alongside some of the game's best players in the Hall of Fame Classic, the two-time World Series champion was still disappointed that it didn't cooperate enough one day earlier when he was supposed to take the diamond with approximately 100 Little Leaguers -- all, surely, with Hall of Fame aspirations of their own.
"I wish we were able to get on the field yesterday with the kids, but I hope they still had a good time and the fans are enjoying themselves today," Eckstein said before Saturday's exhibition. "This is such a great event, and so many fans come out, so we're just trying to do the best we can to make it as memorable of a weekend for them as it will be for us."
Despite Friday's rain keeping them from playing on the field, Eckstein lingered outside the stadium long after the talking portion of the clinic had concluded to sign autographs and take pictures. He was right back at it Saturday, signing autographs for all the fans who lined the fence to wait for the players to get off the bus.
"My son is too young to know just how good some of these other guys were, but even he loves watching highlight videos of Eckstein," said Philadelphia resident Jerry Collins, whose 10-year-old son, Tyler, received an autograph and had his picture taken with Eckstein. "He came running back to me showing me the ball and yelling, 'I got it!' It definitely made his day,"
Saturday's game featured one former player representing each of the 30 Major League teams, as well as Hall of Famers Roberto Alomar, Andre Dawson, Rollie Fingers, Eddie Murray, Phil Niekro and Ozzie Smith serving as managers and coaches. Prior to the game, all of the players participated in the Cooperstown Game Day Parade, which marched down Main Street and right into Doubleday Field.
Fans lined the streets for the parade, then waited eagerly outside the stadium to receive autographs or pose for pictures with their favorite players. A number of players obliged, with Pedro Martinez signing autographs outside of the stadium as fans chanted his name, all the while former slugger Jim Thome signed autographs along the left-field fence inside the stadium.
Once the pregame festivities concluded, the 6,063 fans in attendance watched former big leaguer Alex Gonzalez win the Home Run Derby and the two teams play to a 4-4 tie.
"This is just a great event, and it's the type of thing that's really for the fans," Thome said. "You see how many people came out today just to watch an exhibition game, so you really want to make it as special of a day as possible for all these families. Hopefully we can do that."
Paul Casella is a reporter for MLB.com. Follow him on Twitter @paul_casella. Marty Noble is a columnist for MLB.com. This story was not subject to the approval of Major League Baseball or its clubs.