Crew unable to capitalize behind solid Peralta
Starter limits Marlins to one run in six innings, but bats lack key hits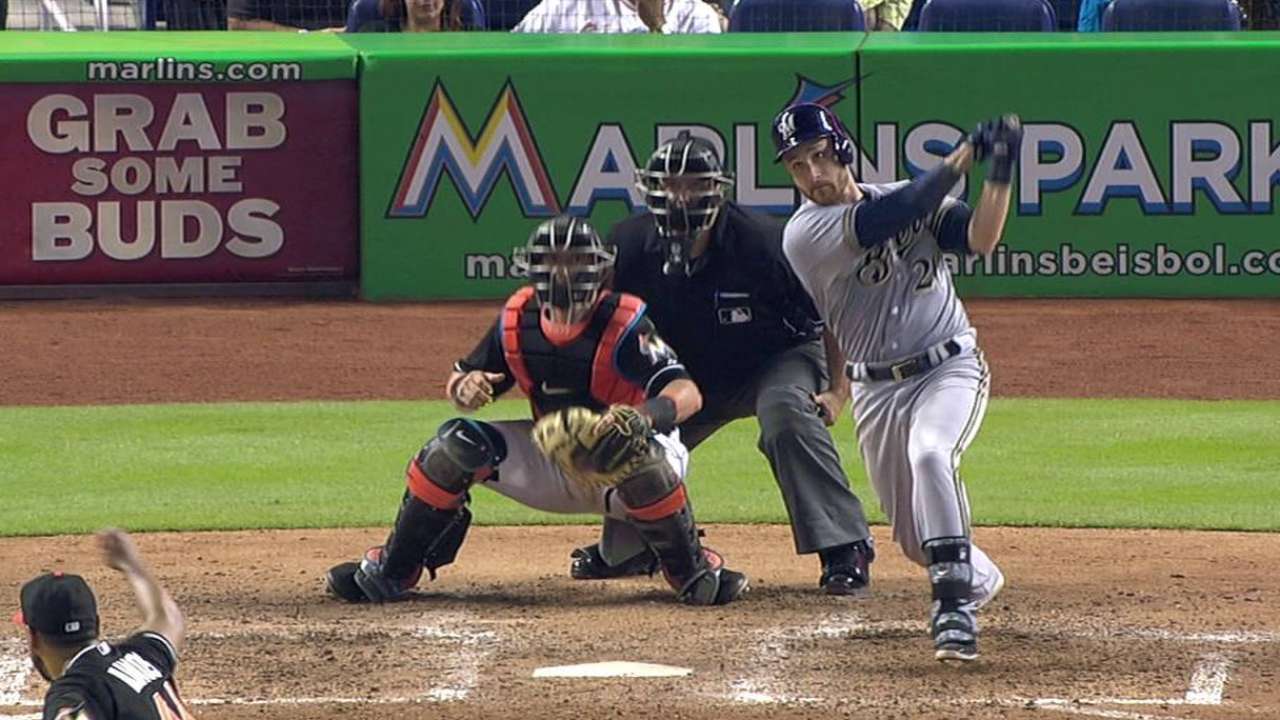 MIAMI -- It's no secret several Brewers are banged up with injuries, and a game-changing play during Saturday's 2-1 loss to the Marlins magnified that issue.
Milwaukee strung together three hits in the sixth inning but could not tie what was then a 1-0 game because of a pivotal baserunning gaffe.
With runners at first and second and two outs, Mark Reynolds singled to left. Rather than throw home, where he knew he had no play, Christian Yelich threw to third, where Casey McGehee tagged Carlos Gomez out.
That occurred before Ryan Braun -- the lead runner -- crossed home plate, meaning the run did not count and the score remained at 1-0 in Miami's favor. Manager Ron Roenicke challenged the play, but the call was confirmed by home-plate umpire Brian O'Nora.
"I'm not even running 100 percent, and I make it to third before him," said Gomez, who has been battling back spasms, referring to Braun. "On the replay you're going to find some answers to it. I run the bases like I do every time. I think he's supposed to score over there."
Roenicke saw things differently with Braun, who sat out Friday's game after aggravating tightness in his right side.
"He didn't break it down," Roenicke said. "Obviously [it's a] shorter throw for the outfielder to get it to third with the timing of whether he would throw it home. It's going to be quicker going to third base, which makes it tough."
That was just one of many squandered opportunities on Saturday. The result officially eliminated the possibility of Milwaukee ending its 10-game trip at .500, as the club is now 3-6.
Right-hander Wily Peralta (4-4) allowed just one run over six innings, but the offense left nine men on base in front of 25,819 at Marlins Park.
His lone blemish was an RBI double to Jarrod Saltalamacchia in the second. McGehee singled to start the frame. After Garrett Jones flied out to deep center, Saltalamacchia sent a ball into the right-field corner to drive in McGehee. Peralta stranded him at second by inducing two groundouts.
Peralta (4-4) kept it a one-run game by escaping jams in both the third and the fifth, including a first-and-third situation in which he struck out both Giancarlo Stanton and McGehee.
"It's all about making pitches when you have to," said Peralta, who recorded his eighth quality start. "Not going to have your best stuff every single time you go out there. Little off in the first couple of innings, and then I was able to find it and make pitches."
Miami added an insurance run that proved to be the difference off righty Tyler Thornburg in the seventh. Pinch-hitter Jeff Baker produced a single up the middle to score Adeiny Hechavarria, who had singled to begin the frame.
Milwaukee avoided its third shutout of the trip in the eighth on Jonathan Lucroy's double to right-center off righty A.J. Ramos that scored Braun, who reached when Derek Dietrich dropped his popup in shallow right but threw to second for the fielder's choice following Jean Segura's leadoff single.
Later in the inning, Gomez struck out swinging on a pitch in the dirt. Saltalamacchia's throw to first got away from Jones to put two runners in scoring position. Reynolds popped out to short before closer Steve Cishek struck out Scooter Gennett swinging. Cishek would go on to record the four-out save in the ninth.
"After last night's game, where the ball was flying out of here, that's the beauty of baseball," Marlins manager Mike Redmond said. "You come out, it's a 2-1 game. Every out is big. Every at-bat is a big at-bat. I thought [Jacob] Turner did a good job today. He gave us everything he had. I thought their pitcher was good also. It came down to figuring out a way to score runs. We manufactured a run late, and it worked out."
The Brewers got at least one runner on in every inning except the first against Turner (1-2) and the Marlins but could not capitalize. Three times they had the potential tying run at third.
One night after collecting eight extra-base hits and nine runs, Milwaukee could not grab its sixth straight win over Miami against a pitcher whose most recent win came July 10.
"It's interesting from game to game what can happen," Roenicke said. "You look at numbers and pitchers and you think when you're going to do well, and you just can't figure it out. Game's tough to figure out. We got some hits today; we didn't get them until later on, but we did get some hits. We had baserunners. We had a couple of chances."
Christina De Nicola is a contributor to MLB.com. This story was not subject to the approval of Major League Baseball or its clubs.