Turner has first '14 win as Marlins even series
Brewers make things interesting, but defense, pitching don't break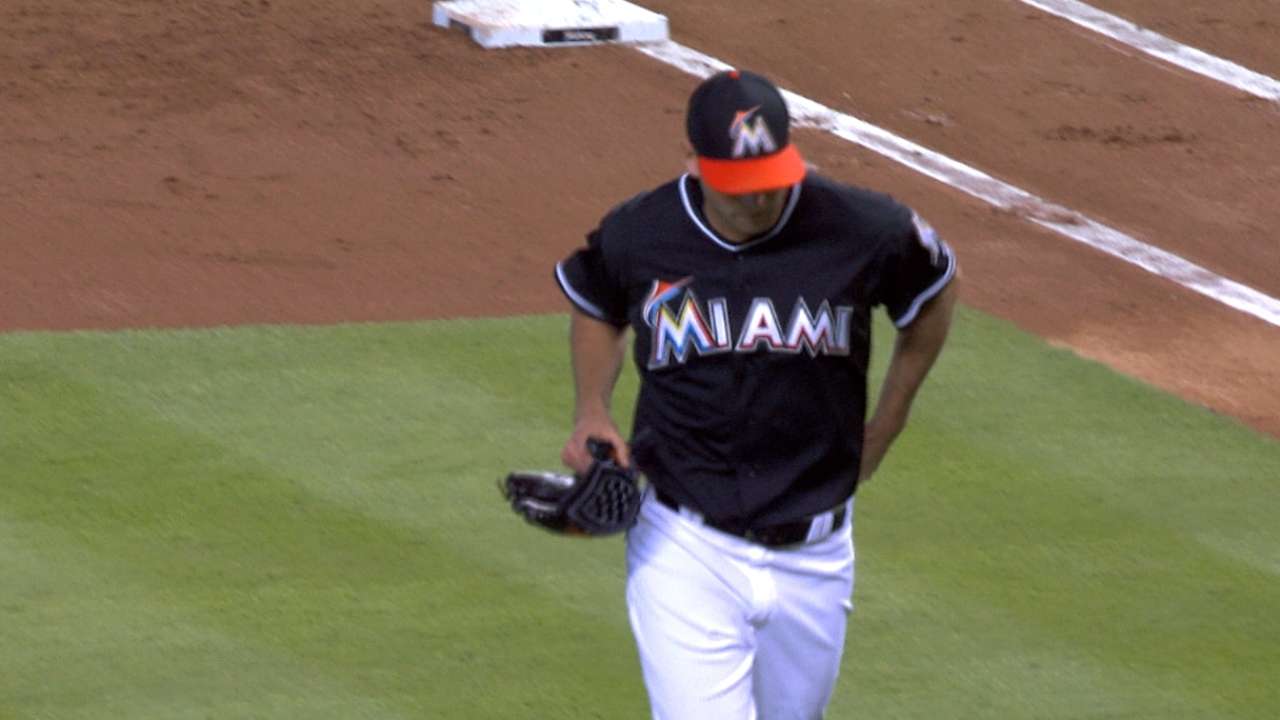 MIAMI -- The winless drought has ended for Jacob Turner, but not without some dicey moments on Saturday afternoon.
Turner threw 6 1/3 scoreless innings, and he was backed by RBI hits from Jarrod Saltalamacchia and Jeff Baker as the Marlins held off the Brewers, 2-1, to even the three-game series at Marlins Park.
For Turner, it ended at 17 a string of starts without a victory. It was made possible with a four-out save from closer Steve Cishek.
Dating back to beating the Braves, 6-2, on July 10, Turner had gone 0-9 with a 5.42 ERA over 17 starts. Miami was 3-14 in those games.
"I hope it reaffirms the fact of [what good] stuff he has," Miami manager Mike Redmond said of the 23-year-old Turner. "He can pitch and win at this level. He has great stuff. We all see it all the time. We talk about consistency with him. Whatever it takes to get that consistency is what we need."
The low-scoring affair came the day after the Brewers beat the Marlins, 9-5, on Friday night in a game that featured seven home runs.
"After last night's game, where the ball was flying out of here, that's the beauty of baseball," Redmond said. "You come out and it's a 2-1 game. Every out is big. Every at-bat is a big at-bat. I thought [Turner] did a good job today. He gave us everything he had. I thought their pitcher was good also."
The Marlins broke out on top in the second inning on Casey McGehee's single and Saltalamacchia's RBI double.
In the seventh inning, Miami added an insurance run off Tyler Thornburg. Adeiny Hechavarria singled, stole second and scored on Baker's single. The Marlins could have broken the game open, putting runners at the corners with one out, but Thornburg worked out of it.
Not adding on nearly proved costly as the Brewers chipped back with a run in a wild eighth inning.
A.J. Ramos allowed an RBI double to Jonathan Lucroy. With the tying run on second, the right-hander struck out Carlos Gomez, but strike three got away from Saltalamacchia. The catcher made a wild throw to Garrett Jones at first base, allowing Gomez to reach second on the error, while Lucroy advanced to third.
With the potential tying run at third, Mark Reynolds lifted a pop fly that Hechavarria took charge on behind the mound.
Cishek was called upon, and he struck out Scooter Gennett to preserve the one-run Miami edge.
"When it's a high-pressured situation, you've got more adrenaline," Cishek said. "I think it's easier to get yourself going, to get yourself fired up. I try to use the adrenaline to my advantage, calm down and it's easier to attack."
Cishek, now 10 of 11 in save chances, notched his second four-out save of the season. The other came on May 1 against Atlanta.
The collective team effort resulted in Miami's improving to 20-7 at Marlins Park. It's the best home record through 27 games in franchise history.
"The team played really well," Turner said. "The defense was just outstanding -- battled the whole game. It was nice to come up with the win."
Both Turner and Brewers right-hander Wily Peralta had tendencies to bend but not break.
Peralta allowed one run on six hits in six innings.
Turner was backed by some terrific defense to preserve a one-run lead in the sixth. The inning started with second baseman Derek Dietrich robbing Jean Segura with a terrific backhanded stop on a grounder up the middle for the first out. Ryan Braun singled, and with two outs Gomez's single to right put runners on first and second.
Reynolds singled to left, and on the play, Gomez was thrown out at third by Christian Yelich. Gomez was tagged out by McGehee before Braun reached home plate, so home-plate umpire and crew chief Brian O'Nora ruled the potential tying run out.
Brewers manager Ron Roenicke challenged, and after a review of 40 seconds, the call was confirmed.
"I was supposed to be the cutoff man on that play," McGehee said. "I knew we didn't have a play at the plate. I knew we weren't going to throw him out. I was more than anything trying to keep Gomez from going to third.
"Yeli was pretty heads up."
Roenicke said Braun was going hard to the plate, crediting the Marlins with executing.
"He didn't break it down," Roenicke said of Braun. "Obviously, [it's a] a shorter throw for the outfielder to get it to third with the timing of whether he would throw it home. It's going to be quicker going to third base, which makes it tough."
Turner's afternoon ended after a season-high 6 1/3 innings. Khris Davis doubled with one out, and the Marlins turned to Mike Dunn, who struck out pinch-hitter Rickie Weeks.
Dunn increased the drama by throwing a wild pitch with pinch-hitter Elian Herrera at the plate, advancing Davis to third. But Dunn was able to strike out Herrera with a 2-2 fastball.
"It came down to figuring out a way to score runs," Redmond said. "We manufactured a run late, and it worked out."
Joe Frisaro is a reporter for MLB.com. He writes a blog, called The Fish Pond. Follow him on Twitter @JoeFrisaro. This story was not subject to the approval of Major League Baseball or its clubs.