Royals pull away in 13th at Angel Stadium
Valencia's leadoff double ignites three-run rally in extras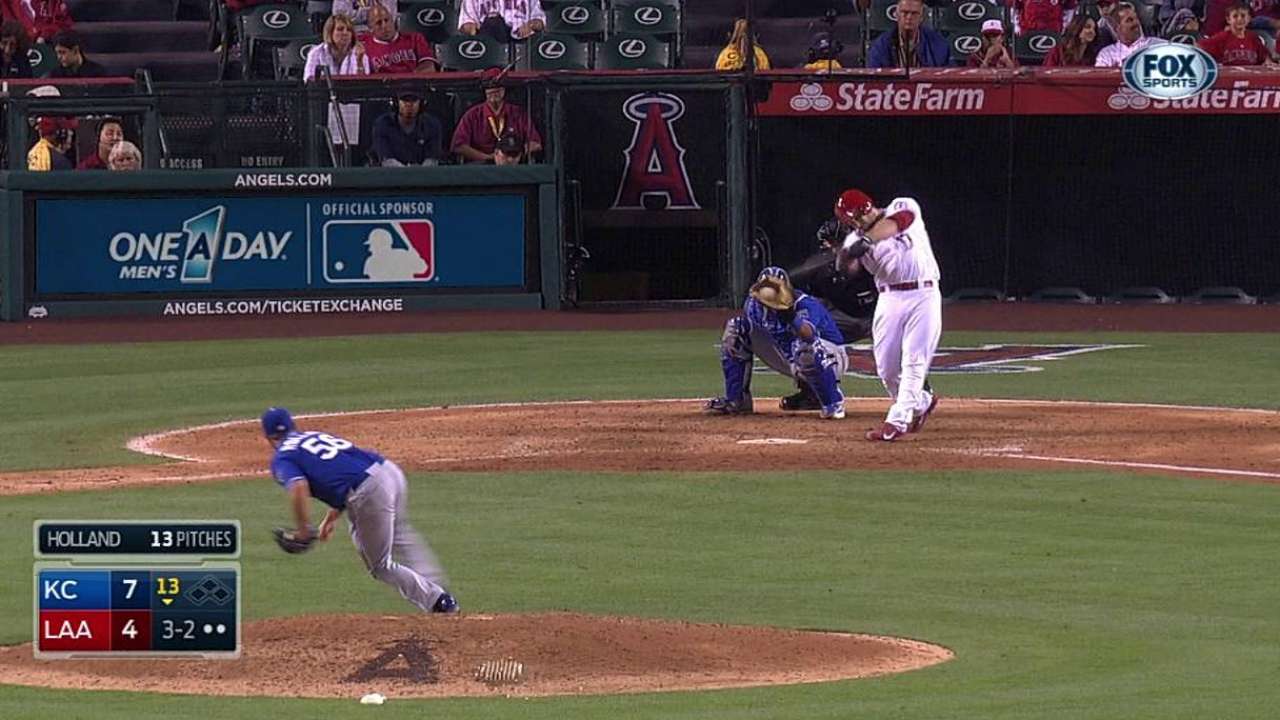 ANAHEIM -- When Danny Valencia went to the plate in the 13th inning Saturday night to face Angels rookie reliever Mike Morin, the Royals third baseman was 0-for-5 with three strikeouts.
During that at-bat, Valencia hurt his left wrist while swinging and had to convince manager Ned Yost and the training staff to let him stay in the game. He rewarded their decision with a booming double off the wall in left-center that opened the door for three runs and a 7-4 Royals victory over the Angels at Angel Stadium.
"I said, 'There's no way I'm going to come out right now. It's a big at-bat. I got this.'" said Valencia, who was headed for X-rays on the wrist after the four-hour, 53-minute game. "Nobody's coming off the bench to hit with a 3-2 count after sitting for four hours.
"Our team's trying to win games; we're hanging it all out there. Anybody else would've done the same thing. Luckily enough, it started a rally."
After Valencia doubled, Jarrod Dyson ran for him. Alcides Escobar laid down a sacrifice bunt, and Morin -- from the Kansas City suburb of Overland Park -- threw the ball away at first, allowing Dyson to score. Pedro Ciriaco sacrificed to set up an RBI single by Nori Aoki that made it 6-4. Eric Hosmer delivered his fourth hit of the night, and Billy Butler had a sacrifice fly to hand a three-run lead to closer Greg Holland, who earned his 14th save.
"We showed a lot of character as a team," Hosmer said after the Royals' 11th comeback victory and fifth win in their final at-bat.
They led, 3-0, trailed, 4-3, and tied it in the seventh.
The Royals' bullpen pitched seven shutout innings in relief of starter James Shields. Wade Davis and Aaron Crow (2-1) each went two innings.
"We grinded it out all 13 innings," Shields said. "Our bullpen did a phenomenal job tonight. They just showed why they're as good as they are."
For Crow, who pitched the 11th and 12th, it was his first two-inning stint since last season. Davis, a former starter who has pitched multiple innings three times this season, had the highest-leverage situation. After Erick Aybar opened the eighth with a double off Kelvin Herrera, Davis came in to retire Kole Calhoun and Hank Conger on fly balls, and struck out Collin Cowgill. Davis then added a scoreless ninth, striking out Mike Trout -- who had homered off an ankle-high Shields changeup in the fifth.
"It was a long game, so we knew we were going to put in a lot of hard work," Crow said. "When you're out there in that situation, you want to take it home. You don't want to waste it."
Yost said the bullpen "just held the fort until we found some ways to score some runs."
Had it not been overturned on a replay challenge by Angels manager Mike Scioscia, Royals left fielder Alex Gordon might have saved a run with his latest circus catch in the fifth inning.
Gordon went over the wall to keep an Albert Pujols drive in the park -- the ball went off his glove, off his hat, off his shoulder, and he snared it while sitting on the warning track. But it was changed from an out to a double after review showed the ball hit the fence during the juggling act. After a groundout put him on third base, Pujols scored the Angels' last run on a Shields wild pitch for a 4-3 lead.
"There was so much going on out there," Gordon said. "The ball was in my glove, then it came out when my arm hit the wall. It hit my hat, then my shoulder, but I knew where it was going.
"Did I know it hit off the wall? No. I didn't think it did when it happened. I saw the umpire take off his headphones and I knew they were going to change it. I've never caught a ball like that."
Yost challenged a sixth-inning tag play on Conger's second double of the game, but the safe call was confirmed.
"The play we challenged, the phone [to scouting coordinator Bill Duplissea, who was monitoring video] didn't work," Yost said. "First time that's happened. I went ahead and challenged it because it was the sixth inning."
The Royals, who finished with 16 hits and had 10 hits through nine innings, improved to 14-6 when they have 10 or more. Included were two-out RBI hits by Lorenzo Cain and Hosmer.
"Those are real good signs." Yost said. "When you get 'em, it's a sign things are starting to turn around a little bit."
In improving to 24-24, the Royals also ended their five-game losing streak to the Angels that started last season.
"We're doing everything we can to scratch out a run," Hosmer said, "because we feel like we have the best closer in baseball in Greg Holland. We wanted to do anything to get him a one-run lead, and we got him three."
Earl Bloom is a contributor to MLB.com. This story was not subject to the approval of Major League Baseball or its clubs.