Angels' streak derailed by Royals in 13 innings
Trout homers in second straight game, but bullpen blinks in extras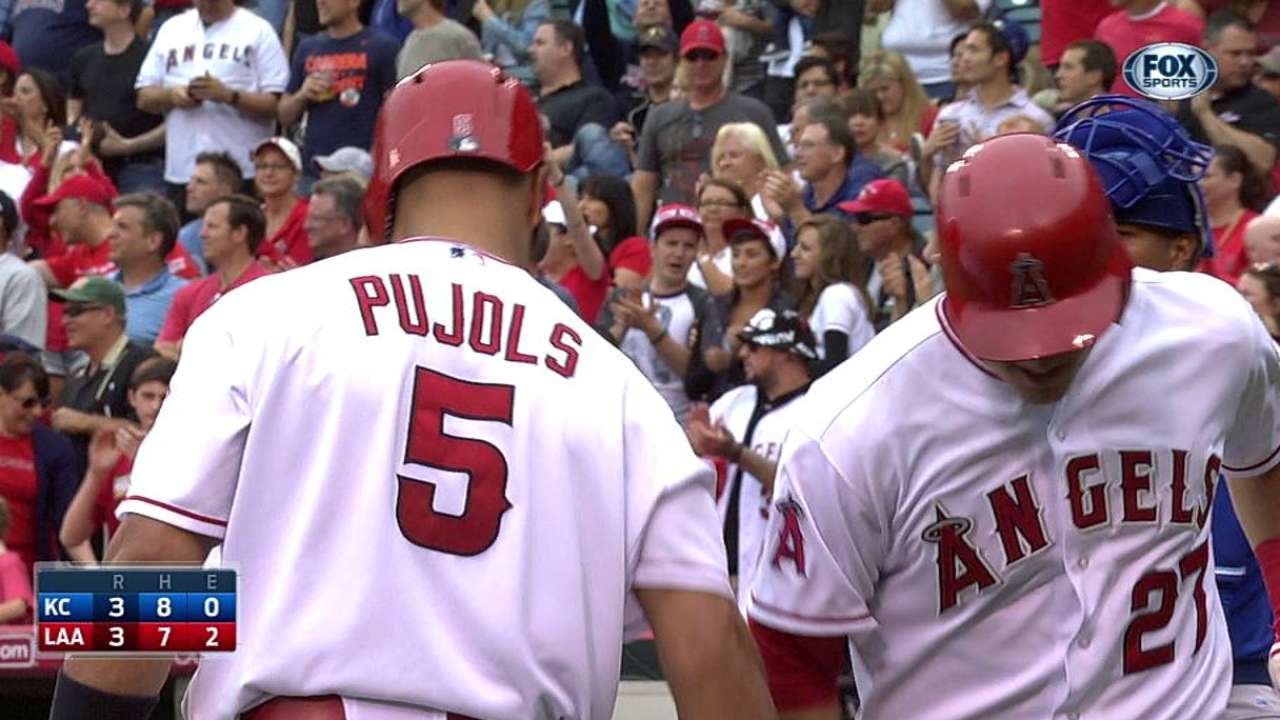 ANAHEIM -- There was a fleeting moment when the Angels thought they might have made some late magic and kept the momentum rolling. But C.J. Cron's drive to center field fell a few feet short of walk-off hysteria in the bottom of the 12th inning, and the 13th brought only deeper frustration.
The Angels were subdued by the Royals, 7-4, on Saturday night when Danny Valencia's booming double jump-started a three-run 13th in front of 42,140 at Angel Stadium. A three-game winning streak was snapped as the Halos fell for only the fourth time in the past 15 games.
The win went to Aaron Crow (2-1), who left Mike Trout stranded at second base when Cron backed Lorenzo Cain to the center-field wall for the third out in the 12th. Closer Greg Holland notched his 14th save, striking out two of the three hitters he faced in the 13th.
"It was going to be close," Angels manager Mike Scioscia said, referring to Cron's drive. "This air gets heavy. He didn't quite get fully extended. He hit it good enough to have a chance, for sure."
Cron's frustration came in the form of not delivering a single to cash in Trout, who'd led off the inning with an infield hit and advanced on an out.
"A base hit would have done it," Cron said, adding that it didn't feel like a home run off the bat. "I'm more disappointed in not being able to get the job done."
Mike Morin (0-1), the seventh Angels pitcher on the night, absorbed the loss while facing his hometown team. Morin's throwing error on a bunt brought home pinch-runner Jarrod Dyson with the go-ahead run in the 13th. Nori Aoki singled home another run, and Billy Butler's sacrifice fly after Eric Hosmer's fourth hit completed the Royals' winning rally.
Valencia injured his left wrist during his 13th-inning at-bat before hitting the double. Royals manager Ned Yost and the training staff wanted him to come out, but Valencia convinced them to leave him in, and he delivered. He was going for X-rays after the game.
"I said, 'There's no way I'm going to come out right now,'" Valencia said. "'It's a big at-bat. I got this.' Nobody's coming off the bench to hit with a 3-2 count after sitting for four hours. Our team's trying to win games; we're hanging it all out there. Anybody else would've done the same thing. Luckily enough, it started a rally."
Down early, the Angels rallied behind the power of Erick Aybar and Trout, both going deep against Royals ace James Shields.
It turned into a duel of bullpens after Angels starter Matt Shoemaker matched Shields with a solid effort.
"They have some power arms, no doubt," Scioscia said of the Royals' deep bullpen. "We just couldn't get that one hit to fall in. I felt Shoe did a good job, and the guys who took the ball pitched their hearts out to keep us in the game."
Kevin Jepsen worked a perfect sixth inning, and Joe Smith, Ernesto Frieri and Fernando Salas each delivered two scoreless innings, putting stress on the bullpen for Sunday's series finale.
A messy third inning, complete with three singles and a pair of errors in the Angels' outfield, had Shoemaker down by two runs. Then in the fourth, Alcides Escobar's single, two steals and Hosmer's two-out single had the Royals leading, 3-0.
But the Angels struck quickly and loudly in the bottom half of the fourth. Raul Ibanez smoked a double to right and trotted home when Aybar lifted a homer just over the wall in the right-field corner, the third of the season for the Angels shortstop.
Another home run, by the irrepressible Trout, had the Angels even leading off the home half of the fifth. It was No. 10 by the center fielder, whose rare error on Salvador Perez's sinking line drive in the third had contributed to Kansas City's early lead.
Albert Pujols followed Trout's blast with a high drive to left that Alex Gordon managed to get a glove on as he leaped at the fence. Gordon appeared to make a juggling catch, falling to the warning track, but after a challenge by Scioscia, it was overturned and ruled a double when replay showed the ball hit the fence before Gordon corralled it.
After moving to third on David Freese's groundout to third base, Pujols scored when Shields unleashed a wild pitch to Aybar with two outs.
Shoemaker departed after five innings with a one-run lead, but the Royals drew even in the seventh. Hosmer's third hit, coming against lefty Sean Burnett, was followed by Butler's single against Smith. After a walk to Gordon, Perez bounced into a double play, Hosmer scoring to bring the Royals even.
Shields, seeking his seventh win, gave up four runs on nine hits and two walks in six innings, striking out four. Shoemaker was charged with three runs (two earned) in five innings, yielding eight hits and a walk while striking out six.
Shoemaker's batterymate, Hank Conger, had a busy and eventful day. The catcher legged out a pair of doubles around a walk, with the second double being confirmed after a challenge by the Royals in the sixth.
Lyle Spencer is a reporter for MLB.com. This story was not subject to the approval of Major League Baseball or its clubs.