Braun back in lineup, but in No. 2 spot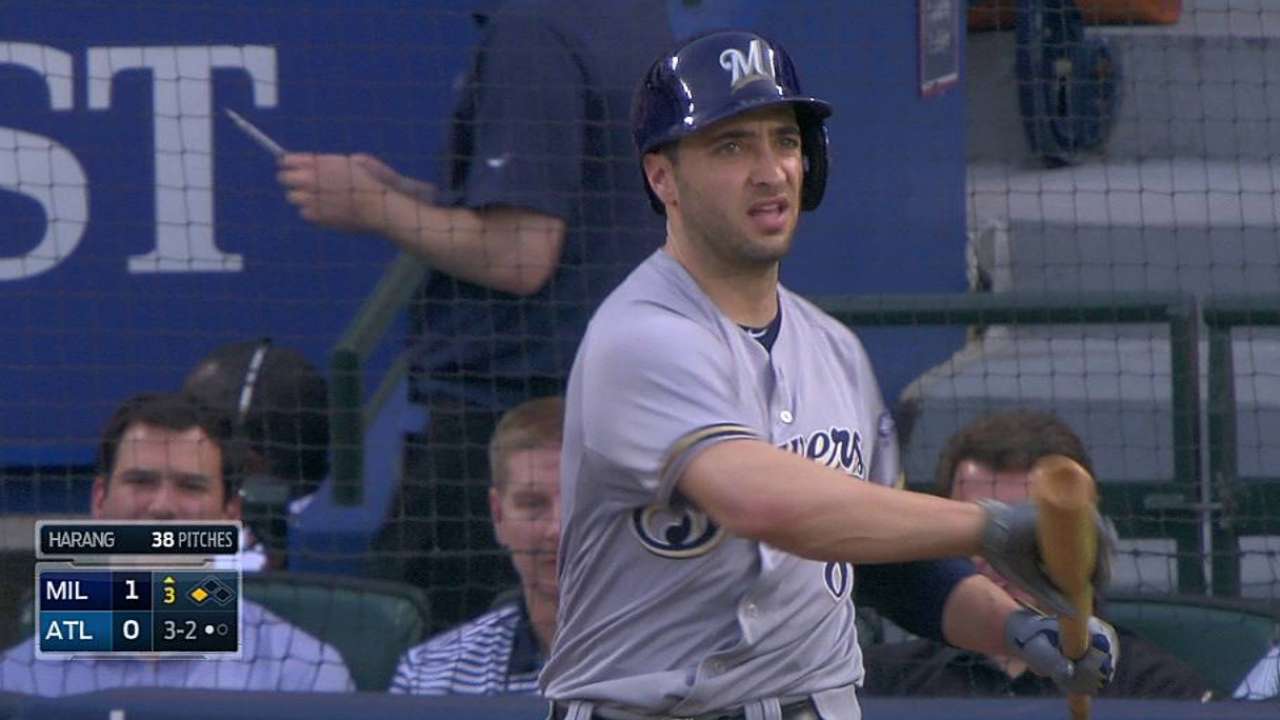 MIAMI -- When Brewers manager Ron Roenicke filled out Saturday's lineup -- so unique it had not been done before this season -- he did not even think twice about the decision.
A game after the offense scored its most runs since April 9, Roenicke kept the order intact but plugged Ryan Braun back in.
Braun, who continues to battle tightness in his right side, found himself in the second spot rather than his usual third spot. Entering Saturday he had just 27 career plate appearances as the two-hole hitter. It was his first start anywhere in the batting order but third since he batted second against the Mets on Sept. 30, 2010. Braun sat out Friday night's game because of the discomfort.
"We had a conversation yesterday about where he's at physically, what other guys are doing, namely [Carlos Gomez] and [Jonathan Lucroy], and where the fit was for everybody," Roenicke said.
Lucroy went 2-for-5 with a double and a run on Friday, putting him at 13-for-31 (.419) with three RBIs on the road stretch. Gomez, who batted cleanup for the first time this season, recorded a career-high three doubles while going 4-for-5 with two RBIs on Friday.
Mark Reynolds blasted a pair of two-run homers in the fifth slot for his 20th multihomer game.
"I actually really liked the lineup when I wrote it down today," Roenicke said. "Lyle [Overbay] hitting eighth in your lineup -- you're pretty good."
Gomez initially thought he was not playing when he saw Friday's lineup because he was not in the leadoff spot. Now he likes the idea of batting in the middle of the order, something he would like to do often in the future.
"It's a good sensation," Gomez said after the game. "You go to the plate with a different feeling. This [lineup] played good [Friday]."
Christina De Nicola is a contributor to MLB.com. This story was not subject to the approval of Major League Baseball or its clubs.