Johnson gets start after apologizing for outburst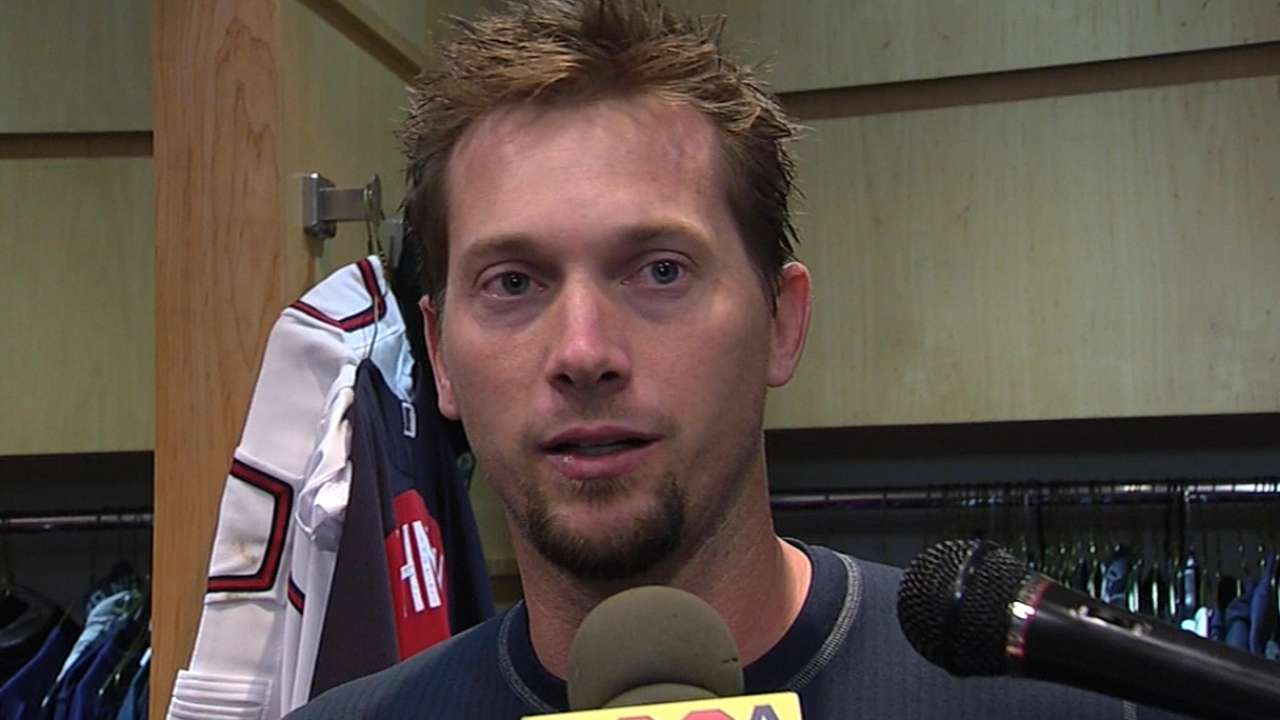 ATLANTA -- Braves manager Fredi Gonzalez was furious after being hit with a fragment of a bat that Chris Johnson shattered during his latest meltdown on Friday night. But after having a chance to calm down and evaluate how Johnson handled the embarrassing consequences, Gonzalez put his third baseman back in the lineup for Saturday afternoon's game against the Rockies.
"I think what he had to go through yesterday, stand up and talk [to the media] and stand up and talk to his teammates, I think that's good enough," Gonzalez said. "That's punishment enough. That's a humbling experience with a Major League baseball player. All the sudden, you get taken out of game and then you've got to explain yourself."
Johnson's humbling experience came after he struck out in Friday's second inning and then chose to release his anger with a violent outburst below the dugout. The fragments of a bat he shattered traveled up the dugout stairs and hit both Gonzalez and Gerald Laird in the leg.
Laird raced down the stairs and fortunately got in Johnson's face before Gonzalez, who delivered a few harsh choice words as he told his third baseman he was being removed from the game.
When Laird came to the plate and delivered an RBI double just a couple minutes later, only those in the Braves dugout knew he had just calmed this potentially-dangerous situation with some stern words of his own.
"I just addressed how I felt," Laird said. "He felt bad. You could see it in his eyes. He knows we've been dealing with it for a while now. It was just one of those times when he just went a little too far. He understands that. I just wanted to make sure he knew where I came from and he does. He's a good teammate."
When the Braves completed a 3-2 victory, Johnson was still in his full uniform as he said he was sorry to both Gonzalez and Laird. He then took it upon himself to apologize to the entire team once all of the players returned to the dugout.
"He understands," Laird said. "He's a professional. Just every once in a while, it gets away from him here and there. But for the most part, he cares about his teammates and he cares about his job. You could see it in his eyes last night when he addressed the team. I was happy for him that he could stand up and do that. A lot of guys got a lot of respect for him last night."
Johnson did not play in last year's regular-season finale because the night before he threw a helmet in the dugout that hit first-base coach Terry Pendleton. He was also benched two games in April after another post at-bat eruption led him to overturn various items in the dugout.
While Gonzalez understands that players, especially those as emotionally volatile as Johnson, are going to express their anger, he does not want the resulting actions to put that player or any of his teammates in harm's way.
"That's the main thing and you see it so many times," Gonzalez said. "If he hurts himself, he hurts the team and if he hurts his teammates, he hurts the team. Nothing good can come out of it."
Mark Bowman is a reporter for MLB.com. This story was not subject to the approval of Major League Baseball or its clubs.