Control issues catch up to Ubaldo in loss to Tribe
Ex-Indians righty walks five, including pair in five-run fifth; O's stifled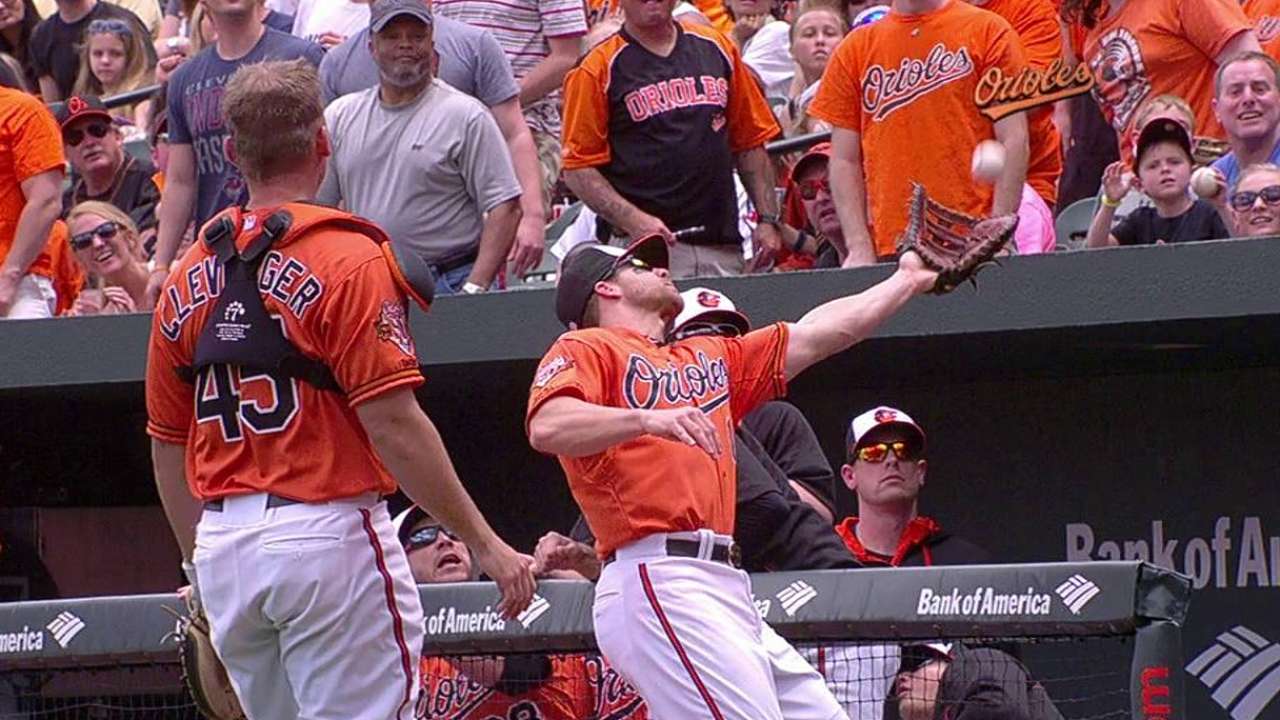 BALTIMORE -- In facing his former team on Saturday, Ubaldo Jimenez didn't exactly invoke feelings of envy for the Indians, who watched the right-hander decline their qualifying offer this winter to become a free agent. Instead, Baltimore's biggest starting pitcher signing -- in the form of a four-year, $50 million deal -- was hit hard by Cleveland as he continued a maddeningly uneven first two months.
Jimenez allowed five runs over four-plus innings, walking five and setting the tone in a poorly pitched game that handed the Orioles a huge deficit from which they'd never recover.
Jimenez's shortest start of the season, coupled with an Orioles offense stonewalled by Indians starter Corey Kluber -- it had scored 32 runs in the four previous games -- handed Baltimore an ugly 9-0 loss to the Tribe. The defeat, in front of 36,873 at Camden Yards, was the Orioles' fifth in their last seven games and put them just one game over .500 (24-23).
One of the biggest reasons for their recent struggles, the inconsistency of the starting pitching, was on full display with Jimenez on Saturday afternoon.
"It looked like I was just missing a little bit of the strike zone," said Jimenez, who threw 55 of 99 pitches for strikes. "I'm not that far away, but I'm missing. I'm falling behind in the count, getting myself into trouble. Today was walking the leadoff guy."
After a horrific April, in which he went 0-4 with a 6.59 ERA, Jimenez looked like he turned a corner in May. The right-hander went 2-1 and allowed just one earned run over 19 2/3 innings in his first three starts of the month, but he has followed that up with a pair of clunkers, including five runs allowed over five innings in Kansas City. What gives?
"It's kind of been like that his whole career," manager Buck Showalter said of the stark contrast of Jimenez when he's on and when he's not. "You like it when it's in sync, and it was very close to that today. But it's a big difference between 2-1 and 1-2. We haven't done a very good job lately of using some counts in our favor. You've seen some 1-2 and 0-2 walks. What did we walk? Five guys today, something like that? You're not going to win too many games with that."
Or get too deep into starts. Jimenez was unable to record an out in the fifth on Saturday, allowing all of his runs in the fateful final frame. Things got started when he issued a leadoff walk to Carlos Santana, and the Tribe followed with a pair of singles before Michael Bourn worked another walk.
Jimenez exited after Mike Aviles' single made it 2-0, with lefty T.J. McFarland hitting Michael Brantley with the bases loaded to score another run. The Indians got two more before the inning ended, all of which were charged to Jimenez, and McFarland allowed them to extend the lead in giving up three more runs over 2 1/3 innings.
Was Jimenez a little extra amped in facing his old club, perhaps trying to do too much?
"No, not at all," he said. "I started good. I didn't even think about who I was facing. When you get to the mound, you are trying to get everybody out, it doesn't matter who it is. You have to do your job."
"He just didn't have it today," added catcher Steve Clevenger. "Wasn't there. The strike zone was a little tight, but that's baseball. It's going to happen from time to time."
Kluber had no issue with the strike zone, turning in seven dominant innings that included nine strikeouts. He held the O's to five hits and two walks and improved to 3-0 with a 2.04 ERA this month.
"Our game and our league, being able to be consistent is such a huge factor in becoming a really good Major League pitcher or player," Indians manager Terry Francona said. "That's what Klubes is doing. He was on his way last year when he had that finger that kind of got in the way a little bit. This has been coming. This is not a shock or a big surprise. This has been coming."
The O's got a pair of two-out baserunners twice in the first and fifth innings, but couldn't cash in, as Kluber constantly kept them off balance.
Their only extra-base hit came from red-hot Nelson Cruz, who delivered a one-out double in the fourth inning, but Kluber struck out Clevenger and Delmon Young to end the threat.
"He's throwing the ball well," Clevenger said. "He's mixing all his pitches in there, throwing everything for strikes, and when his command is on, he's going to be very successful, and he was today."
Brittany Ghiroli is a reporter for MLB.com. Read her blog, Britt's Bird Watch, and follow her on Facebook and Twitter @britt_ghiroli. This story was not subject to the approval of Major League Baseball or its clubs.