Indians pounce on Ubaldo; Kluber helps blank O's
Tribe chases ex-teammate in five-run fifth; strikeout master adds nine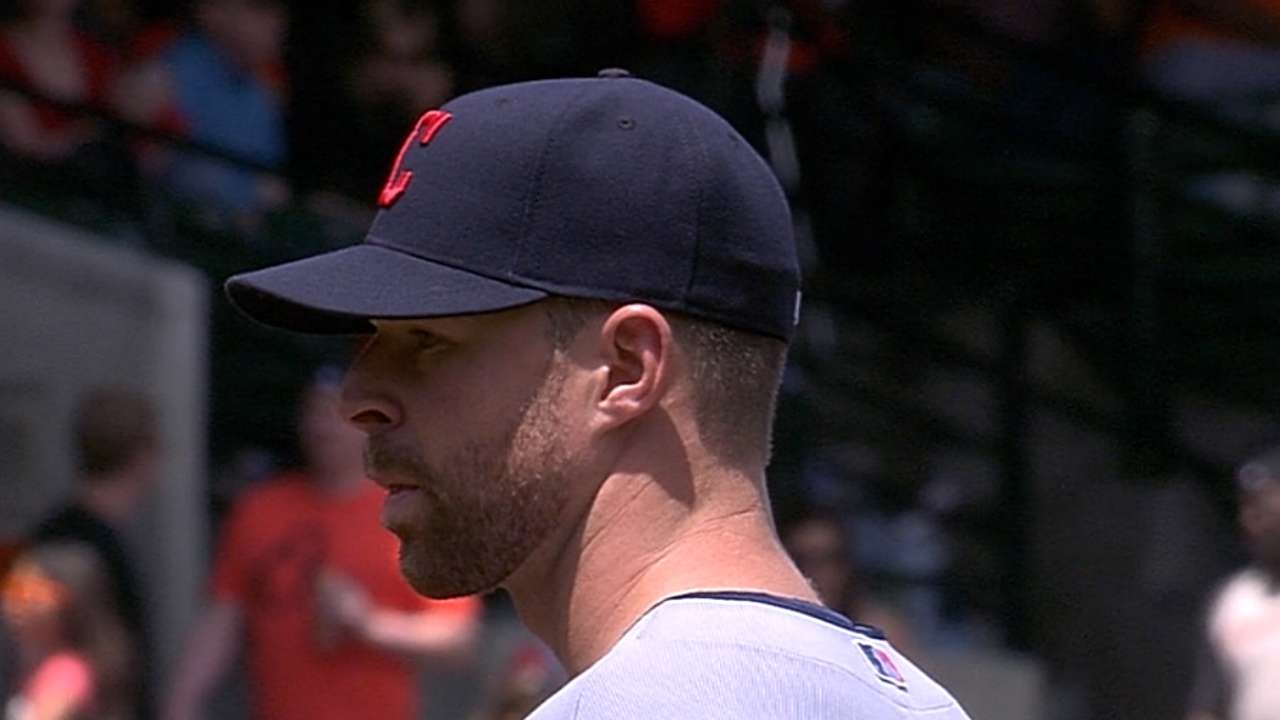 BALTIMORE -- Starts like the one that Corey Kluber delivered on Saturday at Oriole Park at Camden Yards don't surprise Terry Francona anymore. Even early in the year, the Indians manager knew his starting pitcher had the ability to reel off outings like this on a regular basis.
Francona looks back to last year, when Kluber posted a sub-4.00 ERA despite an injury, as evidence that this recent string of starts by the righty shouldn't be catching anyone off guard.
"He was on his way last year when he had that finger that kind of got in the way a little bit. This has been coming," Francona said. "This is not a shock or a big surprise. This has been coming."
Kluber delivered another tremendous start for Cleveland on Saturday, striking out nine batters and allowing just five hits in seven shutout innings for the Tribe to blow out the O's, 9-0, before a crowd of 36,873. It was Kluber's fifth straight outing with at least eight strikeouts, and his seventh such game this season. He took the Major League lead with 83 K's before the Rays' David Price passed him later in the afternoon.
With an arsenal of dancing breaking balls, Kluber had no trouble keeping the Orioles' potent offense off-balance and burying even Baltimore's best hitters with a variety of strikeout pitches.
He froze Adam Jones with a curveball to end the third inning and got him to fan at another to end the fifth. He struck out the side in the fourth with a sinker that froze Chris Davis and a pair of curveballs that got catcher Steve Clevenger and outfielder Delmon Young swinging at air.
On all but one of his nine strikeouts, the righty threw a first-pitch strike, and he never went down 2-0 in the count.
"The key was just working ahead, getting ahead early and staying ahead in the count, and not really letting them get comfortable up there," Kluber said.
Even so, he's not willing to call himself the ace yet. He's leaving that title for Justin Masterson, who started for the Indians on Opening Day.
"Masty's our ace," Kluber insisted when pressed about his claim to the top spot in the rotation.
On the mound opposite Kluber was Cleveland's ace from a year ago. Ubaldo Jimenez joined the O's during the offseason after helping the Tribe reach the postseason for the first time since 2007.
Jimenez blanked Cleveland for the first four innings, but the starting pitcher's former team knew how to deal with him.
The former Indians righty has always had control issues, and Cleveland worked him for a handful of early walks and got Jimenez's pitch total all the way up to 52 pitches in just two innings.
"We got his pitch count up a little bit, got him a little," Tribe shortstop Justin Sellers said, "and he started leaving balls over the plate."
The Indians got all of their runs in two innings, but with the way Kluber was pitching, all they needed was one. Carlos Santana started off Cleveland's fifth by drawing Jimenez's fourth walk of the game. Another walk and three singles later, the Tribe had a two-run lead, and Jimenez's day was done without recording an out in the fifth.
"The walks hurt him," Orioles manager Buck Showalter said. "You knew it wasn't going to be a very long outing. It's frustrating. Stuff-wise, he's in pretty good shape."
It was the second time in three days that the slumping Santana played a critical role in what ultimately amounted to be the decisive rally, and two innings later, he slugged a two-run home run to put the finishing touches on the Indians' blowout victory.
"That was a really good day by Carlos," Francona said. "I was hoping Carlos would have long at-bats against Ubaldo, and that's exactly what he did."
In five more days, Kluber will have a chance to go out once again and continue to prove that he's been Cleveland's best pitcher this season. His record improved to 5-3 and his ERA dipped down to 3.10.
He's in a groove unlike anything he's seen yet in his young career, so he's going to try to keep things the same -- even with an extra day off until the next time he takes the mound.
"I'm feeling good out there right now," Kluber said, "so just kind of trying to maintain what I'm doing so that I continue to feel that way."
David Wilson is a contributor to MLB.com. This story was not subject to the approval of Major League Baseball or its clubs.