Thornton recognized by White Sox with nice gesture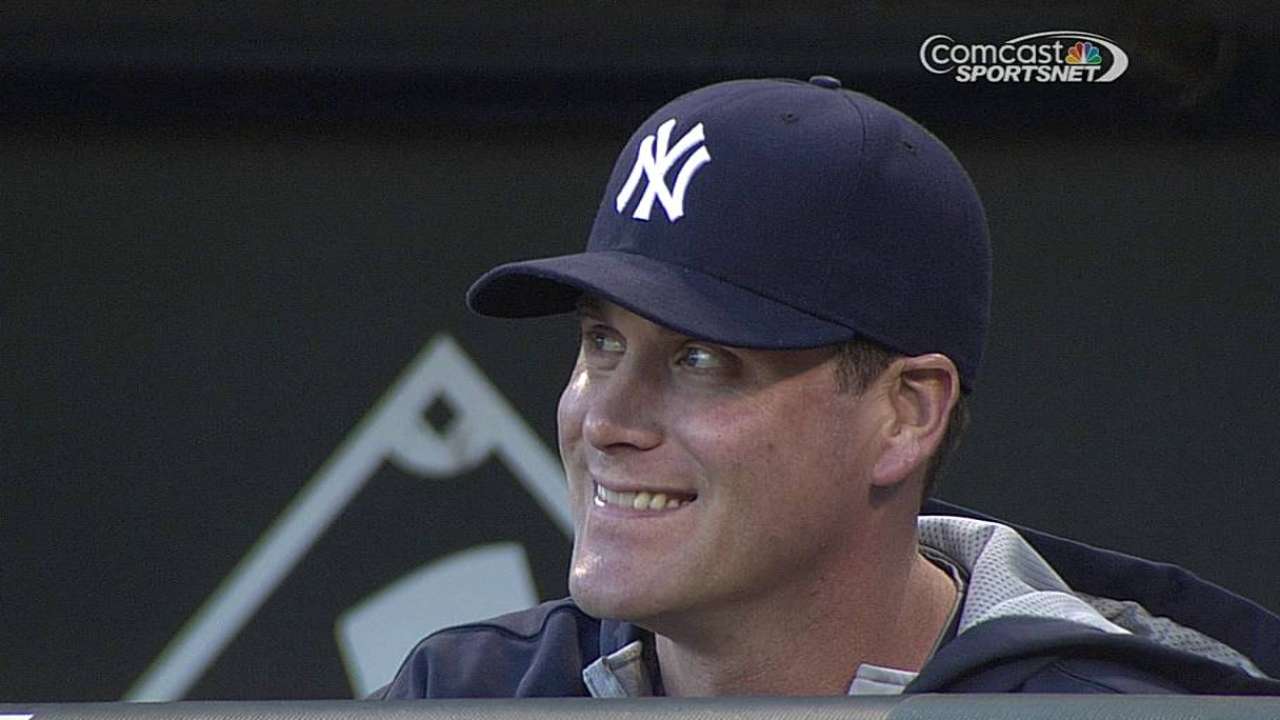 CHICAGO -- Matt Thornton received a heads-up from a White Sox staffer early on Friday that the team was planning to honor his time at U.S. Cellular Field with a brief video tribute. The Yankees reliever's response, as he recalls, was: "Are you kidding?"
It was no joke. Thornton was pushed out of the visiting dugout between innings of Friday's 6-5 Yankees loss to the White Sox, acknowledging the applause that accompanied a scoreboard message appreciating his 7 1/2 seasons with the Pale Hose from 2006-13.
"After playing there for so long, they know that I don't like stuff like that, about me," Thornton said. "I get very uncomfortable when things like that go on. They kind of ambushed me, and were like, 'Hey, whether you like it or not.' It was nice to see my teammates and the staff over there, [trainer] Herb Schneider, John Danks and Chris Sale having fun with it, clapping for me. It was nice."
Thornton said that he has good memories of Chicago; his daughter, Avery, was born while he was with the White Sox, and he was a 2010 American League All-Star here. Thornton also lists Mark Buehrle's perfect game and no-hitter, Phil Humber's perfect game and Jim Thome's 500th home run as some of his favorite White Sox moments.
"I wish we would have won more," Thornton said. "We had a lot of great guys, a lot of great friends over there. I thought we had some really good teams at times. We made the playoffs once [in 2008] in my time there, but I have a lot of great memories."
In his first year with the Yankees, Thornton is hoping to get back on track after a sharp beginning to the campaign. He was 0-1 with a 5.19 ERA in 20 appearances entering Saturday, and he has allowed four earned runs in his last six outings (2 2/3 innings) after allowing just one earned run through his first 14 appearances.
"I'm just trying to find consistency for myself," Thornton said. "Everybody knows I get a batter, maybe two. I think four or five batters is the most I've faced in one outing. It's a different transition I've gone over in the last couple of years of my career. I understand it and I enjoy it, but at the same time, I need to get those outs. They're big outs, big situations, and I need to make sure that I do my job."
Bryan Hoch is a reporter for MLB.com. Follow him on Twitter @bryanhoch and read his MLBlog, Bombers Beat. This story was not subject to the approval of Major League Baseball or its clubs.