Worth pitches for second time in three games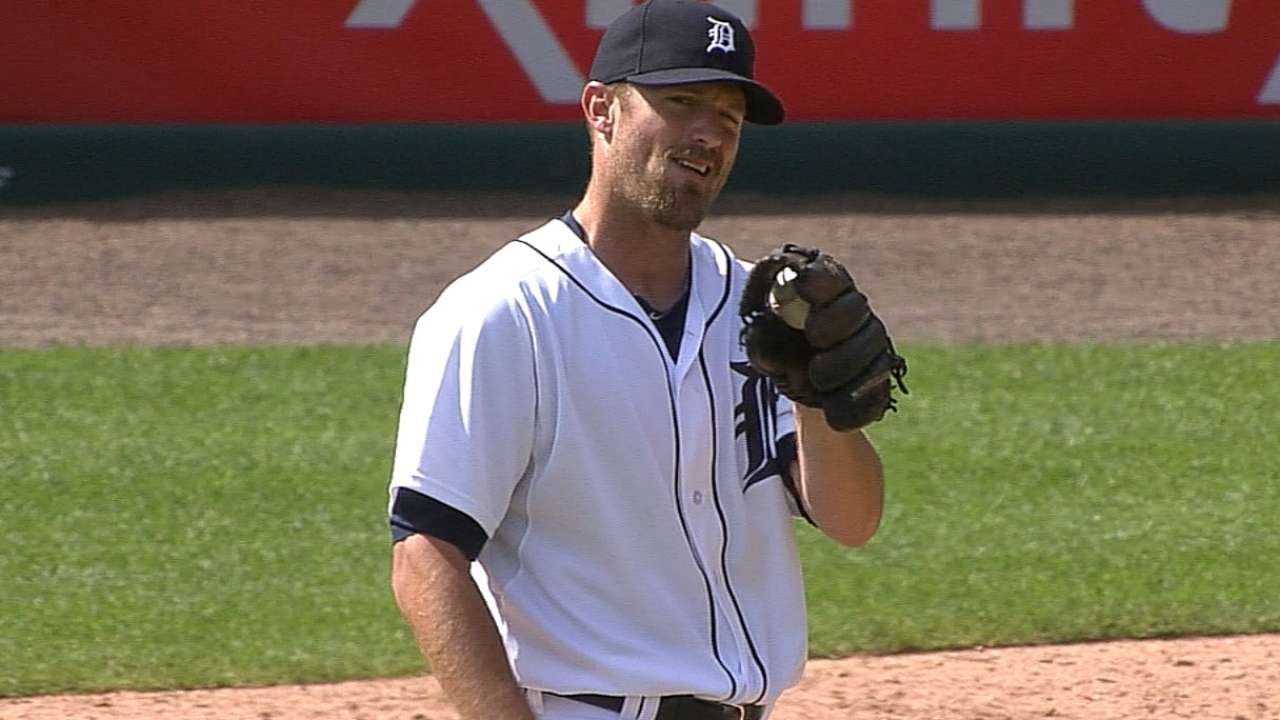 DETROIT -- Tigers shortstop Danny Worth fell asleep to a documentary about knuckleballers Friday night. Little did he know he'd have a chance to practice his craft once again the next day.
It wasn't exactly a pleasant surprise.
"I don't even want to go out there again, because I want to win ballgames," Worth said. "It's not fun going out there like that."
It wasn't easy for manager Brad Ausmus, either. Worth wasn't the first position player in the Majors to make two pitching appearances, not even this season. Dodgers catcher Drew Butera pitched twice in four games earlier this season under similar circumstances. Mark Koenig was the last Tiger to do it, pitching three games in 1931 amidst his role as a starting middle infielder.
"You don't want to turn it into a carnival sideshow by bringing in position players," Ausmus said, "but we've got to find a way to save some arms down in the bullpen."
Worth came in for the ninth inning of Saturday's 12-2 rout at the hands of the Rangers on Saturday. The outing did not go as well as Thursday's, when he became the first Detroit position player to throw a full inning since 1931.
Worth was effectively wild the first two hitters, getting back-to-back groundouts from Leonys Martin and Donnie Murphy. From the outset, though, he was struggling to get a feel for the knuckler that confounded Rangers hitters Thursday afternoon.
"I couldn't get it going today," Worth said. "I didn't know where it was going or what it was going to do. It wasn't like the other day."
He threw one knuckleball behind Murphy's head, the next over the plate, then the next inside again before Murphy hit a comebacker. Worth said Murphy smiled at him, showing an understanding of the situation.
"He smiled at me. I smiled back," Worth said. "He knew, just whatever."
One out away from a clean inning, however, Worth gave up three straight two-out hits. The first was a relative fluke, an opposite-field blooper from Rougned Odor that fell into short left field for a double.
The next hit, a double off the fence from Michael Choice, was no fluke. It was a knuckleball that didn't knuckle. Much like the knuckleball pitchers he watched in the documentary, he found out that hanging knucklers tend to get hit hard.
"It just didn't do anything," Worth said. "It was just spinning out of my fingers, just like the one I threw behind [Murphy]."
Elvis Andrus hit a ground ball through the right side before Worth recovered to retire Mitch Moreland on a grounder to first.
Worth headed to the dugout to cheers. However, he said he couldn't hear them.
"I hope I don't have to showcase [the knuckleball] for the rest of the season," he said. "Let's win some games."
Even before Saturday's outing, one of his fingernails was still sore Saturday afternoon from throwing 19 knucklers out of 20 pitches two days earlier. After Saturday's outing, he was ready for a break.
"I probably won't throw for five days now," he said.
Worth will try to at least stay fresh by throwing off the mound every seven to 10 days, per Ausmus' request.
"If you had asked me when I was hired if I'd have a position player pitch two out of three games, I don't think I would have said yes," Ausmus said. "But we've got some guys' arms who need rests down there. Fortunately, Danny can throw strikes with his knuckleball. His ERA went up a bit."
Ausmus' counterpart, Rangers manager Ron Washington, seemed to understand, though he knew better than to make too much of it.
"They have a player who can go out there and get outs," Washington said. "If they tried to make him a pitcher, it woudn't last. He's a player, but he can get them outs. They're fortunate to have a guy like that."
Jason Beck is a reporter for MLB.com. Read Beck's Blog and follow him on Twitter @beckjason. Matt Slovin is an associate reporter for MLB.com. This story was not subject to the approval of Major League Baseball or its clubs.