Knebel allows three runs in Major League debut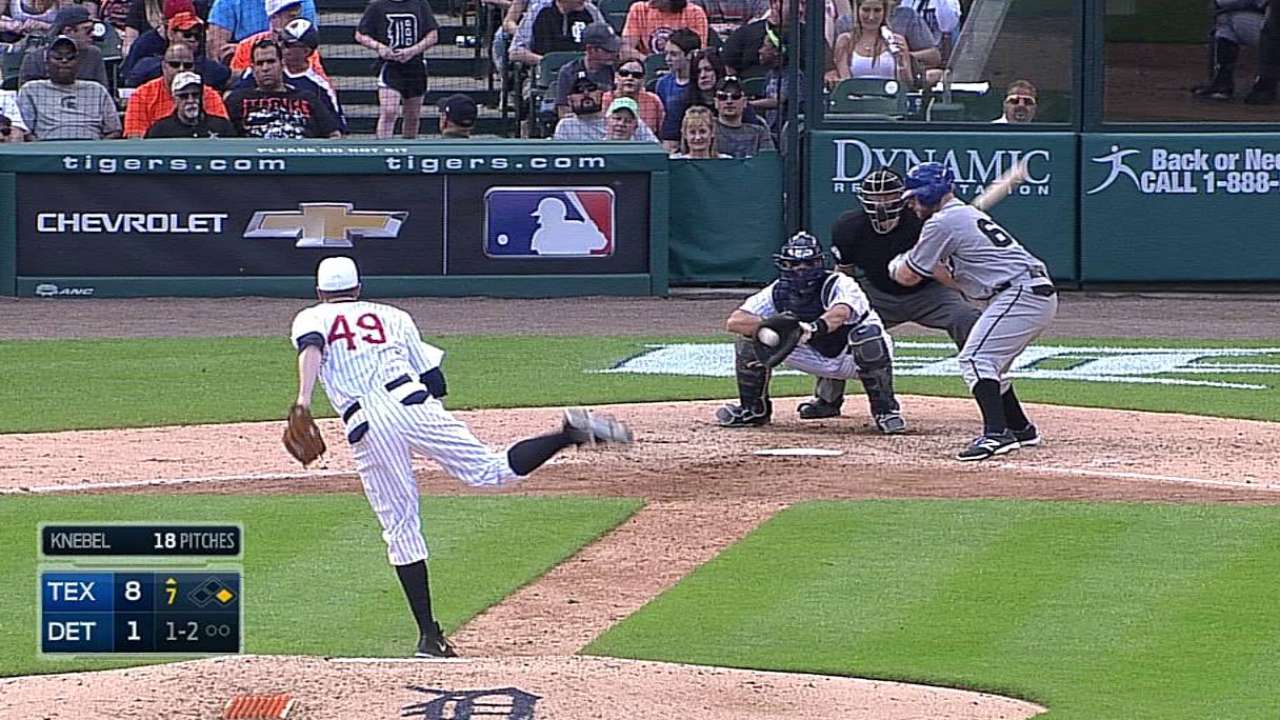 DETROIT -- Tigers manager Brad Ausmus had been waiting for the right situation to insert Corey Knebel into a game for his Major League debut.
With the score lopsided in Texas' favor Saturday, he saw his chance. It just didn't go as well as hoped.
Knebel, the organization's 39th overall pick in last year's draft, pitched an inning, spaced over two frames. He allowed three hits and three runs and also walked two batters.
"He threw hard," Ausmus said of the 22-year-old Texan who blazed through the Minor League system. "His curveball's good. When he stays downhill with his fastball and curveball, he's in good shape. Every once in a while he gets a little bit uphill, and I think that's when you see the curveball pop out of his hand."
Knebel said he pitched behind in the count far more often than he would've liked and was frustrated by the bases on balls. He admitted to feeling nervous, although Ausmus said he thought the youngster carried himself well. His fastball hovered around 95 mph.
In the eighth inning of Friday night's 7-2 win over the Rangers, Ausmus got Knebel up throwing in the bullpen. But Ausmus opted to go with lefty Ian Krol for the entire ninth inning. The manager said after Friday's game that, had Krol gotten two quick outs instead of allowing two men to reach base, he'd have turned the ball over to the rookie.
Even though the outing wasn't ideal, fans still gave him polite applause as a welcome when he headed to the dugout after his work was done.
"That felt good," Knebel said. "It was a good feeling. Everyone gave me a fist bump after.
"Tomorrow's a new day. I'll come tomorrow with a smile on my face. It won't happen again."
Jason Beck is a reporter for MLB.com. Read Beck's Blog and follow him on Twitter @beckjason. Matt Slovin is an associate reporter for MLB.com. This story was not subject to the approval of Major League Baseball or its clubs.