Mets can't overcome early deficit vs. D-backs
Wheeler allows three runs in 6 2/3 innings; Wright doubles, homers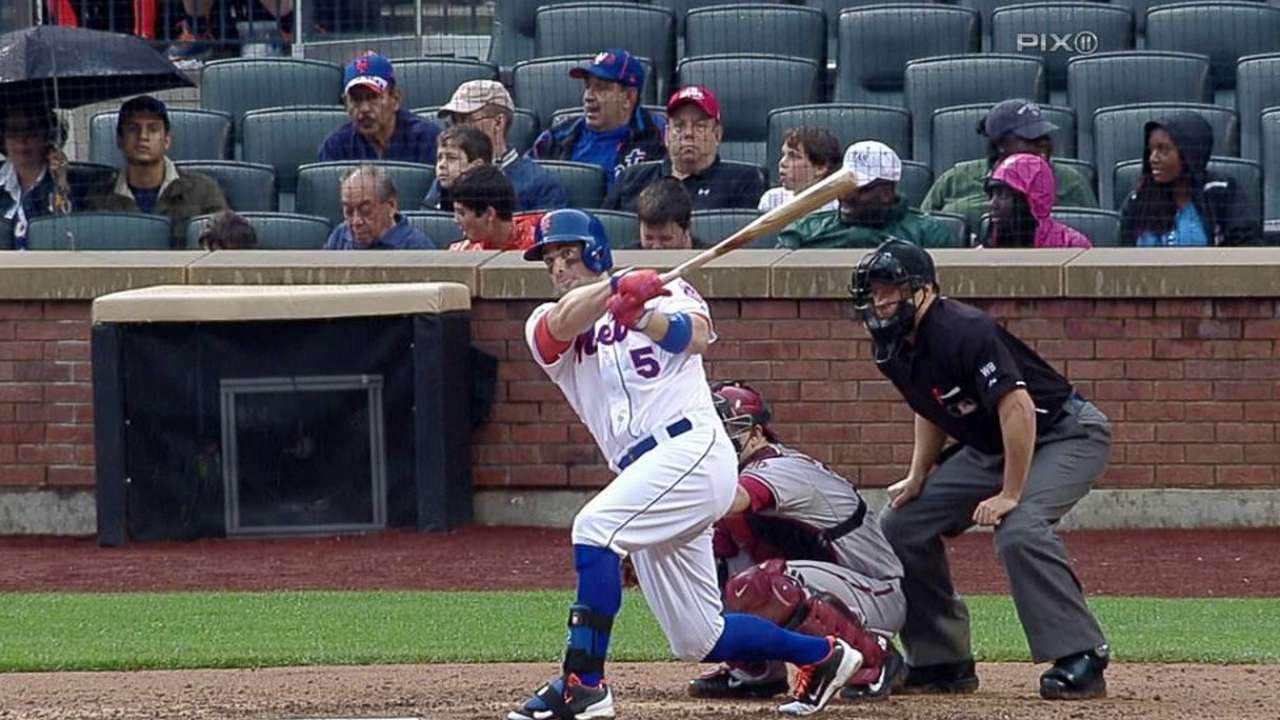 NEW YORK -- Early Saturday afternoon, as he tossed around words like "ace" and "dynamic," Mets manager Terry Collins spoke about how good right-hander Zack Wheeler could be someday -- someday soon, maybe. Saturday was a step toward that day.
Wheeler showed flashes of both the dominance that suggests a high ceiling and the command issues that thus far have kept him from reaching it. Over 6 2/3 innings in the Mets' 3-2 loss to the D-backs at Citi Field, Wheeler limited the Arizona bats to three runs (two earned) on six hits and a walk, striking out seven. It was his longest outing of the season.
"That's a huge step forward for him. Enormous step," Collins said. "He was angry with the way things started, but he beared down, and he pitched very, very well throughout the entire ballgame."
Wheeler's effectiveness, though, was come-and-go, much like the misty drizzle falling in Flushing. He induced 11 strikeouts, but hit two batters. He held Arizona's No. 2-4 hitters to 1-for-12, but threw nearly half of his 118 pitches across two innings. He allowed four straight batters to reach in the second, as the D-backs scored their first two runs, but retired the next three on four pitches.
Wheeler attributed his better control to a slight tweak to his mechanics. During his bullpen sessions this week, Wheeler said, he and pitching coach Dan Warthen found a slight hitch -- a moment of hesitation after lifting his leg -- that helped him stay back longer.
"It's nothing big," Wheeler said. "It's just something we found that we liked."
The biggest moment for the 23-year-old was arguably the top of the seventh, when he returned to the mound to record two more outs, despite having already thrown 105 pitches. Wheeler had been insisting to Collins he had plenty left in him, and catcher Anthony Recker backed that up after the top of the sixth.
"Reck came in right after the inning and said, 'Hey look, right now he's pitching as good as he's pitched the entire game,'" Collins said. "So I was confident to let him go back out."
The mood surrounding Wheeler was positive, but it didn't distract entirely from what was another Mets loss, their seventh in nine games. Problems with runners in scoring position plagued them again, as they left eight men on base.
Lucas Duda (0-for-4, strikeout) didn't drive in any of the seven runners on base when he came to the plate.
"That was tough, man," Duda said. "Zack pitched a heck of a game, and I felt like I let him down today. ... I've got to drive those runs in, no doubt. I take the blame for this one today."
The Mets could not capitalize on a trio of prime scoring opportunities after falling behind 3-0. In the third, seventh and eighth innings, they had two runners on and one out, then went a combined 0-for-5 with one strikeout and one double play.
Arizona opened the scoring in the second. After Miguel Montero walked and Aaron Hill doubled, back-to-back singles from Martin Prado and Cody Ross gave the D-backs a 2-0 lead. Then Wheeler suddenly returned to form and set down A.J. Pollock, Josh Collmenter and Gerardo Parra in order.
That stretch, combined with another Prado RBI single the next inning, ultimately did Wheeler in. Paul Goldschmidt reached on Wilmer Flores' error with one out in the third and came around to score. It proved to be the eventual winning run.
The Mets reached Collmenter, the D-backs' righty starter, for two runs over six innings. The first came when Curtis Granderson's gapper to right-center field plated Daniel Murphy. David Wright likely would've scored as well, had the ball not bounced over the fence for a ground-rule double.
Wright made sure he scored in the fifth when he sent a Collmenter changeup into the seats just inside the left-field foul pole to narrow the deficit to 3-2. It was Wright's first long ball since May 10 and second since Opening Day, and his 3-for-4 effort, leaving him a triple shy of the cycle, upped his average to .359 this month.
It wasn't enough, though, to get Wheeler into the win column, something he hasn't done in almost six weeks.
"It was gutsy performance," Recker said of Wheeler. "That's something he could hold onto for the next several starts."
Tim Healey is an associate reporter for MLB.com. This story was not subject to the approval of Major League Baseball or its clubs.