Ventura: Good starts by Alexei, Flowers no fluke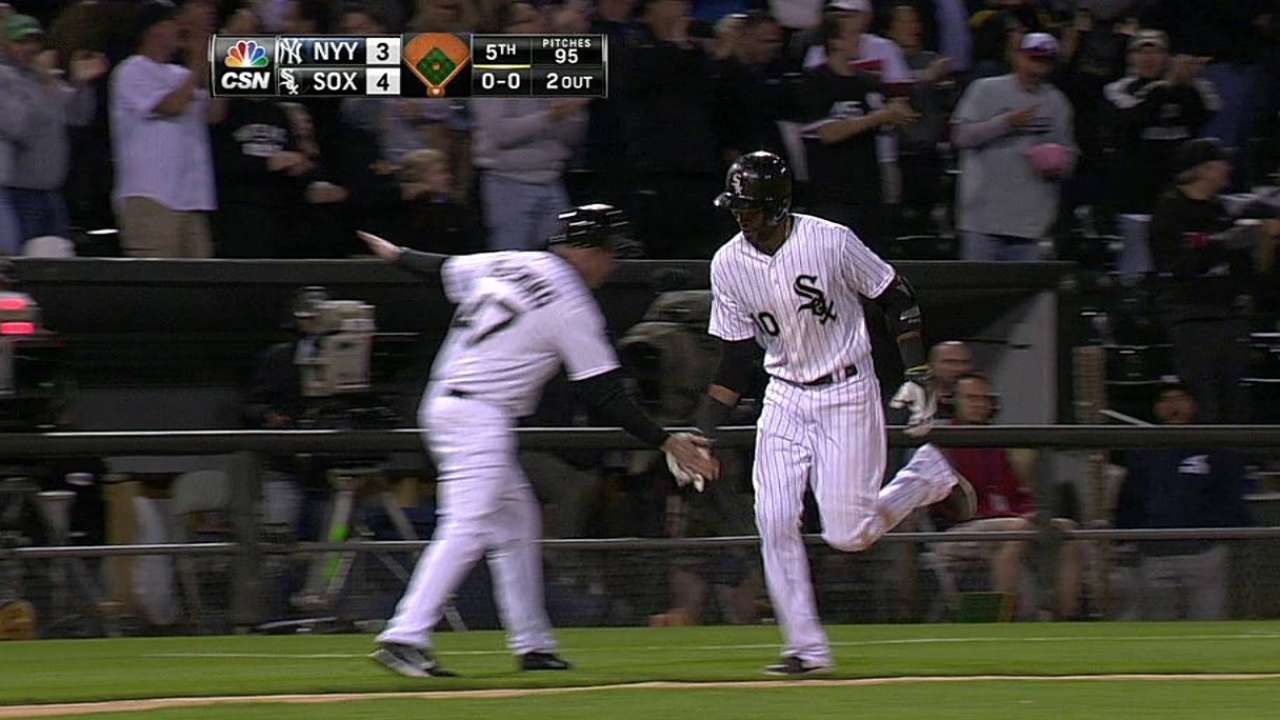 CHICAGO -- Nearly two full months into the season, White Sox manager Robin Ventura is comfortable with asserting that the breakout seasons from Alexei Ramirez and Tyler Flowers are not just a flash in the pan.
Ramirez, who smacked his seventh home run in Friday's 6-5 win over the Yankees to surpass his total from last year, was hitting .325 with an .858 OPS entering play Saturday. He's also come through with a number of clutch hits and sports a .982 fielding percentage at shortstop.
"It's not a fluke by any means," Ventura said of Ramirez's season to date. "Once you get closer to June and he's still playing the way he's playing, it's impressive and I think people take notice. I know he takes a lot of pride in going out and playing every single day. He doesn't want a day off and that's part of his charm and energy, and when he's swinging the bat like that, you can pretty much bat him anywhere. Hopefully, there's guys on when he comes to the plate."
Ramirez, who committed a career-high 22 errors and hit a career-low six homers in 2013, was criticized by some fans for lacking focus. He'd be the last person to make an excuse, but Ramirez was grieving after the death of his father-in-law during Spring Training last season. Given time to heal, Ventura thinks his shortstop is in a better place.
"Everybody takes criticism. That's part of playing baseball. You just have to be able to weather it," Ventura said. "I think last year there were a lot of external factors that affected him that aren't there this year, and he's able to really focus and get into the playing part of it. He feels good. He felt good even in Spring Training. It's been a nice start for him just mentally and physically."
Flowers, meanwhile, was widely criticized for his poor 2013 season, during which he lost the starting catching position to Josh Phegley. This season, he's found a swing that matches his abilities behind the plate. Flowers was hitting .312 in 43 games entering play Saturday.
"It started early in spring," Ventura said. "You talk about the offense of guys going up -- if you're not scoring runs and you're not hitting, it's easy to sit there and you see people point fingers at different people that they're not pulling their weight.
"Flow has been a big part of us being where we're at. He's taking the ball the other way, he's balanced, strikeouts are down. He's hit a couple of big homers for us. He's had a nice little stretch here while playing a very demanding position. He's in a nice spot."
Joe Popely is an associate reporter for MLB.com. This story was not subject to the approval of Major League Baseball or its clubs.