Porcello's winning run ends against depleted Rangers
Streak over at six games as he allows eight runs in 5 1/3 innings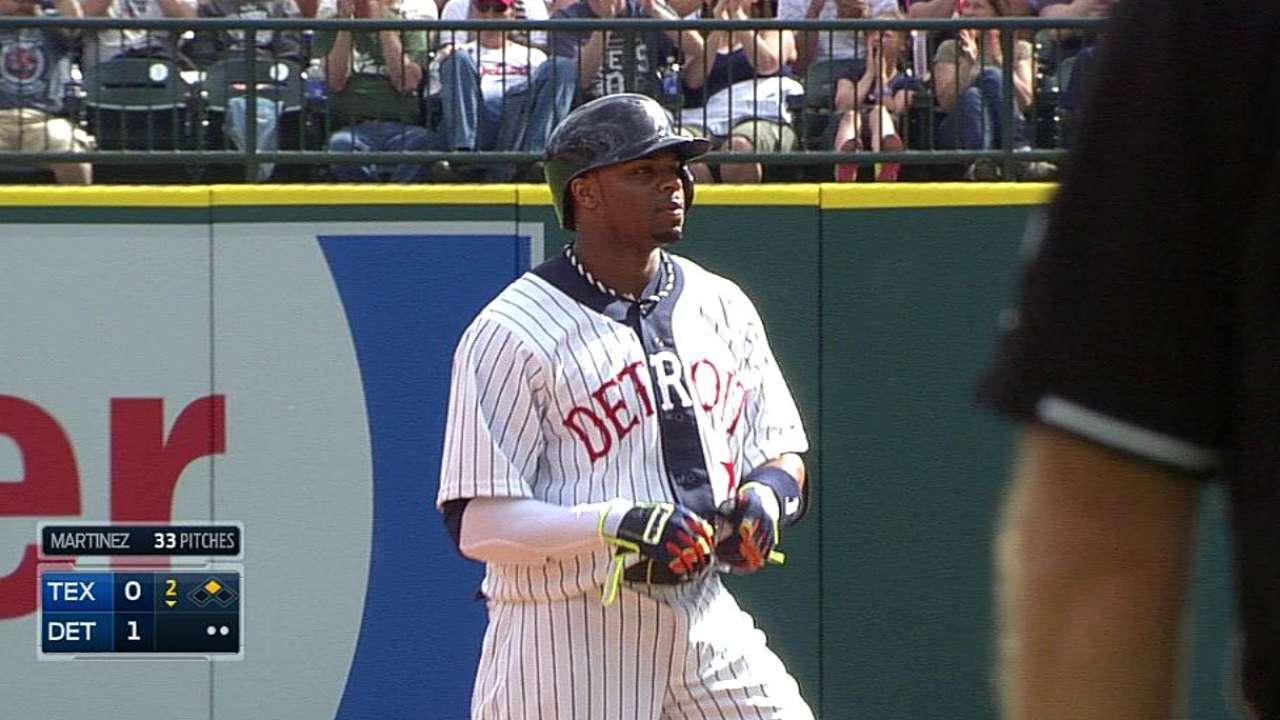 DETROIT -- Tigers starters headed into the week with some of the best numbers of any staff in the American League. This is one turn through the rotation they'd probably like to forget. Rick Porcello's delayed turn rounded it out.
There's no shortage of ugly numbers to show the struggles of the Tigers rotation this week, the latest being a 12-2 loss to the Rangers Saturday at Comerica Park. The best numbers might be two and three.
They're relatively low digits, except when they note how many times shortstop Danny Worth has pitched in how many days.
"We've had a rough stretch," manager Brad Ausmus said. "If you had asked me when I was hired if I'd have a position player pitch two out of three games, I don't think I would have said yes."
Nobody would have expected that for the Tigers' pitching staff, though nobody expected them to dominate all season either.
"Every year that I've been here, we go through a stretch like this," said Alex Avila. "I remember in '11, we had 95 wins and we had Donnie Kelly pitch in a game. ... Every team at some point in the year is going to go through a stretch. You just try to continue to press on and the ship will right itself."
Porcello's struggles Saturday, one week after he gave the Red Sox fits, rounded it out. He came in with a six-game winning streak and a case to be in the conversation for an All-Star spot. He left with season highs of eight runs and 12 hits.
For the six-game stretch through the Tigers' rotation, including Robbie Ray's spot start to give Porcello two extra days of rest, Detroit starters allowed 32 runs on 56 hits over 33 2/3 innings, walking 16 and striking out 24. Nineteen of those runs were scored in the first three innings of the games.
In the latter sense, at least, Porcello (7-2) broke the trend. He maneuvered through the Rangers' lineup unscathed in his first few innings, including four strikeouts over five batters through the heart of the order. His struggles the second time through the lineup went against his trends this season, but proved a fallback to his long-term traps.
Porcello entered Saturday having allowed a .304 average and .826 OPS his second time through opposing lineups for his career, but just .188 and .512 respectively for the season. The Rangers put up four runs on four hits the second time through the order, more runs than he had allowed all year in the same situation. They then scored three runs on five hits the next turn through.
"After the third inning, I really struggled the rest of the game," Porcello said.
None of the middle-inning struggles seemed to be injury-related, though left side soreness had prompted the Tigers to push back Porcello a couple days after his win in Boston last Saturday. Nor did the Rangers seem to make a major adjustment.
Long story short, the lanky 25-year-old right-hander who thrives on keeping his pitches low had a verticality problem.
"After the third, he was just a little up," Avila said. "I mean, the pitches we got hurt on were pitches up in the zone, really. He threw some good curves, threw some good sinkers. Just the ones that we got hurt on, they scored the runs on, those were balls that were up in the zone. But it wasn't like his sinker was bad all day or his curveball wasn't breaking."
To a limited degree, pitches that are up aren't the worst thing for Porcello. When he does it on purpose, he changes the eye level on a hitter, making the sinker more effective or a curveball more likely to freeze a hitter. This wasn't one of those situations, especially when it drops him behind in the count.
"I think he left a couple balls over the plate he didn't want," Ausmus said. "Curveball, fastball, he was trying to go in. On a good day, you get away with them. But today I think the Rangers were able to get a hold of them."
All four fourth-inning runs off Porcello scored with two outs, fueled in part by a Chris Gimenez double off the right-field wall. Leonys Martin's single on an 0-2 pitch plated Gimenez from third, then a four-pitch walk to Donnie Murphy extended the inning for Rougned Odor's two-run triple.
Porcello tried to start off Odor with his curveball, a pitch that has changed his success against left-handed hitters. Odor turned on it and sent it into the right-field corner.
"He started off quickly but we didn't cave in," Murphy said. "He started falling behind hitters, we got some good pitches and put some good swings on it."
Porcello didn't have an abundance of help from his defense, including a relay on Gimenez's double that turned horribly wrong for an error and an extra base. But he didn't help his cause, either.
"That's the part that bothers me most: I had two outs," he said. "You make one pitch and you can get out of there. Maybe they score one or two, but not three. I was never able to regroup after that. I don't know why. After the fourth inning, I just couldn't get it going."
Home runs from Adrian Beltre in the fifth inning and Murphy in the sixth helped knock out Porcello and set up Corey Knebel's Major League debut. Mitch Moreland helped greet him with a drive to the warning track in left-center that Jackson couldn't corral on the run for a double.
Once Odor added another triple, this one for three runs in the seventh, the Rangers were in double digits, and Worth was readying for another appearance.
The remainder of the sellout crowd of 43,447 cheered loudly for Worth in the ninth. He wasn't as excited.
"I just wanted to get it over with so we could come back tomorrow," said Worth, who gave up his first run on a knuckleball that didn't knuckle to Michael Choice.
The run support proved plenty for Nick Martinez (1-1), who shut down the middle of Detroit's lineup for six innings of one-run ball and his first Major League win in four starts. Detroit's lone run off him came in a two-out rally at the bottom of the order, where Rajai Davis doubled home Andrew Romine on a ground ball into the left-field corner.
Jason Beck is a reporter for MLB.com. Read Beck's Blog and follow him on Twitter @beckjason. This story was not subject to the approval of Major League Baseball or its clubs.