Revere provides leadoff spark in Phils' victory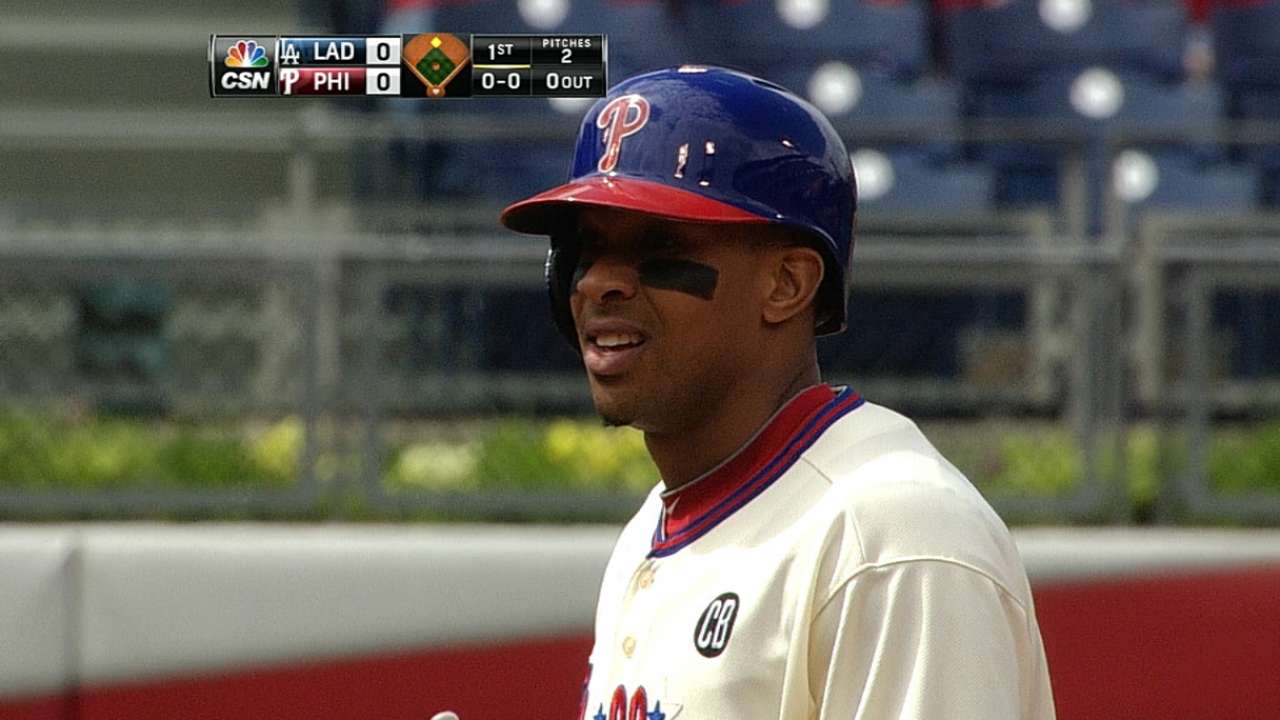 PHILADELPHIA -- Phillies outfielder Ben Revere has one of the lowest on-base percentages of any leadoff hitter in baseball, but manager Ryne Sandberg returned him to the top spot on Saturday afternoon against the Dodgers.
Sandberg had a hunch and it worked. Revere tied a career high with four hits and scored three runs in the Phils' 5-3 victory at Citizens Bank Park.
"If he's swinging the bat well and getting on base, he creates something at the top with Jimmy [Rollins] following him, two good baserunners," Sandberg said after the game. "Two good guys at the top of the order. Jimmy's fine first or second. He's been consistent all year. For Ben to really give us a push and get on base in a big way, he's helping us in the leadoff spot. That's a good spot for him."
Revere, who hit leadoff for the first time since May 14, hit a leadoff double down the right-field line in the first inning and scored on Chase Utley's two-run homer to right to give the Phillies a 2-0 lead. Revere singled to score a run in the second and later scored on Rollins' single to right to make it 4-0.
Revere is hitting .289 with one double, two triples, six RBIs, three walks, 17 strikeouts and a .625 OPS in 153 plate appearances this season.
"Again, I broke my ankle last year, surgery, going to have days where it's going to be sore, it's going to be good," Revere said, referring to the July surgery on his right foot which ended his season. "I'm finding my way just to get my groove back and everything. It may take some time because I've talked to other guys that had the same surgery as mine. It's going to be a little bit, but eventually, you're going to get going. Being around this average, close to .300, at this time after the surgery is pretty impressive. People thought I'd probably lose my speed, my timing, no, I feel pretty good."
Entering Saturday, Revere's .289 on-base percentage hitting first ranked 26th out of 29 hitters with 100 or more plate appearances in the leadoff spot.
Todd Zolecki is a reporter for MLB.com. Erik Bacharach is an associate reporter for MLB.com. This story was not subject to the approval of Major League Baseball or its clubs.