Danks' strong start spoiled by Yanks' late rally
Belisario blows save, allows three in ninth; Putnam gives up HR in 10th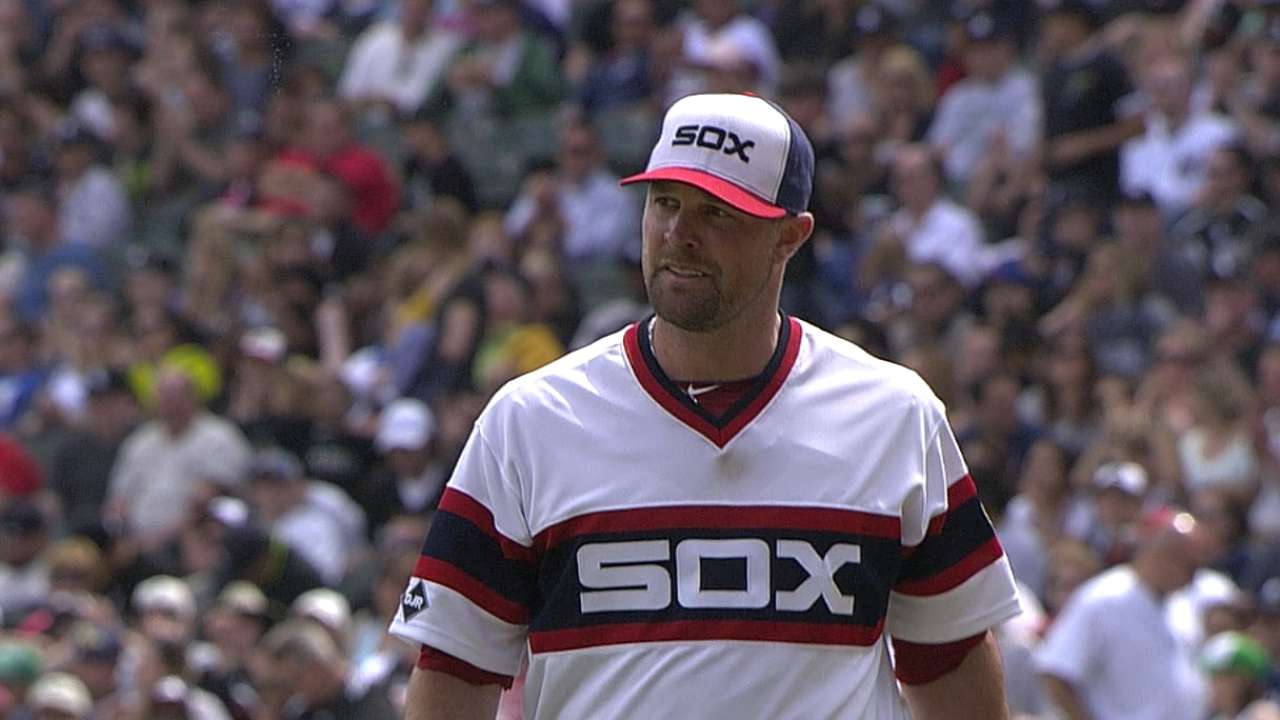 CHICAGO -- The hardest-hit ball against White Sox closer Ronald Belisario in the ninth inning of a 4-3 loss to the Yankees on Saturday afternoon at U.S. Cellular Field ended up going foul.
That drive came off the bat of Mark Teixeira, who ended up striking out. With a runner on second, two outs and a three-run advantage to protect, Belisario looked in solid position for his third save.
But as Belisario found out, the 27th out oftentimes is the toughest one to get.
After the Yankees (25-23) picked up just three hits over eight innings against John Danks, they rallied for three runs on four hits and a walk against Belisario in the ninth. Jacoby Ellsbury's homer in the 10th off Zach Putnam (2-1) -- marking the only long ball he has allowed over 21 1/3 innings this season -- officially put an end to the White Sox eight-game home winning streak against New York.
In that stomach-churning ninth, Alfonso Soriano doubled home a run with a grounder just inside first base. Yangervis Solarte singled home another on a ball that barely eluded Marcus Semien's diving attempt, and after a walk to Ichiro Suzuki, pinch-hitter Brian McCann blooped a single to left to score pinch-runner Kelly Johnson.
Boos from the 33,413 in attendance ushered Belisario off the field, with the beleaguered closer replacement for an injured Matt Lindstrom understanding very little worked in his favor on this sunny day.
"I'm making good pitches. They hit it. I don't even know where. No luck today," said a frustrated but even-keeled Belisario. "You have to finish the game to win it."
"There's really nothing we can do about it," said Danks, after watching his team lose for the 12th time in a game in which they have had the lead. "I truly hope Belisario's in to save my next game. It's one of those days that ... stuff happens."
This ninth-inning New York rally erased one of the best pitching performances from Danks over the past two seasons.
On Chris Sale Bobblehead Day, with the first 20,000 in attendance receiving the giveaway, Sale's good friend and rotation mate allowed those three hits over eight scoreless innings, striking out four. The first hit was a Teixeira double with two outs in the fourth, after a John Ryan Murphy single with one out in the third was changed by the official scorer to an error on Semien.
Past history also apparently meant very little to Danks in regard to this start. The veteran left-hander entered with a career 7.11 ERA against the Yankees, not to mention an 0-4 record and a 5.28 ERA over his last five starts against the American League East, and a 6.78 ERA over his last 15 starts made in May. But 11 ground-ball outs and no walks combined to allow just the one runner as far as second base until the eighth.
Danks threw three bullpen sessions under the watch of pitching coach Don Cooper since yielding seven earned runs on 10 hits over 4 2/3 innings against Houston last Sunday. He made some mechanical adjustments and noticed the difference in an efficient, Mark Buehrle-like start.
"Any comparison to Mark is a good comparison," said a smiling Danks. "Just trying to get the ball, go, throw strikes and let these guys work behind me. It worked out. They made some good plays on some balls that were well-placed and caught some breaks."
"He mixed it in and out, location," said Ellsbury of Danks. "He had it going today with his offspeed, fastball, throwing his cutter, just mixing up his pitches."
All of the White Sox runs came in the first off Vidal Nuno, with singles by Adam Eaton and Gordon Beckham and a Dayan Viciedo double producing the first tally. Adam Dunn added a sacrifice fly and Alexei Ramirez's groundout to shortstop Derek Jeter brought home a third.
Manager Robin Ventura was not around to see Danks' spectacular effort or the ninth-inning collapse. His eighth career ejection and first of the year came in the second inning, when Adrian Nieto was ruled to have run out of the baseline on a rundown play between first and second, after Nieto originally was ruled safe at second. The call was changed after an umpires' conference on the field, leading to Ventura's ensuing argument.
If the call had stood, the White Sox would have had runners at second and third with nobody out. Instead, they did not score in the inning.
Three runs still looked to be more than enough with the way Danks was throwing. Two-out hits from Murphy and Brendan Ryan brought Brett Gardner to the plate as the tying run in the eighth, but Danks retired Gardner on a routine fly to right to end his afternoon at 104 pitches. He wanted to go back out in an attempt for his third career shutout, but Danks would have been pulled had he allowed one baserunner, so he had no issue with Ventura wanting to give Belisario a clean inning to work.
Clean, that is, until Belisario gave up the lead. With five earned runs and eight hits yielded in three save opportunities, the White Sox might be looking for another option the next time they have a ninth-inning advantage.
"We're at a point where we've got other guys that have the ability to do it. It's not the time to do that right now," Ventura said. "He was throwing strikes. It's not like he was walking guys all over the park. It's a tough inning. You tip your hat to them for coming back and getting it done there."
Scott Merkin is a reporter for MLB.com. Read his blog, Merk's Works, and follow him on Twitter @scottmerkin. This story was not subject to the approval of Major League Baseball or its clubs.