Ellsbury at the center of Yanks' comeback victory
Outfielder sparks tying rally in ninth, then blasts go-ahead shot in 10th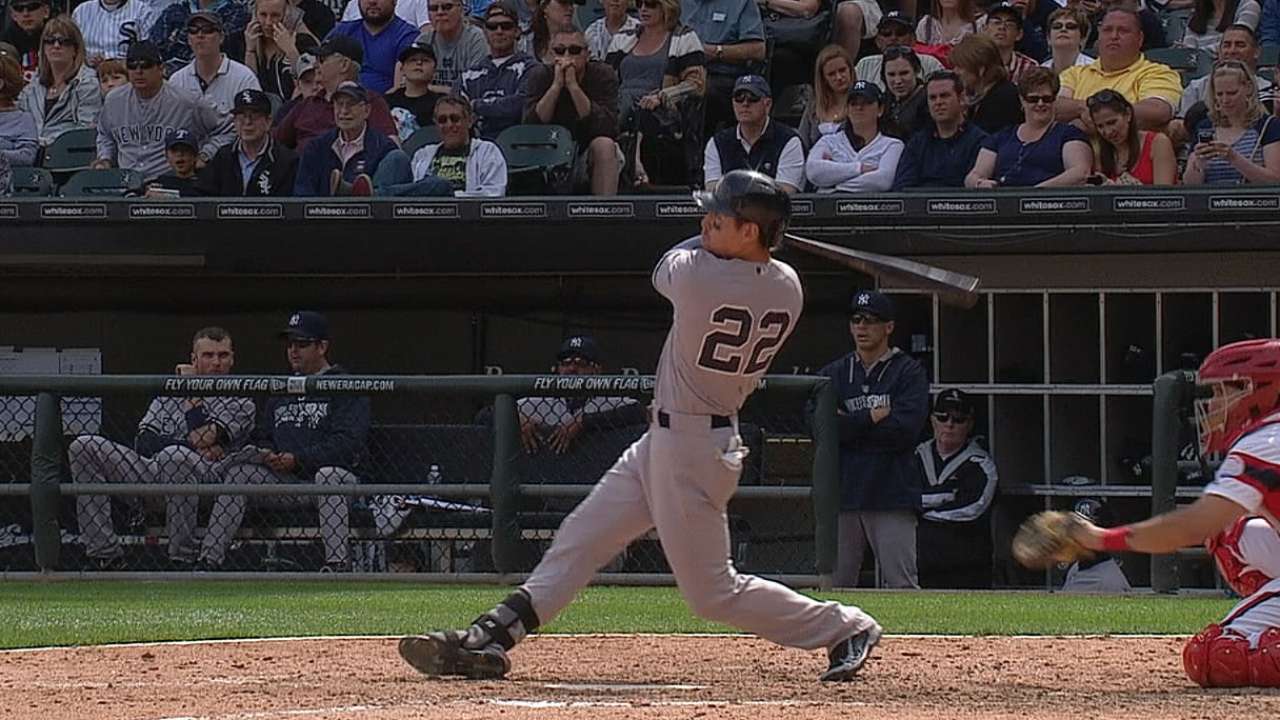 CHICAGO -- Considering how the Yankees' day was shaping up through eight innings, it represented a good sign just to see Jacoby Ellsbury square up a ninth-inning single and scuff some outfield grass. They couldn't have known that would turn their whole afternoon around.
Ellsbury sparked a stunning three-run rally to tie the game in the ninth off Ronald Belisario, then slugged a go-ahead home run in the 10th inning as the Yankees came from behind to celebrate a 4-3 victory over the White Sox on Saturday at U.S. Cellular Field.
"I think it says a lot about our team," Ellsbury said. "Even though at times we haven't swung well against the starters, we find a way to come back in the end and at least make it a game. It was definitely a nice win for us."
Ellsbury's second home run of the season came off Chicago right-hander Zach Putnam (2-1), who had recorded the first two outs of the 10th before Ellsbury turned on an 84-mph splitter and deposited it into the picnic area just behind the right-field wall.
David Robertson bounced back from a blown save in Friday's contest to shut down the White Sox in the 10th, logging his 10th save in 11 opportunities. Dellin Betances (3-0) picked up the win with a scoreless ninth inning.
"Last night was a tough one," Robertson said. "The team battled really hard, got the lead and I wasn't able to nail it down. They did the same thing today, and I was not going to let them down today. Scoring four runs, it says something about our lineup."
It was the Yankees' third extra-inning win of the year, and the second on this road trip. They were silenced by Cubs ace Jeff Samardzija across town at Wrigley Field earlier in the week before coming back against the bullpen for a victory that took 13 innings.
It also marked the Yankees' first victory in nine games at U.S. Cellular Field, a streak that dated back to 2012.
"The way this road trip has went, we'll take wins any way we can get them," manager Joe Girardi said.
The late surge ruined a splendid outing by White Sox left-hander John Danks, who had the Bombers' number through eight dominant innings of three-hit ball. New York had just one hit -- a Mark Teixeira ground-rule double -- through seven frames.
"I had a feeling early on they were sitting on stuff, so I probably threw more fastballs than I have," Danks said. "And then as the game went on I was pitching backwards."
In the ninth, Ellsbury ripped a one-out single to center that started the three-run, four-hit rally against Belisario. Ellsbury scored on Alfonso Soriano's ground-rule double to right, and Yangervis Solarte followed with a ground-ball single to left, driving home the second run.
Ichiro Suzuki worked a walk and Brian McCann was sent up off the bench, flaring a pinch-hit single into center field that tied the game.
"It's satisfying getting a win," McCann said. "That's the game of baseball; hit a couple of balls hard last night and get caught, hit a bleeder today and everything is great. It's baseball."
Vidal Nuno started for New York and permitted three first-inning runs before settling in for a solid outing, scattering nine hits over seven-plus frames.
"I was up in the zone the first inning, the first half of the lineup," Nuno said. "It's just making pitches. It's just a long game, so these guys came back and it's just unbelievable how we came back. We just keep on fighting every pitch."
Dayan Viciedo had a run-scoring double, Adam Dunn lifted a sacrifice fly and Alexei Ramirez slapped a run-scoring groundout in the first inning against Nuno, who walked one and struck out five.
A potential White Sox rally short-circuited in the second inning against Nuno, as manager Robin Ventura was ejected following a play in which Adrian Nieto evaded tags from Derek Jeter and Brendan Ryan, but was called out for running out of the baseline.
"It could have been the difference in the game, in a sense," Girardi said. "You don't know what's going to happen at that point. Obviously, we felt he was out of the baseline. ... We thought it was a good call and it worked out well."
It didn't seem like it would matter much, as the Yanks had just two baserunners through seven innings against Danks. John Ryan Murphy reached on a third-inning error that was initially scored a hit, and Danks retired 12 straight after Teixeira's ground-rule double in the fourth.
Murphy and Ryan broke up the string with two-out singles in the eighth, but Danks induced Brett Gardner to fly out representing the tying run. It was a nice turnaround for Danks, who was 1-3 with an 8.72 ERA in his last four outings, but he didn't count on seeing his good work flushed late.
"We've come back in the ninth and tied some games up," McCann said. "We haven't been playing our best baseball, but to get wins like this, it can lead into the right direction."
Bryan Hoch is a reporter for MLB.com. Follow him on Twitter @bryanhoch and read his MLBlog, Bombers Beat. This story was not subject to the approval of Major League Baseball or its clubs.