Shaky fielding offsets Cespedes' big day
A's DH falls double shy of cycle; Chavez allows four runs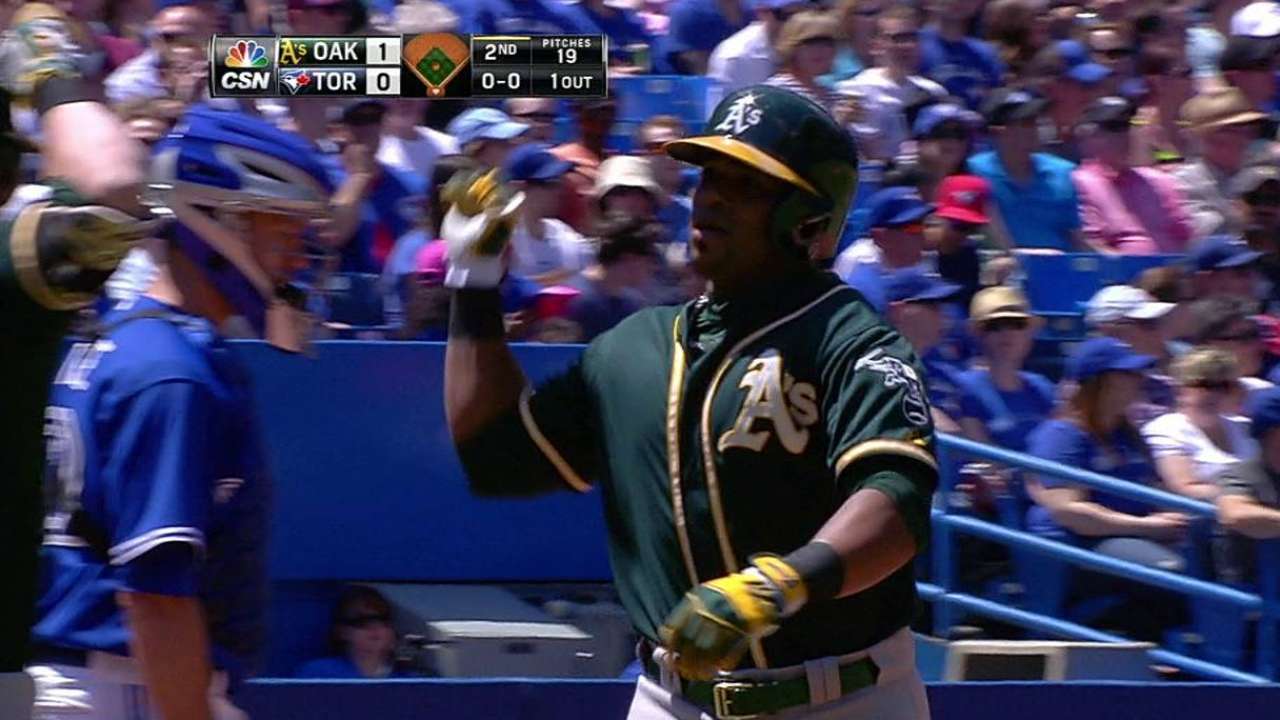 TORONTO -- The hottest team in baseball is suddenly a slumping one.
Already in a rut offensively, the A's were also out of sync on defense behind Jesse Chavez in their third straight loss Saturday, a 5-2 decision against the Blue Jays at Rogers Centre.
They've managed just two runs in each of the losses, following five consecutive wins, and have now dropped as many in a row on three occasions this year. But they haven't lost four straight since May of last year.
The up-and-down week has coincided with a really good one from the Angels, who entered the day having won 11 of their last 14 to close within two games of the A's in the American League West. They're also expected to get back Josh Hamilton in a matter of days.
The A's, though, continue to pitch like a first-place team, and anticipate the offense to come around again in innings not named the ninth, showing signs of life in the later stages of these losses.
They finally got to R.A. Dickey in their last at-bat Saturday, loading the bases in the ninth for pinch-hitter Jed Lowrie, who notched a sacrifice fly off righty reliever Dustin McGowan.
To that point, Yoenis Cespedes' second-inning homer was the A's only run off a superb Dickey, who handcuffed the A's with his knuckleball for a season-high 8 1/3 innings, scattering just five hits and a walk with four strikeouts.
Dickey threw 113 pitches, 72 for strikes. Brandon Moss saw eight, all of them strikes, only coming through on the last for a base hit.
"He was tough today because he was throwing so many strikes with it," said Moss." Sometimes when he's struggling with it, he'll throw something that doesn't have that good movement. But all of his today had good, late movement. Every pitch he threw me today was a strike. When he's doing that, you have no choice but to try to hit it. We tried and we didn't have very much success against it."
"That's a tough pitch to hit, especially when you never see it and it's moving all over the place," left fielder Craig Gentry said. "We just couldn't get anything going against him."
Gentry bobbled a Melky Cabrera single in the third, allowing Anthony Gose to score all the way from first base. Gose scored again in the fifth, as did Jose Reyes from second base, on a grounder from Cabrera that Moss couldn't handle at first.
It was an inning that began with Brett Lawrie's solo homer to left off good friend Chavez, who has been on the mound for five of 11 unearned runs allowed by the A's this season.
"Just some unfortunate miscues today that led to a crooked number, but those things happen over the course of 162 games," said Chavez, who allowed two earned runs (four total) in 5 1/3 innings in his first start against his former team. "Just that hazy, lazy day you can say. We've been playing on turf the last five days. That could be it. We're obviously not used to it."
"I think if you play here all the time, you get used to it a little bit," Moss said. "They know how to get the right hop. It's definitely something different and you have to learn. It's different from Tampa, too, because Tampa has dirt. This place hasn't traditionally been a good place for me defensively. It hops and it speeds up, and when you're not used to that, it kind of plays a trick on your mind."
Still, Moss deemed his misplayed ball routine, and Gentry didn't use the turf as an excuse for his error, either.
The A's had tallied just two errors in their previous 11 games.
"I thought Chavez pitched a great game," Gentry said. "It's a shame he couldn't come out with something better than that. We didn't play good defense behind him. If we had, the whole game would've been a different story."
Right-hander Fernando Rodriguez was charged with Toronto's final run in the seventh, when Jose Reyes doubled and hustled home from second base on a routine grounder to shortstop Eric Sogard.
Cespedes finished a double short of the cycle, collecting half of the club's six hits. His teammates, meanwhile, appeared growingly irked at the plate.
"I think we were just getting frustrated getting shut down offensively, again, and frustrated that we were getting shut down offensively while also not playing our best game defensively and were kind of sloppy," said Moss. "We knew it, and we expect better of ourselves, and it shows in our at-bats, because we're trying to do something."
Jane Lee is a reporter for MLB.com. Read her blog, Major Lee-ague, and follow her on Twitter @JaneMLB. This story was not subject to the approval of Major League Baseball or its clubs.