Dickey dominates as Blue Jays win fifth straight
Hustle from Gose, Reyes helps pad the lead; Lawrie goes deep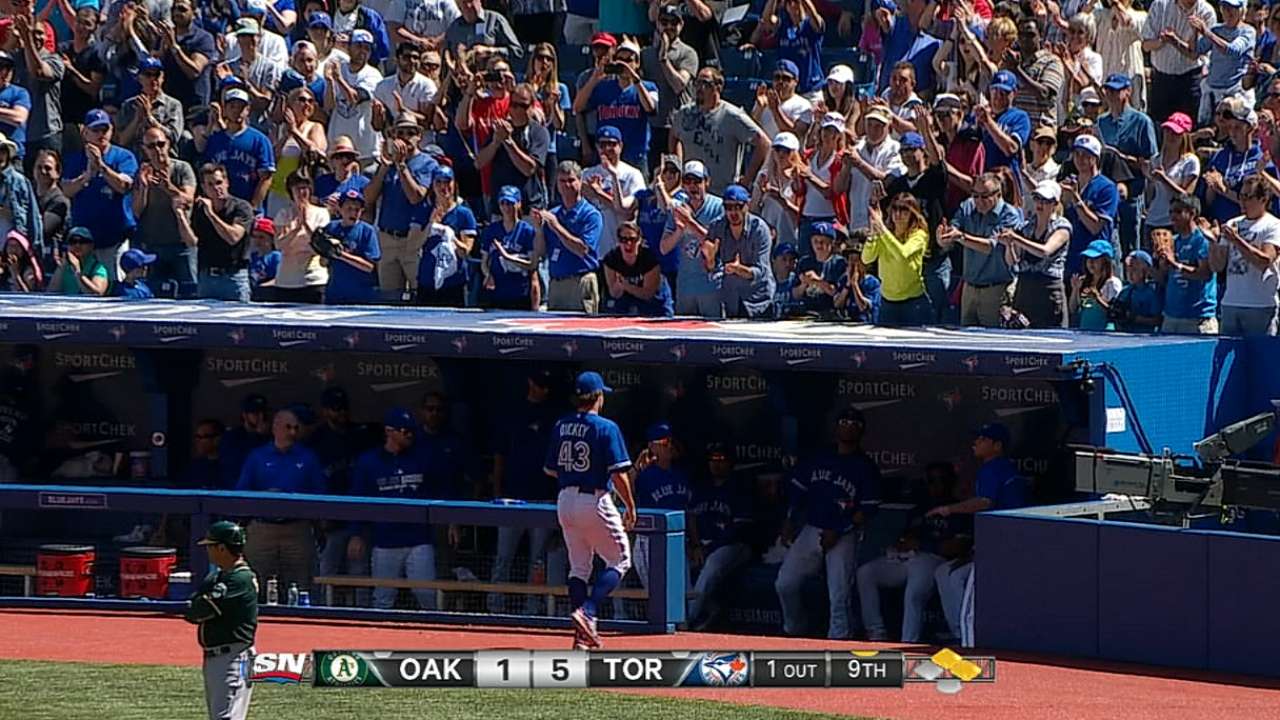 TORONTO -- R.A. Dickey is done talking about whether the roof should be open or closed when he takes the mound at Rogers Centre.
There has been an ongoing debate over the past year and a half about the home environment that best suits Dickey. The numbers suggest Dickey's knuckleball has always been more effective under closed conditions, but that's a narrative he'd rather see come to an end.
The roof at Rogers Centre was open for the first time this season on Saturday afternoon, but in a statement game of sorts, the open-air facility had no impact as Dickey came two outs shy of a complete game. It was his best start of the season and allowed the Blue Jays to extend their winning streak to five games with a 5-2 victory over the Athletics.
"Let me preface, don't anybody ask me questions about the roof being opened or closed," Dickey said at the outset of his postgame scrum with a group fo reporters. "OK, next."
The open-or-closed question began almost immediately after the Blue Jays acquired Dickey in a blockbuster trade with the Mets in December of 2012. The line of thinking was that Dickey's knuckleball would have its best movement when outside conditions weren't a factor.
The numbers seemed to back that up, and the discussion continued when Dickey at times struggled last season when the roof was open. Dating back to 2012, Dickey entered Saturday's game with a 3.86 ERA outdoors compared to a 2.93 ERA indoors. It's a rather significant difference, and while the sample size could be criticized, there's also 159 2/3 innings of indoors experience to work from.
Irrespective of the impact that pitching outdoors can have, it's clear the organization doesn't want to talk about it anymore. Toronto is going to open its retractable roof when whether permits regardless of who is on the mound. The first example came vs. Oakland, and Dickey responded with a nearly flawless outing. He allowed five hits and walked one before departing to a standing ovation with one out in the ninth.
"It was a great game," Blue Jays manager John Gibbons said. "Hopefully we don't get any more questions about the roof being closed. That kind of dispels that."
The other major question surrounding Dickey's body of work this season was his ability to succeed late in ballgames. Toronto's No. 1 starter entered the game having pitched into the seventh on eight occasions, but only once was he able to finish the inning. He allowed seven earned runs on 10 hits and three walks, while retiring eight batters over that span.
For his part, Dickey maintained that the numbers were a coincidence based on a number of factors and not because he was getting fatigued. So on a day when Dickey wanted to eliminate one particular conception about his performance, there was an opportunity to get rid of another as well.
Dickey silenced the critics, at least for now, by recording a three-up, three-down seventh inning, which included a groundout and a pair of strikeouts. His only mistake of the game came much earlier, when served up a poorly located fastball that Yoenis Cespedes hit over the wall in center field for a solo homer.
"You're always conscious of where you are in a ballgame," Dickey said of his previous problems in the seventh. "As a competitor, you want to hand the ball off when you're in the eighth inning. That's what I want to do. Sure, I've thought about it, but it hadn't taken over my subconscious to the point where I thought it was crippling me in any way. I feel like I've been close for a while now."
Toronto's offense got started in the third with a helping hand from some sloppy defense by the A's. With two outs, Melky Cabrera hit a sharp single to left field. Anthony Gose was running on the play and made his way to third, where he was prepared to stop until left fielder Craig Gentry booted the ball. That allowed Gose to score and tie the game at 1.
Brett Lawrie then put the Blue Jays in front during the fifth inning with a leadoff solo homer to left, his eighth of the year. Toronto continued its rally by placing runners on second and third with one out before the club received yet another assist from Oakland's normally reliable defense. This time it was first baseman Brandon Moss, who was unable to come up with a ground ball as Gose and Jose Reyes scored on the play.
Former Blue Jays right-hander Jesse Chavez likely deserved a better fate, but he was chased from the game in the sixth inning. He sustained his second loss of the season after allowing four runs (two earned) on eight hits and one walk, while striking out four.
"Just some unfortunate miscues today that led to a crooked number, but those things happen over the course of 162 games," Chavez said. "Can't complain."
Toronto has won 10 of its past 12 games and 15 of 20 dating back to May 4 in Pittsburgh. The main reason for the recent run of success has been a highly productive offense, but the pitching is also starting to show some signs of life. The last turn through the rotation, Toronto's starters have allowed two runs or fewer in all but one of those five games.
"We stink, we stink," Dickey joked. "We're going to keep stinking too. We're happy to be under the radar, we're happy that people as a staff don't give us any respect. It's OK. We are professionals and we're going to keep grinding and we'll see where we end up at the end of this thing."
Gregor Chisholm is a reporter for MLB.com. Read his blog, North of the Border, and follow him on Twitter @gregorMLB. This story was not subject to the approval of Major League Baseball or its clubs.