Pipeline Preview: Top AL East youngsters set for duel
Boston's Owens and Toronto's Sanchez will square off in a battle of No. 1 prospects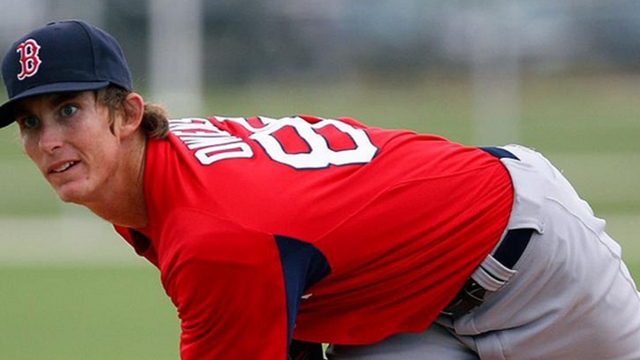 The first time Henry Owens and Aaron Sanchez met this season, the matchup didn't quite live up to its billing as a pitchers' duel.
Owens, the top-rated Red Sox prospect, certainly did his part by carrying a no-hitter into the eighth inning for Double-A Portland on May 8. But Sanchez, the Blue Jays' No. 1 prospect, gave up three runs on two hits and three walks in three innings and exited early.
They'll get a second chance to square off Saturday, as Sanchez's New Hampshire Fisher Cats host Owens and the Portland Sea Dogs in an Eastern League showdown at 7:05 p.m. ET.
Sanchez is ranked No. 20 on MLBPipeline.com's Top 100 Prospects list, while Owens comes in seven spots behind him. They're each the top-ranked prospects for their respective club, and so far this season, they've mostly delivered on the hype.
Sanchez enters Saturday's matchup with a 1-2 record, 2.98 ERA, 41 strikeouts and 34 hits allowed in 48 1/3 innings (10 starts). The 21-year-old right-hander struggled at times with his command, walking 30 batters. He's yet to record a walk-free outing this year, and he's issued four free passes four times.
Owens has dealt with the same issues. The 21-year-old lefty is 4-3 with a 3.22 ERA, two six-inning complete games and a shutout in nine starts. He's held opposing hitters to a .190 average and struck out 57 in 50 1/3 innings. But he's walked 27 batters -- 14 of them over his last three starts. Like Sanchez, he's walked four or more batters in four starts this season.
One other potential pitchers' duel to keep an eye on Saturday: Astros right-hander Mike Foltynewicz will square off with Cardinals prospect Zach Petrick as Triple-A Oklahoma City visits Memphis. Fans can watch that matchup on MiLB.TV. First pitch is scheduled for 7:05 p.m. ET.
Top prospect probables
Alfonso Alcantara (Angels' No. 18), Burlington vs. Peoria
Trey Ball (Red Sox No. 7), Greenville vs. Augusta
Parker Bridwell (Orioles' No. 15), Frederick at Wilmington
Tyler Danish (White Sox No. 4), Winston-Salem at Lynchburg
Foltynewicz (Astros' No. 6), Oklahoma City at Memphis
Ismael Guillon (Reds' No. 9), Dayton vs. West Michigan
Josh Hader (Astros' No. 15), Lancaster vs. Inland Empire
Jesse Hahn (Padres' No. 13), San Antonio at Arkansas
Ronald Herrera (A's No. 16), Beloit vs. Wisconsin
Jason Hursh (Braves' No. 3), Mississippi at Chattanooga
Jake Johansen (Nationals' No. 12), Hagerstown vs. Asheville
Nathan Karns (Rays' No. 7), Durham at Columbus
Michael Lorenzen (Reds' No. 4), Pensacola vs. Birmingham
Owens (Red Sox No. 1), Portland at New Hampshire
Petrick (Cardinals' No. 16), Memphis vs. Oklahoma City
Joely Rodriguez (Pirates' No. 20), Altoona at Erie
Sanchez (Blue Jays' No. 1), New Hampshire vs. Portland
Scott Snodgress (White Sox No. 19), Birmingham at Pensacola
Sam Wolff (Rangers' No. 19), Myrtle Beach at Carolina
Gabriel Ynoa (Mets' No. 15), St. Lucie at Palm Beach
Adam Berry is a reporter for MLB.com. Follow him on Twitter at @adamdberry. This story was not subject to the approval of Major League Baseball or its clubs.