Twins miss chances to pick up Gibson
Starter allows five runs in six innings; Mauer notches RBI triple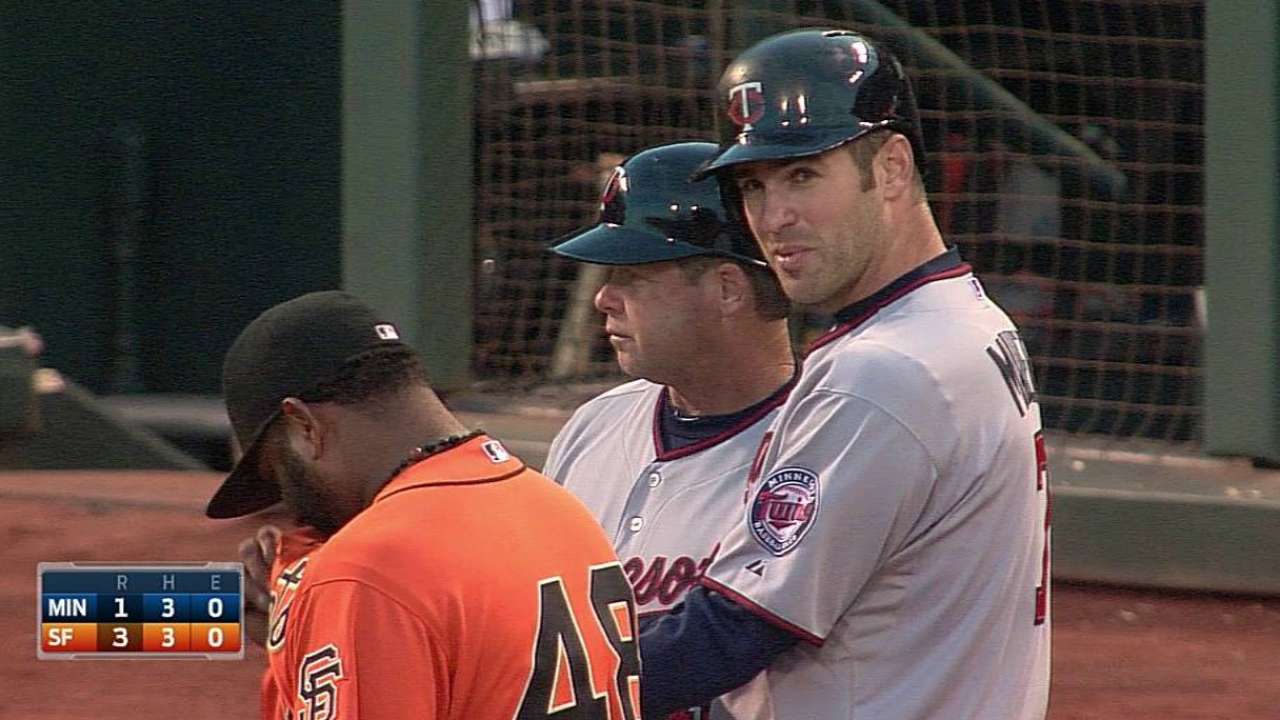 SAN FRANCISCO -- Twins manager Ron Gardenhire had a feeling it wouldn't be his team's night by the time the first inning was over Friday at AT&T Park.
While Brian Dozier led off the game with a double, he was picked off before No. 2 hitter Joe Mauer could even get the bat off his shoulder. Then in the bottom of the frame, Pablo Sandoval hit a three-run homer to help propel the Giants to a 6-2 victory over the Twins.
Following the game, Gardenhire singled out Sandoval's home run as starter Kyle Gibson's biggest mistake of the night.
"We know the lefty's coming up there and we know what we're supposed to do," Gardenhire said. "He just misfired one right down the middle and a guy hit a three-run homer. That was pretty disappointing, too, but other than that, Gibby did all right. We were a little sloppy defensively and we missed plenty of opportunities to get some hits, too. A rough start for us here and that team over there knows how to take advantage of you."
In fact, Sandoval's blast would be all the offense San Francisco needed, as Minnesota couldn't take advantage of an erratic Tim Lincecum.
Even though Lincecum (4-3, 4.55 ERA) issued a season-high six walks, the Twins' only offense came in the third, when Mauer hit an RBI triple to score Dozier before scoring on a groundout by Chris Parmelee.
That's not to say Minnesota didn't have more chances to push across runs. Eduardo Escobar was thrown out between third base and home in the fourth inning, while Lincecum also retired Escobar with the bases loaded to end the fifth. Lincecum finished six innings, giving up five hits while striking out four.
"He worked hard for this one," Giants manager Bruce Bochy said. "He was bobbing and weaving out there the whole game and he found a way to make pitches when he had to."
While veteran catcher Kurt Suzuki said he felt the Twins let Lincecum off the hook, he also gave credit to the right-hander for fighting through his command issues.
"That's the thing," Suzuki said, "with good pitchers like that they figure out how to get outs when they need to. Obviously, Lincecum, he knows what he's doing out there and what he's got to do to get guys out. He gets in a situation like that, sometimes he gets better."
Lincecum's lone 1-2-3 frame came in the sixth, but the Twins couldn't create enough offense to support Gibson. Mauer (2-for-5) and Dozier (2-for-5, double) were the only Minnesota hitters to record multi-hit days, on a night when the Twins actually outhit the Giants, 7-6.
"We left plenty of people out there," Gardenhire said. "We kept playing and we had our chances. Unfortunately for us, we played a little sloppy early and made a couple of bad pitches as the game went along."
In a continuing up-and-down trend, Gibson (4-4, 4.68 ERA) struggled Friday night, one start after limiting the Mariners to one run over seven innings. This time around, he was tagged for five earned runs on five hits while he struck out four.
Following Sandoval's homer, Angel Pagan scored on an error after reaching via a third-inning triple, while Brandon Hicks hit a solo shot to left in the fourth off Gibson. San Francisco rounded out the scoring on Hicks' sacrifice fly in the seventh.
Even though the box score said otherwise, Gibson noted that he was pulled after just 72 pitches on a night when he felt good on the mound.
"My stuff was there tonight," Gibson said. "Unfortunately you look back at it and it's pretty hard to be positive even with the zero walks. Pretty hard to be positive when you make a couple of mistakes in big situations."
Friday marked his ninth outing of the year, but the 26-year-old has only been able to string consecutive quality starts together once all season.
"It's just a young pitcher who's still learning and overthrowing," Gardenhire said. "We talked about that before the game -- damage control and making a pitch to get out of the big inning. It cost him early."
The Giants also took advantage of some defensive shortcomings by the Twins. In the third inning, left fielder Jason Kubel came up short on a dive attempt and allowed Pagan to reach on a triple, while Parmelee did the same thing on Brandon Crawford's triple in the seventh. Both runners eventually came around to score, but Gardenhire wasn't faulting his players for lack of effort.
"Guys are trying," Gardenhire said. "If you're going to get on them for trying, that's a bad way to go about your business."
Alex Espinoza is a contributor to MLB.com. This story was not subject to the approval of Major League Baseball or its clubs.