Felix roars past Astros with dominant outing
Ace fans nine in eight frames; Bloomquist breaks it open with HR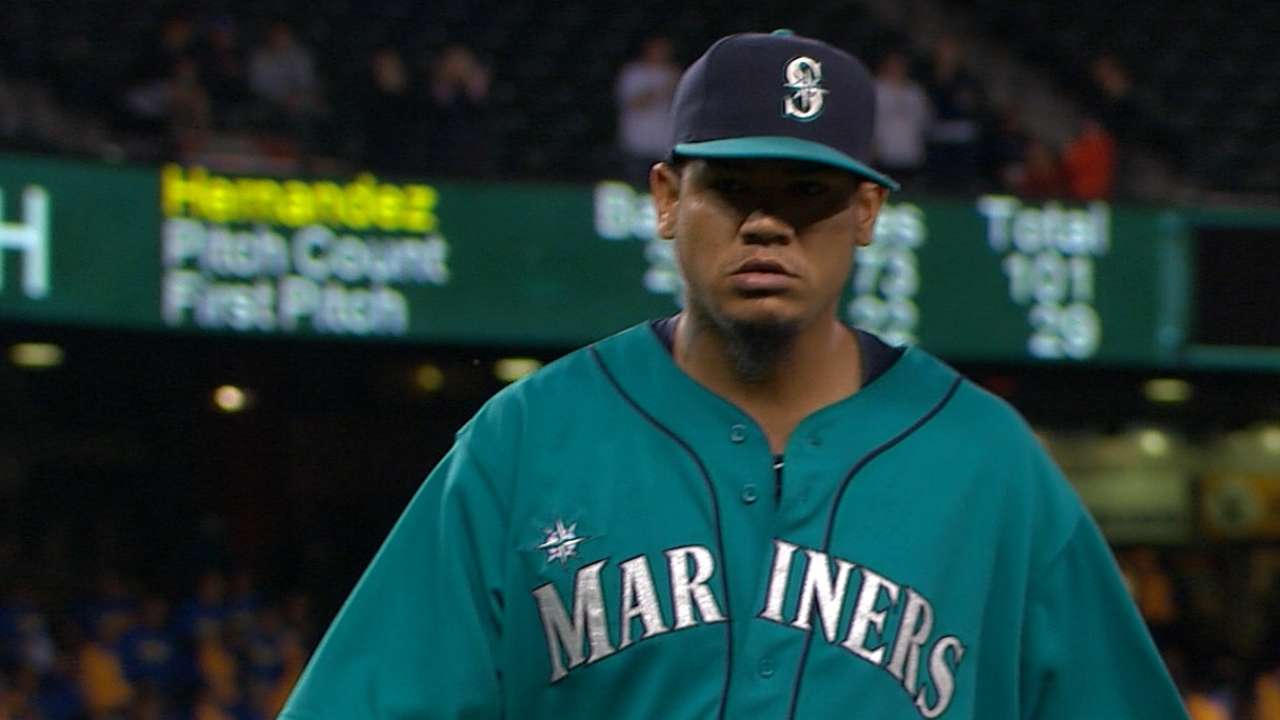 SEATTLE -- "The King" is officially rolling.
Mariners ace Felix Hernandez won his third consecutive start by giving up one run and five hits in eight innings, Willie Bloomquist hit a two-run homer and drove in three runs, and Seattle beat the Astros, 6-1, in front of 21,192 fans at Safeco Field on Friday night.
Hernandez struck out nine and walked just one, improving to 6-1 on the season while lowering his ERA to 2.75. He even made an impressive kick-save on a Jason Castro comebacker in the sixth, then threw to first for the first out of the inning.
"Felix was pretty darn good tonight in a lot of different ways," manager Lloyd McClendon said. "He was very efficient."
His night ended in celebration when he induced Dexter Fowler into a 1-6-3 double play on his 102nd pitch to finish the eighth. Walking off the mound, Hernandez let out a primal yell and smacked his glove with his free hand. It was his night -- other than a Jose Altuve line drive that deflected off his leg for a single earlier in the inning.
"Everything was working," Hernandez said, before admitting that both batted balls "got him pretty good."
But neither stopped him from improving to 4-1 with a 2.52 ERA in nine starts this season against the American League West.
"It was crazy. I was throwing a lot of strikes. The game plan was to throw a lot of strikes and use a lot of fastballs," he said.
It doesn't take much to give the 28-year-old right-hander a comfortable cushion, but the Mariners managed to provide one in the sixth inning.
With one out, nobody on and Seattle leading, 3-1, catcher Mike Zunino launched an 0-1 pitch from Houston rookie Rudy Owens off the top of the right-field fence. Second-base umpire Tom Hallion signaled the ball in play when it caromed back to right fielder Alex Presley as Zunino cruised into second.
After a short conversation with McClendon and a 33-second instant-replay review, the umpires confirmed that the ball hadn't cleared the fence. Zunino was ordered to stay at second. Oddly, it was the third time this season a Mariners hitter had hit a ball off the yellow line atop Safeco Field's fence.
"We got thick padding out there, I guess," McClendon joked. "When it hits that padding, it doesn't go out."
But on the next pitch, Bloomquist broke a string of 626 at-bats without a home run when he launched a towering two-run shot just over the "331" sign in the left-field corner, giving the Mariners a 5-1 lead. Bloomquist, who finished 1-for-3, received a ribbing for his power display when he returned to the Mariners dugout.
When asked if he remembered his last home run -- it was Aug. 10, 2011 -- Bloomquist said, "Don't even go there. I don't even want to remember, let's put it that way. I've had a lot of ground-rule doubles in the meantime. I know it's been a while but that's not my swing, but I'll take them when they come if they ever come."
"This guy's a professional," McClendon added. "He struggled a little bit early on, but I tell guys all the time, check the book. He's pretty good at what he does. He hasn't had a lot of opportunities so we tried to get him a few more at-bats to get him going a little bit, but tonight is a little bit of what he can do."
The Mariners tacked on in the seventh when Kyle Seager delivered an RBI single. Rookie center fielder James Jones extended his hitting streak to 13 games with a single in the fourth.
In the first inning, the Mariners did all their damage with two outs. Robinson Cano started by notching a single to right, then Justin Smoak followed with a double to left to put runners on second and third. Seager then added a two-run single to center to stake Hernandez an early lead.
The Astros got one back in the third when Altuve delivered a one-out single back through the box, but that was about all their offense could muster on a night when "The King" reigned.
With the win, the Mariners improved to 24-23 overall and 2-0 on their season-high 11-game homestand. Cano, Seager, Smoak and Zunino all finished with two hits.
"The feeling here is kind of a quiet confidence," Bloomquist said. "Guys aren't 'rah-rah' and 'look at me.' We know we've had some injuries and been banged up a little bit, but we've weathered that storm pretty well. ... We understand that we got some horses that are getting healthy. It could be kind of fun."
Adam Lewis is an associate reporter for MLB.com. This story was not subject to the approval of Major League Baseball or its clubs.