Owens fades in tough draw for big league debut
Astros stifled by Mariners ace; Altuve rises atop Majors' hits list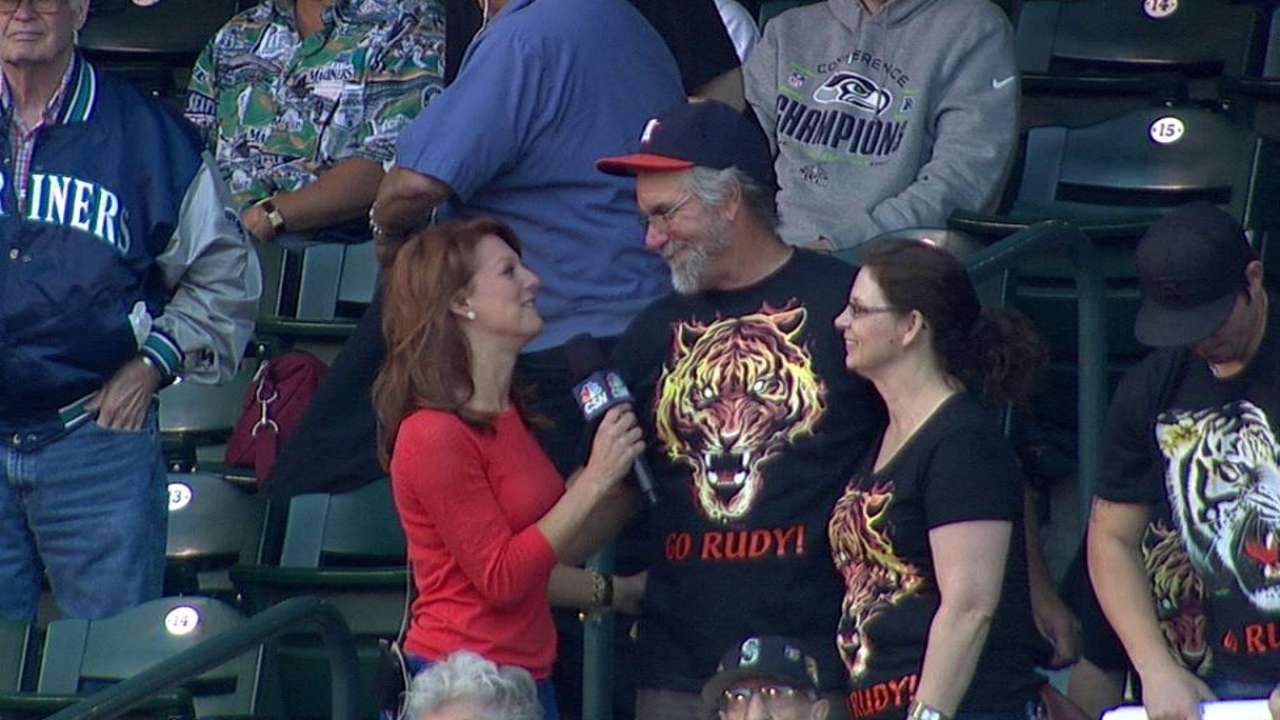 SEATTLE -- No sooner did Rudy Owens get to fully appreciate life as a Major Leaguer did he get called into manager Bo Porter's office Friday night and told he was headed back to Triple-A Oklahoma City after one start.
That did little to dampen the excitement and emotions of the day for Owens, who was dealt the loss in the Astros' 6-1 setback to the Mariners in which he gave up five earned runs and nine hits in 5 2/3 innings in his big league debut.
After the game, Owens held court with reporters for about seven minutes, talking about what the opportunity to pitch in a Major League game meant to him and describing in entertaining detail the reaction of his parents when he told them he was getting called up.
"It's just kind of everything I had been working for my entire life," Owens said. "Ever since I was a kid I remember saying I was going to be a professional baseball player and today was the day. There's that and there's everything my family's gone through to stay behind my back. Even when I struggled, they've been there to calm me down and keep me level-headed and remind me what my goal is."
Owens' family, including his parents, Brian and Kathie, and his brothers and their families, piled into a van and made the long drive from Phoenix to watch Owens face the Mariners in a spot start. He was taking the rotation spot of Brad Peacock, who was scratched with forearm soreness.
It's been a long road for Owens, who has 334 innings in Triple-A under his belt and missed most of last year following foot surgery.
"It's been a very emotional couple of days," he said. "It's pretty awesome. Every time somebody said congratulations, it made me tear up. It's super exciting. Getting here and sitting around waiting for my start, I was pretty nervous thinking about it. But once I got here, just hanging around with the guys, it was just like any other start. They made me feel very comfortable. I didn't feel like it was anything different than any other day. That was nice to have and I took it into the game."
Mariners starter Felix Hernandez (6-1), whose two previous starts against the Astros this year resulted in Seattle losses, allowed five hits and one run in eight innings to win his third consecutive start. Seattle has won four in a row over the Astros and five of six after starting the season with two consecutive losses against them.
The Astros have scored just one run in each of the first two games of the series. Jose Altuve homered on the first pitch of the game Thursday, and on Friday he had an RBI single in the third inning. He went 3-for-4 to give him a Major League-best 66 hits and raise his batting average to .418 in his last 15 games, 10 of which have been multi-hit games.
"You're not going to win too many games scoring one run," Porter said. "Offensively, you've got to get it going."
Owens started smoothly, getting two outs to start the first before giving up a single to Robinson Cano and a double to Justin Smoak to put runners at second and third. Kyle Seager brought them home with a two-run single.
"I definitely need to work on my curveball," Owens said. "I was pitching without that today, and it was hard to miss bats."
The Astros made it 2-1 in the third inning when Marwin Gonzalez led off with a walk, advanced on a ground ball and a wild pitch, and scored on the first of Altuve's three hits. Owens issued a leadoff walk in the fourth that led to a run and a 3-1 lead for Seattle.
While Hernandez wasn't giving the Astros much reason for optimism, it was still only a two-run game heading to the sixth.
Mariners catcher Mike Zunino hit a one-out double in the sixth that struck the yellow line on the outfield wall. The umpires reviewed the play to see if the ball had cleared the wall, but the ruling on the field was confirmed. The Mariners got the homer they wanted on the next pitch -- a towering two-run shot down the left-field line by Bloomquist that made it 5-1.
"He left a few pitches up and those guys put some good swings on them, but I felt like he battled for the 5 2/3 that he was out there and kept us in the ballgame," Porter said. "Until the two-run homer, I felt like we were right there in the ballgame, but offensively we couldn't muster anything off Felix, and that pretty much was the difference in the ballgame."
Owens took the loss, but being able to share the moment with his family was memorable. He described what it was like when he called his dad Wednesday to tell him the news.
"I was like, 'What are you doing tomorrow? You guys should probably head out to Seattle because I'm pitching on Friday,'" he said. "He said, 'What? Are you kidding me?' He started cracking up. He was laughing, but I knew he was trying to hide the fact he was crying. I could barely spit it out without crying."
And his mom?
"My dad didn't put it on speaker, so she was trying to live through his emotions and she's like, 'What the heck is going on?'" he said. "And my dad is like, 'Are you kidding me? You're going to Seattle!' She's like, 'Wow.'"
Brian McTaggart is a reporter for MLB.com and writes an MLBlog, Tag's Lines. Follow @brianmctaggart on Twitter. This story was not subject to the approval of Major League Baseball or its clubs.