Trout homers behind Wilson as Angels stay hot
Lefty keeps Royals in check for Halos' 11th victory in 14 games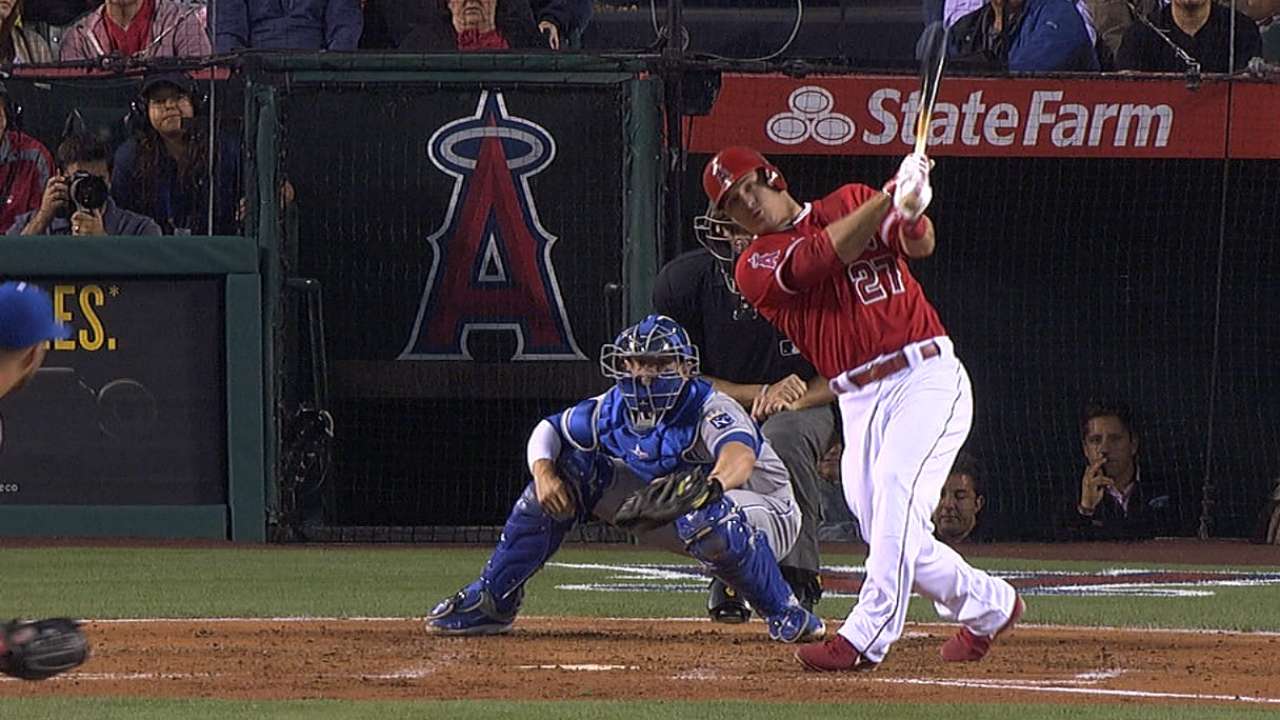 ANAHEIM -- The Angels have gone through nearly seven weeks of baseball without getting a dominant stretch from Mike Trout. And to them, it's a lot more uplifting than it is concerning. Because they're nonetheless off to their best start in three years, and because they know, somewhere along the line, it'll happen -- Trout will get hot, go on an MVP-caliber tear and take the Angels to another level.
"I'd watch out, from here on out and in the second half," Angels catcher Chris Iannetta said of Trout. "Whenever he turns the page -- if it's now, if it's a week from now, if it's a month from now -- there's going to be a lot of pitchers who are in trouble. He's going to be hitting some lasers. Baseball has a way of evening itself out."
Friday night could've been the start of that.
Trout exited Tuesday's game in the fifth inning for precautionary reasons, missed the Wednesday contest because of lingering tightness in his left hamstring, benefited from the Angels' scheduled off day on Thursday, then led his team to a 6-1 victory in the series opener against the Royals.
Trout entered batting .185 in May, and leading the American League with 56 strikeouts on the season, then hit his first home run in eight days, recorded his second multihit game in a row -- also the second in his last 21 starts -- and got his second outfield assist of 2014.
"You see that?" Trout said of his throw, smiling wide because he still remembers when arm strength was the only knock against him.
The 22-year-old center fielder drifted to right-center field to catch an Eric Hosmer fly ball in the fifth, then threw a perfect strike to third to get the speedy Nori Aoki and record the inning-ending double play. At the plate, he went 2-for-4, lifting a Danny Duffy changeup way out to left-center field to lead off the third and shooting a sharp, up-the-middle single against a Louis Coleman fastball in the seventh.
His slash line is now .275/.364/.528 -- good for many, below average for Trout.
"I've been feeling good at the plate the last couple games," Trout said. "Some of the balls I'm fouling back are good pitches that I'm just missing, but I'm staying positive."
And the Angels are staying patient, because they've hardly needed much else.
Friday's win was their 11th in the last 14 games, putting them seven games above .500 for the first time since 2012 and giving them a 27-20 record that's tied for fifth-best in the Majors.
C.J. Wilson gave up four hits, walked four batters and hit two others, but rode a much-improved changeup through 6 1/3 innings of one-run ball, putting the rotation ERA at 2.62 in the last 14 games. The offense fell behind early, then pounded out 12 hits and got RBIs from six players -- Trout and Iannetta on homers, Erick Aybar, Collin Cowgill and C.J. Cron on singles, and Grant Green on an opposite-field double.
It was officially their 14th come-from-behind win, which ranks second in the Majors.
"We've won a lot of close games and we've come from behind a lot already, and I think that's the mark of a really good team," Wilson said. "April for the last two years has sort of jumped us. It kind of snuck up on us, put a bag over our head and beat us down. We got off to a lot better start, even though it was just barely over .500, and May we've been playing a lot better baseball."
And before the season's second month ended, the Angels got their critical lefty reliever back, when Sean Burnett returned from a lengthy rehab from elbow surgery and came in with a runner on second and two outs in the seventh, getting the left-handed-hitting Hosmer to ground out to second.
"I owe a lot of thanks to the training staff and the doctors," Burnett said after his first appearance since May 26 of last year, also against the Royals. "I gave them a lot of headaches for a long time, but today was well worth it -- hopefully for everybody. I hope they enjoyed it as much as I did."
Trout's slump -- if you even want to call it that -- didn't affect his ability to help the Angels win games. He entered Friday with the highest Wins Above Replacement score in the American League (2.7) and still managed an OPS-plus of 145.
But there's plenty more in there for the game's best all-around player -- and if Friday's victory was any indication, it's starting to burst out.
"Mike doesn't have a long track record, but it's safe to say, just like any player, you're going to go through some stretches where hits aren't going to fall in and you're not in sync," Angels manager Mike Scioscia said. "Mike went through a bit of that, but through it all managed to help us win games by doing a lot of different things. He'll find it, and keep it for a long time."
Alden Gonzalez is a reporter for MLB.com. Read his blog, Gonzo and "The Show", and follow him on Twitter @Alden_Gonzalez. This story was not subject to the approval of Major League Baseball or its clubs.