In seven-homer game, Brewers win with three
Bats erupt as Reynolds goes deep twice, Gomez doubles three times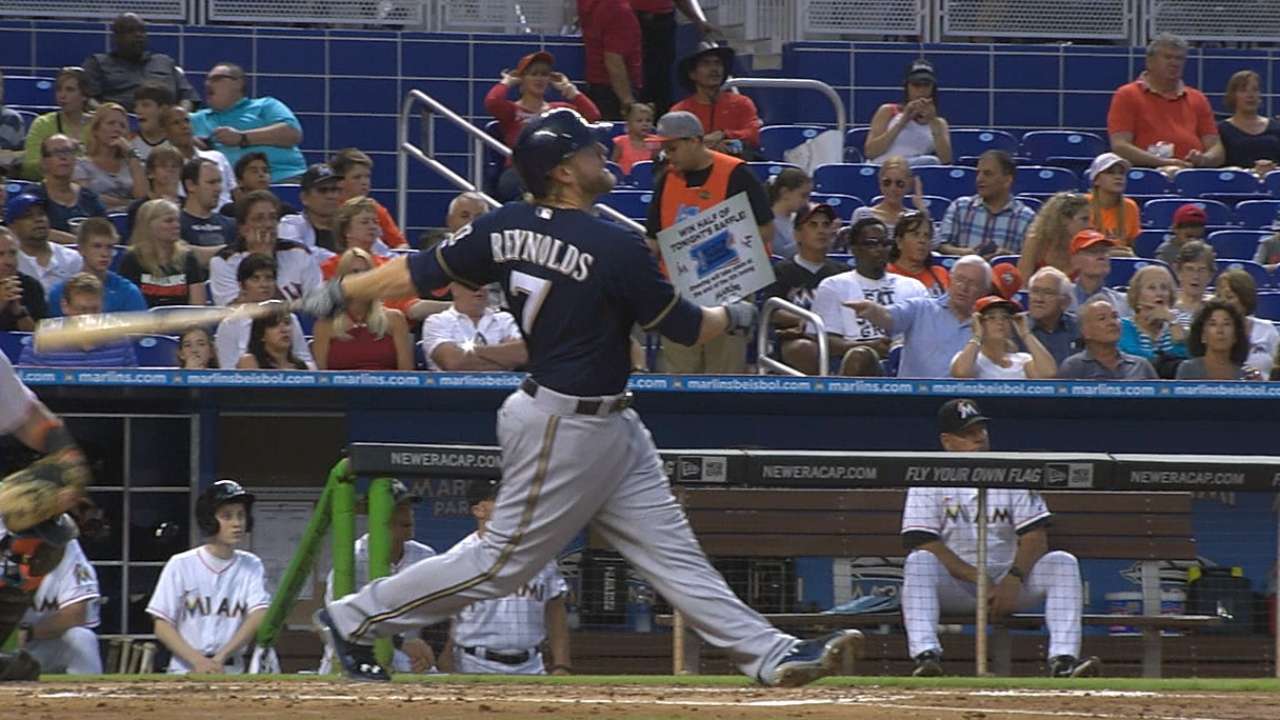 MIAMI -- When the Brewers touched down in Miami around 3:30 a.m. following their fifth loss in six games, there was no telling as to what kind of fight the club would exhibit.
In a game that saw a Marlins Park-record seven total home runs, Mark Reynolds blasted a pair of two-run shots as the Brewers beat the Marlins, 9-5, Friday night in front of 18,989.
Milwaukee's struggling offense notched its best output since April 9 and improved to 25-2 when scoring four or more runs. Entering Friday, the club averaged just 2.7 runs over seven games on its current trip. A five-game lead in the National League Central had shrunk to 1 1/2.
"We started off the season like that," said Reynolds, who recorded his 20th career multihomer game. "Every team goes through ups and downs; that's the way it is. Hopefully we're on our way up."
Amid the power display, it was aggressive baserunning that helped the Brewers get a run off right-hander Tom Koehler (4-4) in the first.
Jean Segura led off with a single, stole second and advanced to third on Jarrod Saltalamacchia's throwing error. Scooter Gennett drove him in with a sacrifice fly to left. It marked Gennett's first RBI since May 9.
Right-hander Marco Estrada, who entered the game tied for the most home runs allowed in the Majors, gave up two solo shots to both Giancarlo Stanton and Garrett Jones in 6 2/3 innings. The four set a career high.
Estrada (4-2) surrendered a two-out solo home run to Stanton off the batter's eye in the bottom half of the first. Stanton's 13th of the season came on an 0-2 fastball.
The Brewers regained the lead in the fourth on Reynolds' first homer of the night. Gomez collected his first of three doubles to lead off the inning before Reynolds connected on the first pitch he saw from Koehler.
A four-run fifth extended the lead to 7-1. Segura reached on an infield hit and scored on Gennett's triple down the first-base line. After Jonathan Lucroy grounded out to Koehler, Gomez rocketed a double off the left-field wall. Reynolds followed with his second dinger to left.
"I just didn't throw enough quality pitches," said Koehler, who went five innings. "They were aggressive early. They seemed to hit every mistake that was made pretty hard. They're a good team, and you can't make that many mistakes. … Early in the count I tried to make some quality pitches, caught too much plate and they hit it hard."
Estrada settled down after Stanton's long ball, retiring 10 in a row until Jones sent a pitch to the home run porch in right to start the bottom of the fifth.
Khris Davis, who started in Ryan Braun's place, joined the homer parade leading off the sixth against left-handed reliever Brad Hand. It was Davis' sixth of the season. Gomez collected his third double in the seventh, driving in Lucroy to make it 9-2.
"After that tough loss last night and come back today and swing the bat like we do, it's a really good feeling," said Gomez, who went 4-for-5 in his first time this season at the cleanup spot.
Stanton and Jones sandwiched the first out of the seventh with homers. Marcell Ozuna's two-out single was the first hit not of the homer variety off Estrada. Pinch-hitter Jeff Baker's single chased Estrada. Righty Brandon Kintzler allowed an RBI single to Ed Lucas as the Marlins pulled within four.
Entering 2014, Estrada had given up no more than 19 long balls in a season. He has already seen 16 go over the fence in his 10 starts this year.
"I know I've given up a lot of home runs, and today was no different, but whatever," said Estrada, who struck out seven and walked none. "If I keep them to one-run homers -- these guys off the bases -- good things will happen. I'm going to turn it around."
As players filtered back into the visiting clubhouse following the game, it was fitting that fireworks could be heard over the loud music blaring from the speakers.
"My gosh there were some long home runs hit by both sides," manager Ron Roenicke said. "I don't know if the ball carries better. Those balls were crushed. It's hard to say. There were a lot of fireworks going on. We really swung the bat well today. Everybody contributed, and we've got to have it."
Christina De Nicola is a contributor to MLB.com. This story was not subject to the approval of Major League Baseball or its clubs.