Jackson gets roughed up in rout at hands of Padres
Starter allows eight runs on nine hits in just four innings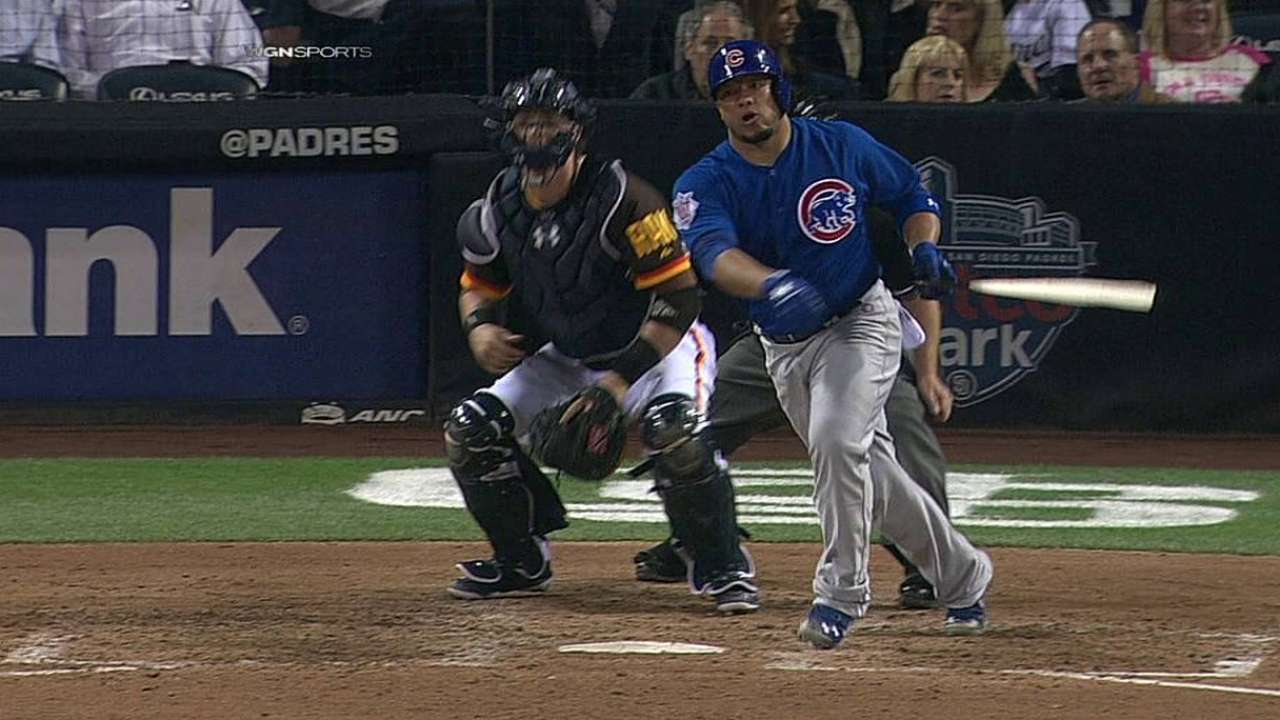 SAN DIEGO -- It wasn't Edwin Jackson's night.
"Tonight was just a terrible job of making adjustments all the way around," the Cubs starting pitcher said of his worst outing of the season.
"I didn't give myself a chance. It happens. All you can do is keep grinding. I let that game spiral out of control."
And quickly.
After allowing only four runs over 20 innings in his last three starts, Jackson gave up the same number of runs in the first inning Friday to the worst offense in the Major Leagues.
By the time Jackson's night was over, he had given up eight runs on nine hits and two walks to a Padres team that entered the game hitting .221 and averaging just under three runs a game.
"Chalk that one up and move on," said Cubs manager Rick Renteria after the Padres' 11-1 win at Petco Park.
"That's probably not one of his best outings. His command wasn't as sharp as it had been."
Renteria, however, thought the outcome might have been a lot different if the Cubs had broken through in the top of the first against Padres right-handed starter Tim Stauffer.
Normally, Stauffer is the long man in the Padres bullpen. But when Friday's scheduled starter, left-hander Robbie Erlin, went on the disabled list Thursday afternoon with elbow soreness, Stauffer was asked to make his first start since May 14, 2012.
Stauffer entered the game with a pitch limit of 60. He had already thrown 26 of those in the first inning when he got second baseman Luis Valbuena to fly out to right with runners on first and second and two out.
"If we had kept that inning alive with that high pitch count, it might have been different," said Renteria.
But the Cubs didn't.
And after scoring four in the first -- their largest first-inning count at Petco Park since they last scored four on Sept. 4, 2012, against Colorado -- the Padres added three in the second.
Jackson, who pitched seven shutout innings in his previous start, gave up two home runs in a span of the first eight batters he faced, after allowing only two homers in the first 54 innings he worked this season.
His record fell to 3-4 and his ERA shot up to 4.94 from 3.98.
Meanwhile, Stauffer was blanking the Cubs on two hits and a walk over five innings. He threw a total of 77 pitches, but only 50 over his final four innings.
Yonder Alonso and Yasmani Grandal homered for the Padres against Jackson while Chase Headley drove in three runs with a two-run double and a run-scoring single. Alonso and Seth Smith each drove in two runs.
"We stayed on him [Jackson]," said Padres manager Bud Black after his team set a season-high for runs scored. We haven't had many of those.
"When that happens [high-scoring games], there's a different feeling in the dugout, a different vibe. Guys want to get to the bat rack, they want to start hacking, they want to get involved. And that kind of happened."
Jackson, who is 0-5 lifetime against the Padres with a 6.94 ERA, said he let it happen.
"It doesn't matter how they are hitting," said Jackson. "This is the big leagues. Players up here can hit. I didn't make adjustments. You have to slow the game down and control the game. I let it spiral out of control."
Everth Cabrera opened the Padres first with a line-drive single to left. Cameron Maybin chased Cabrera to third by pulling a double down the line in left. Smith followed with a two-run single lined over second.
Two hitters later, Alonso lined a Jackson offering 411 feet to right-center for his second homer of the season.
Grandal opened the second with a 360-foot homer to left. After Cabrera hit his second opposite-field single and Smith drew a walk, Headley hit a two-run double.
Welington Castillo followed a Valbuena double in the seventh with a run-scoring single for the Cubs' lone run.
The loss was Chicago's second in the last six games.
Bill Center is a contributor to MLB.com. This story was not subject to the approval of Major League Baseball or its clubs.