Lopez shares humorous anecdote at Chipper's expense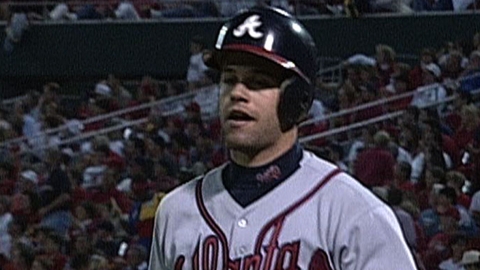 ATLANTA -- As Javy Lopez was delivering his speech after getting inducted to the Braves Hall of Fame on Friday, Chipper Jones got nervous when the former catcher said he wanted to tell a couple stories about the time he shared with Jones at the Minor League level.
But Jones felt a sense of relief when Lopez simply reminisced about what happened when the future Hall of Famer threw his bat after striking out with the bases loaded while playing for the 1992 Double-A Greenville Braves. The bat ricocheted off the dugout and hit the prized Braves' prospect in the mouth. As a bloodied Jones was being tended to in the clubhouse, former Braves pitcher Pedro Borbon called Lopez over to show him the bat.
"His two front tooth were sticking out," Lopez said as the crowd gathered for the Hall of Fame luncheon roared in laughter.
Approximately 15 minutes later, Jones ran into legendary scout Paul Snyder and said, "You've always asked why I never threw my bat or batting helmet. That's why."
Mark Bowman is a reporter for MLB.com. This story was not subject to the approval of Major League Baseball or its clubs.