Laird's clutch hit propels Braves past Rox in opener
Catcher goes 2-for-4, plates go-ahead run with two-out single in eighth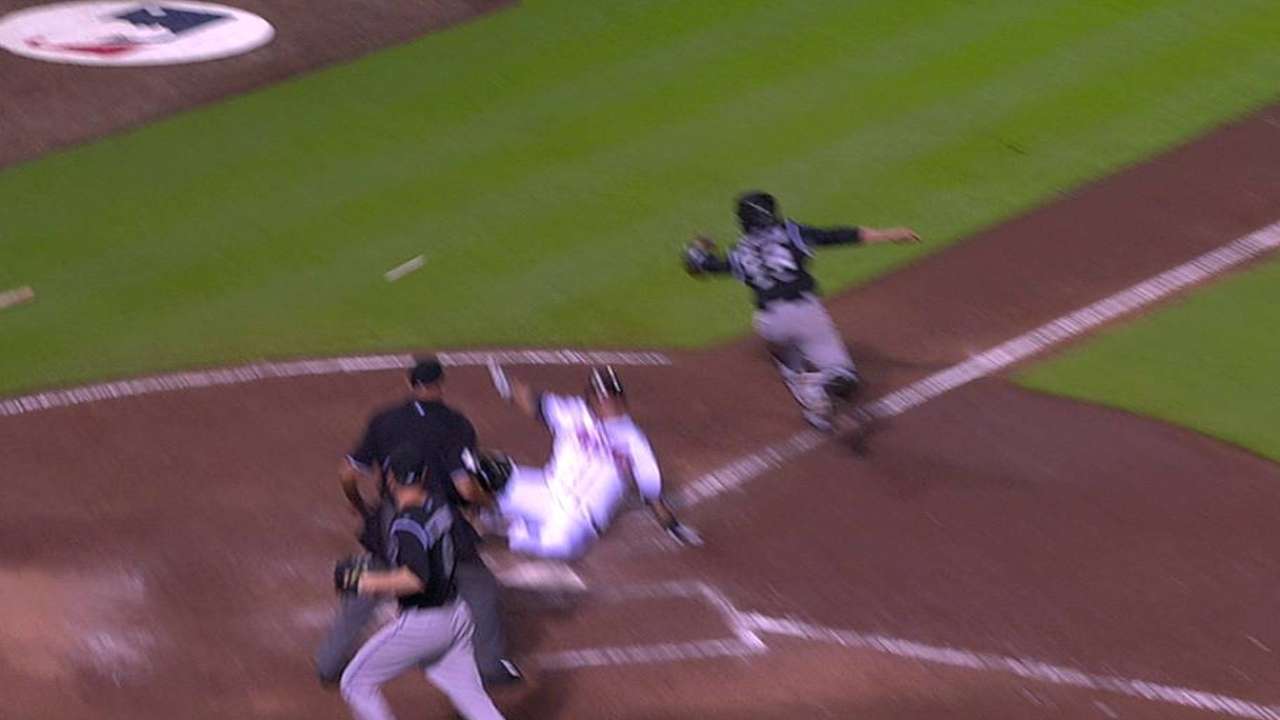 ATLANTA -- Braves manager Fredi Gonzalez joked that Gerald Laird has been getting cranky as he has been forced to handle the catching duties with Evan Gattis battling a virus. But as long as the backup catcher extends his recent success, nobody is going to complain about him getting more playing time than usual.
Laird assumed a number of important roles as the Braves extended their winning ways with Friday night's 3-2 win over the Rockies at Turner Field. He calmed a potentially ugly situation that arose after Chris Johnson threw a tantrum and later delivered the game-winning single with two outs in the eighth inning.
"He's supposed to be that guy that plays once a week or twice a week," Gonzalez said. "We've put him in there four days in a row now and he's come up big."
As he made his fourth consecutive start for Gattis, Laird was fortunate to still be around to deliver the decisive eighth-inning knock. As they stood at the top of the dugout stairs, Laird and Gonzalez were both hit by pieces of a bat that Johnson shattered after striking out to begin the second inning.
Fortunately, Laird got down the stairs before an irate Gonzalez, who immediately pulled Johnson and replaced him at third base with Ramiro Pena.
Pena made the most of his opportunity as he began the eighth inning with a double off Adam Ottavino, who then righted himself with consecutive strikeouts against Andrelton Simmons and Dan Uggla. But the right-handed reliever's bid to escape unscathed was thwarted when Laird sent his go-ahead single through the infield's left side.
"I got off to a slow start at the plate," Laird said. "But I feel like in the past week, I've been taking better swings and it's coming along real well."
Laird also drove in the Braves' first run with a second-inning double off Jordan Lyles. The veteran catcher's two-RBI performance was completed just 24 hours after he drove in his first run of the season with a key double during the decisive seventh inning of Thursday night's win over the Brewers.
Not bad for a 34-year-old seasoned veteran, who has been playfully described as cranky this week.
"They're just giving me a hard time," Laird said. "I'm ready to go every day. That's my job. I'm here when [Gattis] needs days. Obviously, he's under the weather. If it's four, five, six, or seven in a row, I'll do it. I feel real good right now."
The Braves, who have won five of their past six, received yet another strong start from Gavin Floyd, who was charged with two runs on seven hits in 6 2/3 innings. After ending his night with a strikeout of pinch-hitter Brandon Barnes in the seventh, Floyd saw Luis Avilan strand an inherited runner by inducing a Charlie Blackmon comebacker.
While compiling a 2.49 ERA through his first four starts, Floyd has exceeded the expectations that surrounded him as he returned from Tommy John surgery. He has thus far avoided the inconsistent command issues that many other pitchers have encountered when coming back from the elbow surgery.
"I feel strong," Floyd said. "I feel thankful that I've been able to recover and control pitches like I have been."
After Rockies third baseman Nolan Arenado opened the second with a liner off the left-field wall, Uggla received Justin Upton's throw in front of second base and quickly flipped to Simmons, who appeared to tag Arenado's left foot after he slid past the bag. But the play stood after a replay review showed what was deemed inconclusive evidence.
Arenado later scored on a Jordan Pacheco groundout. But he left the game with a fractured left middle finger that he injured sliding into second base.
Floyd limited the Rockies to an infield single over the next three innings. But his impressive stretch was halted when Michael Cuddyer opened the sixth inning with a game-tying home run.
Cuddyer's childhood friends, the Upton brothers, had helped give the Braves a 2-1 lead in the third inning.
B.J. Upton has recorded four hits and drawn five walks while striking out just once in the 20 plate appearances he has recorded through the first five games of this homestand. His ability to beat out a double play in the third inning helped put him in position to score on his younger brother's RBI groundout that accounted for the last of the two runs Lyles surrendered in six innings.
The Braves had quickly erased their early deficit when Uggla scored from first base on Laird's RBI double in the second inning. Uggla drew a two-out walk and was running on the 3-2 pitch that Laird laced into the left-center-field gap.
"My body feels good," Laird said. "It's one of those things where when you start feeling it, you want to play more. But I know my time is coming where I need to go back to the bench. I just wanted to contribute while I was in there and I was glad I was able to do that."
Mark Bowman is a reporter for MLB.com. This story was not subject to the approval of Major League Baseball or its clubs.