Giambi homers, but House takes loss vs. O's
Lefty allows five runs over six innings in first Major League start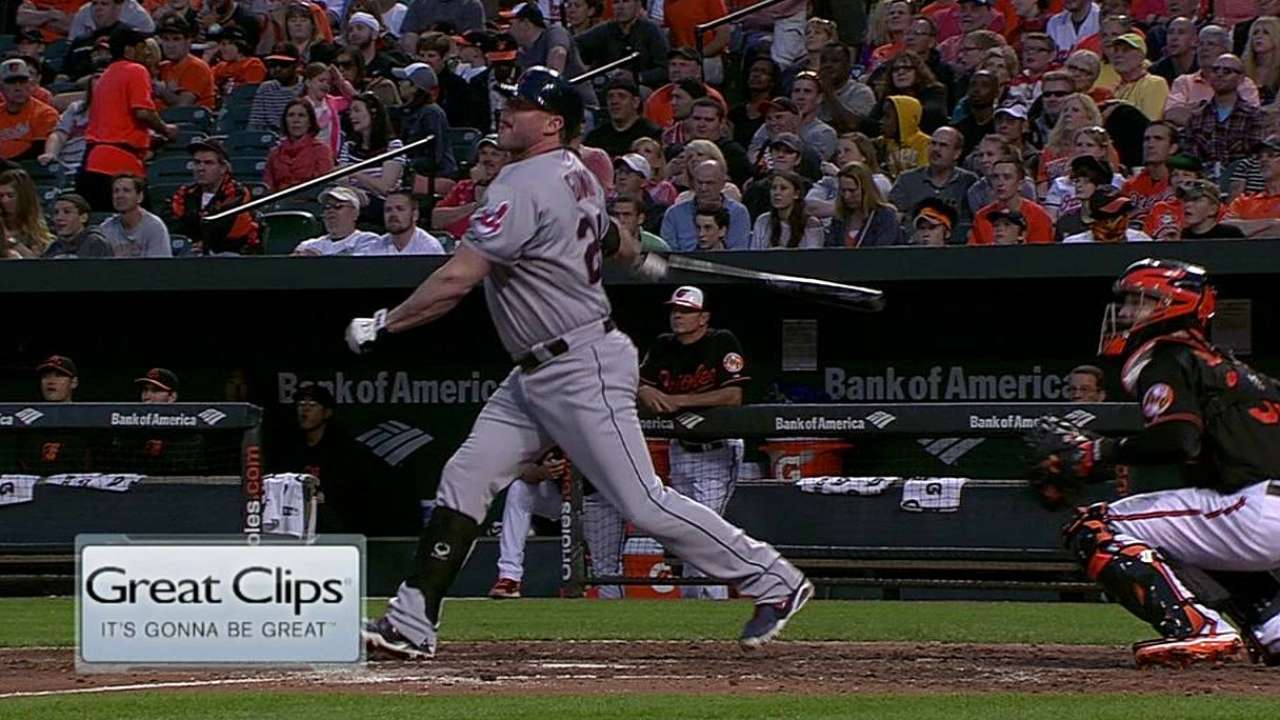 BALTIMORE -- T.J. House joked that he was always destined to pitch at Oriole Park at Camden Yards.
During a brief callup in 2013, the Indians were in Baltimore to face the O's. His family made the trip then, hoping to see him make his Major League debut, but he never got his shot.
A year later -- and with seven family members once again the part of a 39,602-person crowd -- House's first career start came at Camden Yards and he was treated to all of the difficulties that the stadium presents for a pitcher.
The rookie was far from perfect -- he allowed 11 hits in six innings -- but like so many others at Oriole Park, House fell victim to the longball and Cleveland's four-game winning streak ended with an 8-4 loss to the O's.
"He gave up a lot of hits, paid for some of his mistakes, but saying all that, he kept his poise," Tribe manager Terry Francona said. "The outs he got with the groundball outs, the double-play type, that's what will make him really effective. As you learn the hitters and learn the league, he has enough there to win and be successful."
After four innings the Indians held a 4-3 lead. One of the Orioles' three runs had already come on a home run -- Nelson Cruz's 15th, which put him into a tie for the Major League lead with Jose Abreu -- and in the bottom of the fifth House got burned by another long fly.
Chris Davis crushed the first pitch he saw for a two-run home run that gave Baltimore the lead for good and ultimately saddled House with his first big league loss.
"He went out there and kept us in the game," Jason Giambi said. "It's just unfortunately one tough pitch to Chris Davis."
To that point, Cleveland managed to hold the lead almost solely because of Giambi. The designated hitter took advantage of a familiar ballpark to turn back the clock and smack a three-run home run to left field -- the 17th homer of his career at Camden Yards -- off winning pitcher Bud Norris to give the Tribe a 4-3 lead.
It was the final blow in the Indians' only productive inning.
"The fourth was a tough one for me," Norris said. "I still like the pitch I threw to Giambi. He put a good swing on it. He's been playing a long time, so you tip your cap."
The 43-year-old's first home run of the season was the first for a player that age since infielder Omar Vizquel homered with the White Sox in 2011.
With the way Cleveland had played during the four-game winning streak a fresh memory, the Tribe was in position for another thrilling victory. All it took was one pitch to erase that.
"I didn't do my job in that aspect," House said. "I've just got to go out there and be able to hold the fort down when they give me the lead and that's something that I've got to do a better job of."
After that fourth inning, the Indians were never again able to threaten. Cleveland only got a runner past first base once during the last five innings.
In fact, the Tribe did more to help Baltimore than itself during that time. With runners on first and second and one out in the seventh and the Orioles leading 5-4, relief pitcher Mark Lowe had the chance to escape the inning, but his throw to second that could have started a double play sailed into center field and the O's plated a trio of unearned runs to take an 8-4 lead.
The Indians couldn't get House off the hook in his first career start, but Francona is sticking with the pitcher for his next turn in the rotation. So in five more days, he'll be pitching for another milestone -- his first victory.
"It was fun," House said. "Obviously the results didn't end the way I wanted them to, but I had a good time out there. Next time I get a chance to do it I hope to be able to perform a little bit better."
David Wilson is an associate reporter for MLB.com. This story was not subject to the approval of Major League Baseball or its clubs.