Prospect Knebel at the ready in first Majors experience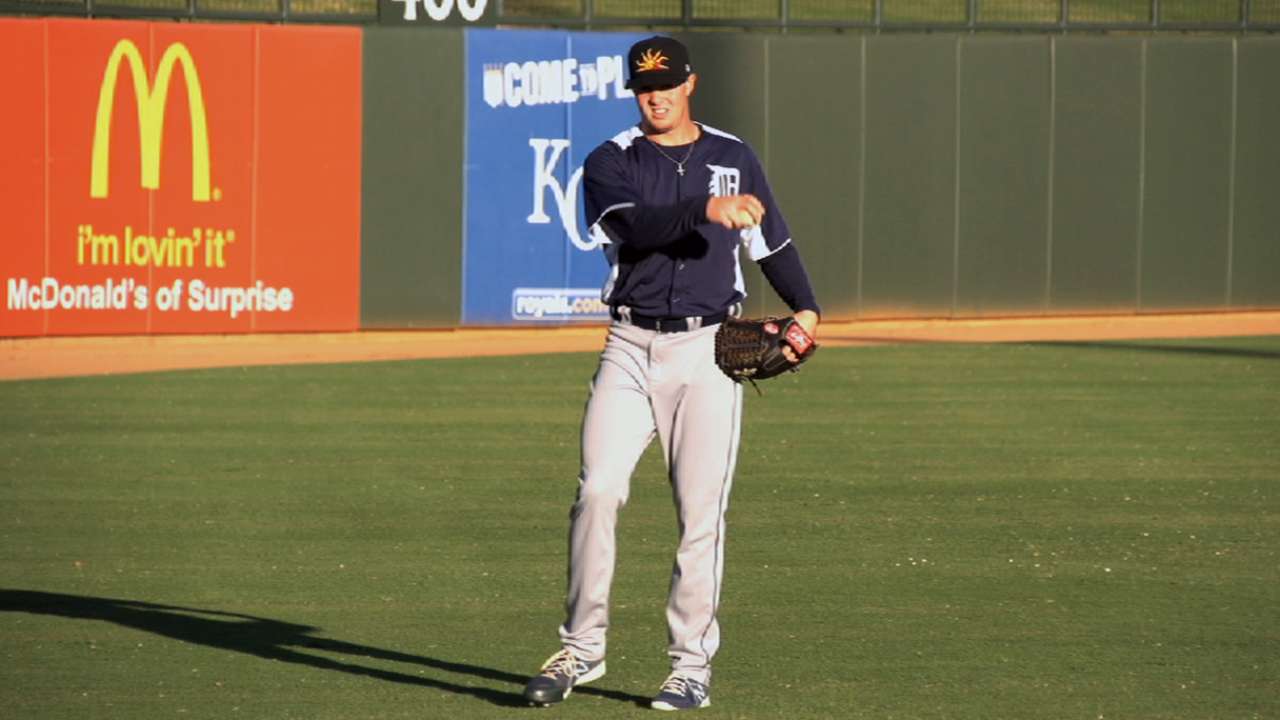 DETROIT -- Skip Johnson, the pitching coach at the University of Texas, taught the newest member of the Tigers a lesson that dictates his approach on the mound.
"Fear no man. Fear no hitter," said Corey Knebel, Detroit's 39th overall selection in last year's First-Year Player Draft. "That's just what I kind of live by. I just go out there and think that I'm better."
Knebel's ability to abide by his old mentor's dictum will be put to the test as he prepares for his Major League debut. In fact, for whatever reason, the young southpaw was already sweating when setup man Joba Chamberlain came up to greet him upon his arrival in the clubhouse Friday.
"Why you sweating?" Chamberlain teased. "You already nervous?"
If Knebel is nervous, and he admits he will be when he takes the mound for the first time, it's tough to blame him, considering the lofty expectations placed upon the Tigers' No. 5 prospect. His Detroit welcome comes after a quick scurry up the ranks of the Tigers' Minor League system. The 22-year-old Texas native, who grew up a fan of the Astros while Tigers manager Brad Ausmus played in Houston, said he surprised even himself at how fast he climbed.
Ausmus plans to exercise caution, if possible, in using Knebel, but noted his experience pitching for a major college program should make him "a bit more stable."
"Obviously, you don't want to throw him into a burning, hot fire if you can avoid it," Ausmus said. "Sometimes you can't, if you go into extra innings and he's left in the bullpen and he comes into a tie game in the 12th. Can't control those situations, but ideally there's a little bit less pressure."
Knebel replaced another youngster, Robbie Ray, on the active roster. Ray was optioned to Triple-A Toledo after a rocky start Thursday, though Ausmus said the plan was to return him to Toledo regardless of how the outing went.
The hard-throwing Knebel brings a fastball and curveball that he "throws as hard as I can." He also has a changeup that he's been using sparingly.
His parents, Jeffrey and Melissa, were in attendance Friday night, as well as his fiancee, Danielle Matula.
Matt Slovin is an associate reporter for MLB.com. This story was not subject to the approval of Major League Baseball or its clubs.