Homer(s) enough as Reds top Cards in series opener
Bailey goes six innings in win; blasts by Frazier, Mesoraco lead offense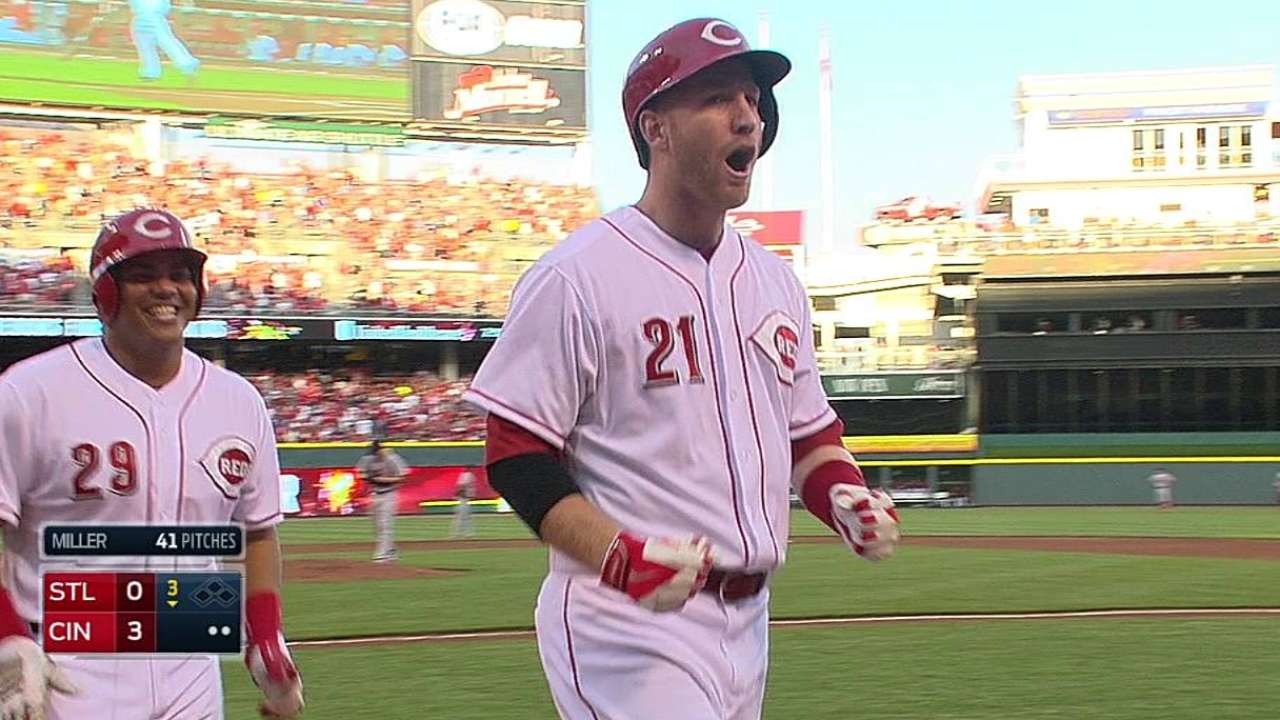 CINCINNATI -- The Reds, namely starting pitcher Homer Bailey, had a tall order to fill on Friday night. Not only was Bailey charged with cooling off the red-hot Cardinals, but his team needed some momentum while he needed to begin turning around a lackluster season.
By the end of the night, the Reds had filled their checklist well, having notched a 5-3 victory. St. Louis came in winners of three straight and seven of its last eight.
For Cincinnati, it has back-to-back wins for the first time in three weeks -- since May 3-4 vs. the Brewers -- and has won three of its last four.
"We play these guys so much. There are no secrets between us," said Bailey, who is 4-3 with a 5.34 ERA in 10 starts. "To get this big win, it's big for us as a team, especially coming off the series win in Washington."
Bailey, who lasted a season-low 3 2/3 innings and allowed six runs in his previous start, at Philadelphia, threw 95 pitches over six innings vs. the Cardinals. He gave up three runs, eight hits and two walks with four strikeouts. Helping his cause was that all eight Cardinals hits against him were singles.
There were also some big moments of escape. Bailey left two runners on base in the fourth and fifth innings, and got out of the sixth by picking off Jhonny Peralta at second base for the third out.
"Those guys have been hot, so we knew we had to make really good pitches," Bailey said. "I think just holding them to the limited damage that they did tonight was a good thing, especially with how hot they've been.
"I'll take eight singles from those guys all the time. Better than a three-run home run or a two-run double."
There was some strong offensive support from the Reds' lineup. Following a two-out walk by Billy Hamilton in the third inning against Shelby Miller, Todd Frazier pummeled a 1-0 pitch to the batter's eye in center field for a three-run homer and 3-0 Reds lead. Miller came in the winner of his last six decisions.
"Two-out RBIs are always huge," said Frazier, who batted second for the first time this season. "My first at-bat, I couldn't see anything; I was confused, because the next inning, that's when I usually bat and I start to see the ball better. So the sun got me. I thought maybe if I see it a little better I can do a little damage. I got a pitch to hit with runners on, and that gets you excited."
Bailey, who faced the minimum nine batters with one hit allowed in his first three innings, struggled to hold his new lead in the fourth. Opponents came in batting .338/.405/.592 against Bailey when he's leading or in a tie game, vs. .227/.261/.303 when the Reds are trailing.
Following a leadoff single by Matt Carpenter and Kolten Wong's walk to start the inning, Allen Craig's two-run single to left field made it a one-run game. Yadier Molina added a single, bringing pitching coach Jeff Pico to the mound for a visit. Bailey escaped with a flyout and struck out Peralta to end the 21-pitch inning, yelling at himself as he left the mound.
"We had him on the ropes a couple times, and those are the times we're looking for the big hit to happen. It just didn't come tonight," Cardinals manager Mike Matheny said.
Cincinnati added a run in the fourth, with Jay Bruce -- in his return to action following knee surgery earlier this month -- leading off with a double to the wall in right-center field and scoring from third base on Brayan Pena's sacrifice fly. St. Louis stayed close by notching three hits off Bailey in the sixth and adding a run on Peralta's fielder's choice to second base as Craig scored. Peralta was later picked off at second base when Bailey turned and fired to shortstop Zack Cozart.
"The timing was great," Reds manager Bryan Price said. "It was a huge out in a situation where it looked like, in that inning, he would have to make some great pitches to work his way out of that."
In the bottom half of the frame, Devin Mesoraco's one-out homer to the left-field upper deck put the Reds again ahead by two runs. With Bailey done after six innings, Manny Parra pitched a one-hit but scoreless seventh inning while Jonathan Broxton handled a perfect eighth. The first out of the inning featured a nice diving stop by Pena near first base and a no-look toss to Broxton covering the bag to get Matt Holliday.
"It was like the June Jones run-and-shoot offense there. It was something to see," Price joked. "It was big. It was the first hitter of the eighth inning, and we were able to get an out. It always sets the tone."
Aroldis Chapman pitched a one-hit ninth for his fourth save.
It was the third time in seven games this season the Reds have beaten the Cardinals. Cincinnati (22-24) is now three games behind second-place St. Louis (26-22) in the National League Central.
"Coming home to a packed house on the weekend, it felt awesome," Frazier said of the crowd of 37,271 at Great American Ball Park. "I felt like it was kind of like a playoff game. I was excited, really juiced up and ready to go. And we're playing against some big rivals, so it's always much better to play them."
Mark Sheldon is a reporter for MLB.com. Read his blog, Mark My Word, and follow him on Twitter @m_sheldon. This story was not subject to the approval of Major League Baseball or its clubs.