Cards keep pressure on, but fall short against Reds
Miller takes loss; bats go 2-for-7 with RISP, while Peralta pickoff key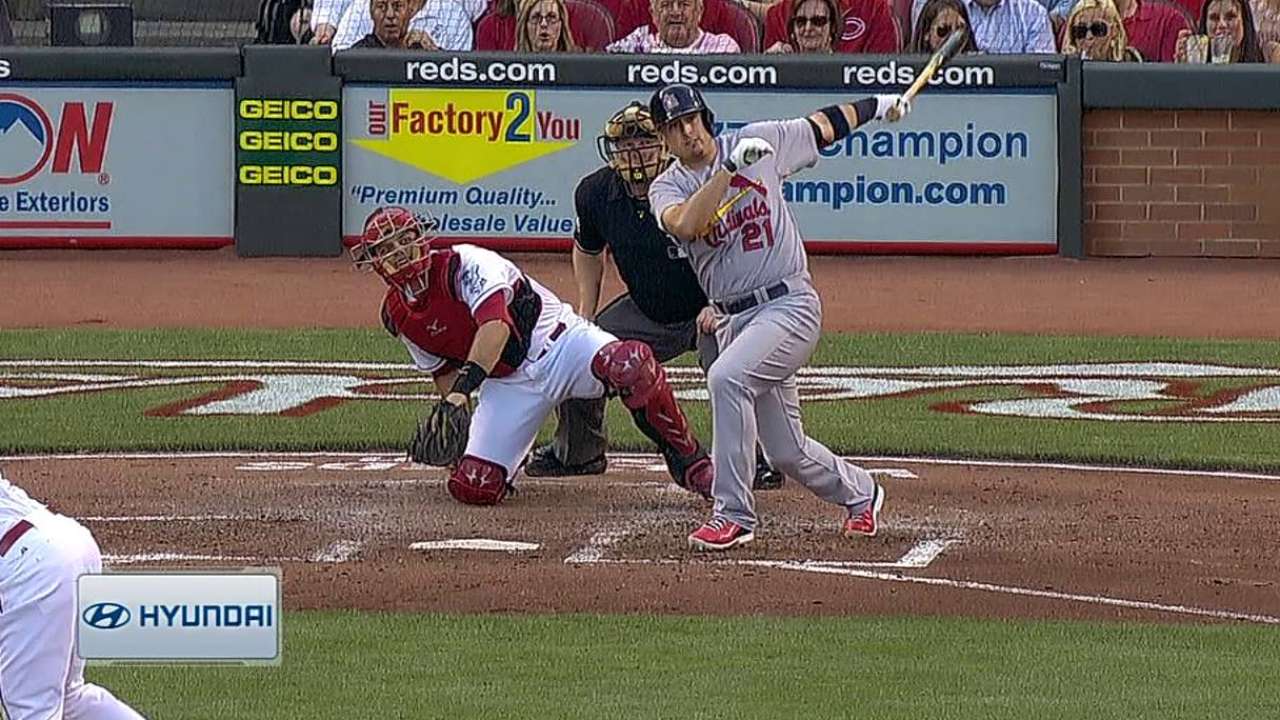 CINCINNATI -- Peter Bourjos earned himself placement on the night's highlight reel with a leaping second-inning grab of Devin Mesoraco's towering drive to the top of the center-field wall.
An inning later, the Cardinals were sunk when Bourjos ran out of room.
The outfielder retreated as far as he could, turned and then watched Todd Frazier's three-run homer land in the grassy knoll in straightaway center with two out in the third. The blast put the Cardinals in position to play catch up, and while they twice pulled to within a run of the Reds, they never did erase the lead.
St. Louis eventually fell, 5-3, in front of 37,271 at Great American Ball Park on Friday night to stall what had been a run of seven wins in eight games.
"I just wish I could take it back," starter Shelby Miller said afterward of that fateful fastball. "I couldn't have centered it up anymore."
Frazier's ninth home run of the season came on a pitch that -- instead of being down and away, as intended -- was straight and belt-high from Miller, now 6-3 after an arduous five-inning start. The Reds also scored off him in the fourth, just after the Cardinals had pieced together a two-run top of the inning.
It has been a trying couple months for Miller, who has battled his delivery, command and tempo at various times yet has somehow still kept the Cardinals in games. All the baserunners (he has a WHIP of 1.4) caught up to him on Friday. This was the first time since Miller's first start that he had been tagged for four runs.
"He comes in and out of really good stuff, and for the most part, does a nice job of getting himself out of [trouble]," manager Mike Matheny said. "That one slipped away."
Frazier's home run was preceded by a two-out walk to speedster Billy Hamilton, who swiped second on Miller's first-pitch fastball. That was of no concern to Miller, who had been told simply to focus on Frazier. His next pitch left the park.
"Two-out RBIs are always huge," said Frazier, who hit from the two-hole for the first time this year. "My first at-bat, I couldn't see anything; I was confused, because the next inning, that's when I usually bat and I start to see the ball better. So the sun got me. I thought maybe if I see it a little better, I can do a little damage. I got a pitch to hit with runners on, and that gets you excited."
Brayan Pena, filling in for the injured Joey Votto at first base, drove home Cincinnati's fourth run with a sacrifice fly off Miller. Miller stranded Hamilton at third in his final inning of work.
"At the end of the day," Miller said, "I just didn't have my best stuff."
The Cardinals' offense, though slow to get going against Reds starter Homer Bailey, had the chances to bail Miller out. The Cincinnati right-hander, who lost twice to St. Louis in April, faced the minimum while using 36 pitches to get through the first three innings.
His next three wouldn't go so smoothly, as the Cardinals concentrated seven hits and two walks in those middle three frames.
They did answer Frazier's homer with Allen Craig's two-run single in the fourth. The Cardinals looked like they might keep the rally rolling when Yadier Molina followed with another hit. Neither Matt Adams nor Jhonny Peralta could push either runner up.
Two more runners were stranded in the fifth. The sixth ended with Peralta being picked off second after Matheny pulled Miller to take his chances with two on and pinch-hitter Jon Jay.
"That one hurt," Matheny said. "That one changes things dramatically."
Jay had to wait until the following inning to hit. When he singled, he was then erased on a botched bunt by Kolten Wong.
"I felt like we put a lot of pressure on them," Bourjos said. "It seemed like we were one hit away every inning from tying it up or taking a lead. We just couldn't get it."
Jay's hit was one of two the Cardinals mustered in three innings against the Reds' bullpen. Shane Robinson did come to the plate as the potential tying run after pinch-hitter Mark Ellis stung closer Aroldis Chapman for a two-out single in the ninth. Robinson lined a 101-mph pitch to left field to end the final run-scoring opportunity.
It was just the second time in the team's last 11 games that the Cardinals were unable to score at least four.
"Those guys have been hot, so we knew we had to make really good pitches," Bailey said. "I think just holding them to the limited damage that they did tonight was a good thing, especially with how hot they've been."
St. Louis' bullpen was a bit more vulnerable. Having already been robbed of a hit by Bourjos, Mesoraco left no chance for anyone to stop his fifth home run of the season. It came on an 0-1 pitch from Seth Maness in the sixth.
The loss drops the Cardinals to 4-3 against the Reds this season and halted their quest for the season's third four-game winning streak. The club fell to 12-15 on the road.
"We had them on the ropes a couple times, and those are the times we're looking for the big hit to happen," Matheny said. "It just didn't come tonight."
Jenifer Langosch is a reporter for MLB.com. Read her blog, By Gosh, It's Langosch, and follow her on Twitter @LangoschMLB. This story was not subject to the approval of Major League Baseball or its clubs.