Baker can't hold early lead as Rangers fall to Tigers
Righty allows six runs in six innings with spot in rotation at stake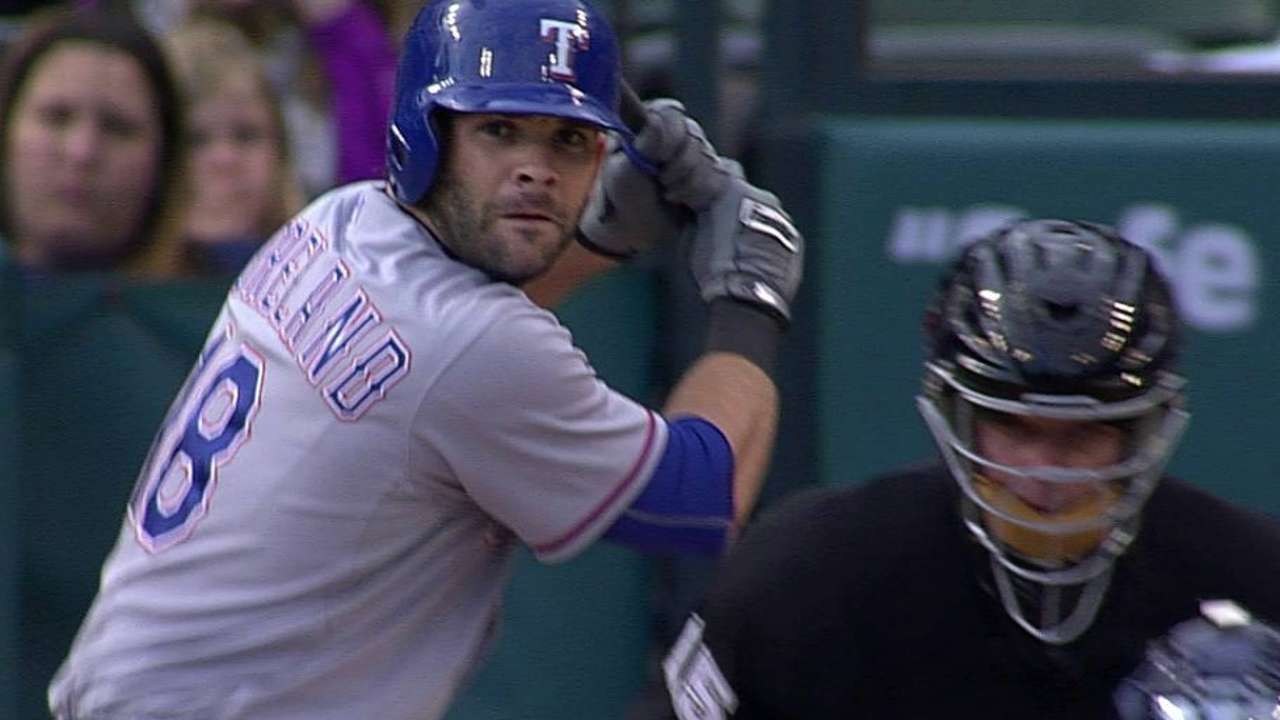 DETROIT -- This is what Scott Baker was like, before Tommy John surgery, when he won 38 games for the Twins over a three-year period in 2008-10.
He was never overpowering, but he did throw strikes. He also got batters to hit the ball in the air more than most pitchers, and sometimes those balls ended up as home runs. But, with a record that was 15 games over .500 and a .633 winning percentage, Baker was successful more times than not.
He was not successful on Friday night despite being given a two-run lead in the top of the second inning by the Rangers' depleted offense against Tigers starter Anibal Sanchez. Instead, Baker allowed six runs over six innings in a 7-2 loss at Comerica Park.
Baker allowed eight hits and six went for extra bases, including two home runs. He walked two, one intentionally, and struck out one. Ten of his 18 outs came through the air, including a few that sent Rangers outfielders to the deepest parts of Comerica. The one unintentional walk helped cost him an early lead, one of four leadoff hitters to reach base in six innings.
"For the most part I was doing damage control out there," Baker said. "It really hurt that guys continued to get on inning after inning and put you out of the stretch. It was not an ideal situation."
Baker was pitching for the first time since his one relief appearance for the Rangers on May 7. Since then he was designated for assignment, cleared waivers, went back to Triple-A Round Rock and then was recalled as the pitching problems mounted.
"Physically I felt great," Baker said. "I felt fresh, but basically it's all about executing pitches. For the most part, the balls that were hit were not well-executed pitches."
Baker is in the rotation because the Rangers wanted Robbie Ross Jr. in the bullpen. The Rangers now have to decide if Baker stays in the rotation because Joe Saunders is ready to come off the disabled list. There is a possibility Saunders could replace Baker in the rotation when this spot comes around again on Wednesday against the Twins.
Manager Ron Washington said the Rangers will continue to have more conversations about their rotation, but was not overly critical of Baker.
"He just elevated some balls to good hitters. You can't do that," Washington said. "He kept us around, we just couldn't do anything against Sanchez after the second inning. For the lineup he had to go through, he did a good job. He got us to the seventh inning."
Sanchez, who was 0-3 with a 9.49 ERA in three previous starts against the Rangers, allowed just two runs on five hits over seven innings. He struck out five, did not walk a batter and got 13 of 21 outs on grounders. The Rangers picked up two runs off him in the second when Adrian Beltre singled, Alex Rios doubled and Mitch Moreland brought them both home with another double.
That was it against Sanchez, who retired 16 of the next 18 hitters while allowing just two singles. Both runners also got wiped off base. Rios was thrown out trying to steal in the sixth, the sixth time he has been caught this year. That's the most in the American League. Beltre singled in the seventh but Rios grounded into a double play.
"I knew that I had a bad outing against them, I think, two years in a row, especially when I was with the Marlins," Sanchez said. "But you know, that's the past. Today, I had a pretty good game plan. I saw a lot of video. They've got pretty good hitters. They're patient. They do whatever to get men on base. They are a really good team so I tried to make a lot of good pitches."
Sanchez was particularly effective against the top of the Rangers order. Leonys Martin, Elvis Andrus and Shin-Soo Choo were a combined 0-for-9 with four strikeouts against him. Those three went down in order in the first, third and sixth inning.
"He used both sides of the plate and located with his fastball," Choo said. "Then in hitter's counts, he threw his offspeed. After the second inning, he was really rolling."
Baker couldn't keep the 2- 0 lead for long. Instead he walked Victor Martinez to lead off the bottom of the second inning. After Torii Hunter flied out to right, Austin Jackson slammed a two-run home run into the left-field seats to tie the game. The Tigers went ahead in the third on leadoff doubles by Ian Kinsler and Miguel Cabrera.
The Tigers added two more in the fifth with the help of the second of three doubles by Kinsler. Andrew Romine's first Major League home run with two out in the bottom of the sixth made it 6-2.
"They put seven runs on the board and earned it," Washington said. "It wasn't like we were booting the ball around out there. They were swinging the bats."
T.R. Sullivan is a reporter for MLB.com Read his blog, Postcards from Elysian Fields and follow him on Twitter @Sullivan_Ranger. This story was not subject to the approval of Major League Baseball or its clubs.