Sanchez settles in, pitches Tigers past Rangers
Jackson, Romine homer; Kinsler tallies three doubles vs. former team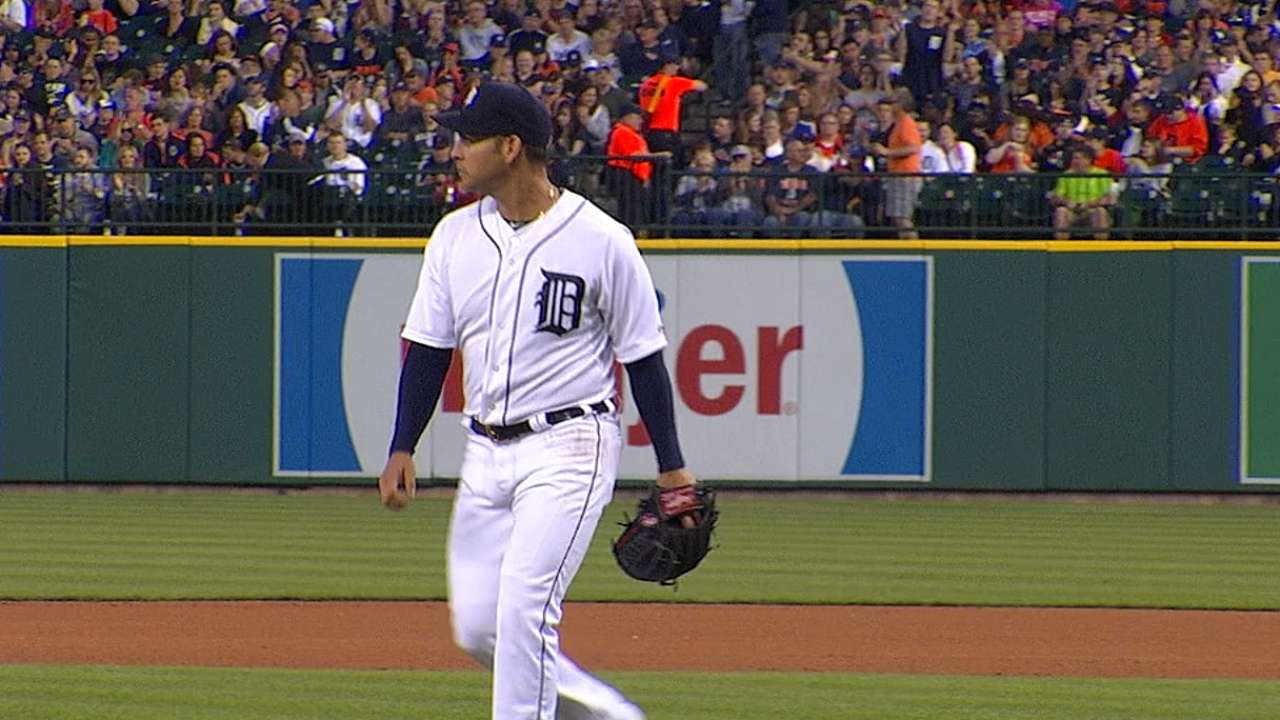 DETROIT -- As Anibal Sanchez toiled in the second inning, it appeared the Detroit bullpen might be in for yet another lengthy night of work.
The superb starting pitching that had staked Detroit to a nice, early lead in the AL Central had evaporated over the past four games, all of them losses. It looked like the skid might continue when Sanchez gave up two early runs Friday night.
Sanchez settled in, though, giving the bullpen a much-needed night of rest as the Tigers beat the Rangers, 7-2. The offense clawed back to support Sanchez, who threw seven innings of five-hit ball in his second start back from a disabled-list stint.
Even though Sanchez dug the team an early hole, Tigers manager Brad Ausmus said he was never concerned about how the righty was throwing the ball.
"Those guys on the other side get paid a lot of money to hit baseballs just like Sanchie gets paid a lot of money to throw 'em," Ausmus said. "They're going to get hits once in a while."
Sanchez retired 14 of the next 15 batters he faced after Texas plated its two runs by opening the second inning with three straight hits. He walked none and struck out five.
The win was Sanchez's first in his career over the Rangers, having entered Friday's game with a 9.49 ERA against them.
"Great command today," said Sanchez's catcher, Alex Avila. "We were pitching ahead in the count all night, something we hadn't done in the past few days."
After the game, Sanchez said his spaced-out outings at the start of the season had thrown his command off kilter. Weather and the injury to his finger had prevented him from getting into any sort of rhythm. But this time, he said, he felt confident he could throw any of his pitches for strikes in any count.
"His slider was really good tonight. His fastball was good. He really pitched outstanding," Ausmus said.
Everything went Sanchez's way after the rough start. In the sixth, he swatted what looked to be a sure single up the middle right to second baseman Ian Kinsler, who easily threw out Shin-Soo Choo at first.
Sanchez said after the game that he adjusted his game plan to pitch to contact and try to keep his pitch count down, which helped him save the bullpen.
Austin Jackson, who had been the victim of several hard-hit outs over the past week or so, finally belted one where nobody had a chance to catch it. His two-run homer to left off Texas starter Scott Baker tied the game at 2 in the bottom of the second.
An inning later, Miguel Cabrera doubled home Kinsler, who extended his hitting streak to six games with a double of his own to give Detroit the lead. The Tigers tacked on two more in the fifth with the help of Kinsler's second double of three on the night against his former team, tying a career high.
"I like him so much I haven't rested him yet," Ausmus said of Kinsler. "I should probably give him a day coming up, but it probably won't be in this series."
Even Andrew Romine got in on the act, despite having gone hitless in his last 21 at-bats. He hit his first career home run off the right-field foul pole in the sixth.
"The home run was an important add-on run for us tonight," Ausmus said.
Jackson and Rajai Davis each had two hits in the second game of the four-game set.
Al Alburquerque came on to pitch a clean eighth inning after Ausmus decided Sanchez had gone far enough at 99 pitches. Sanchez, who had thrown five innings in his first start off the disabled list, exited with the Tigers' first quality start in nearly a week safely in tow. Ian Krol sealed the win in the ninth.
Ausmus doesn't expect the bullpen to be in such poor shape very often this season, calling it "a little bit of an aberration." Relievers Phil Coke and Evan Reed were both unavailable for Friday night's game, Ausmus revealed afterward.
But the pressure to save the bullpen from yet another long night brushed right off Sanchez, who earned himself a measure of revenge against the Rangers.
Matt Slovin is an associate reporter for MLB.com. This story was not subject to the approval of Major League Baseball or its clubs.