Kershaw aces again as Dodgers blank Phillies
Lefty fires six shutout frames with 9 K's; Crawford aids with HR, catch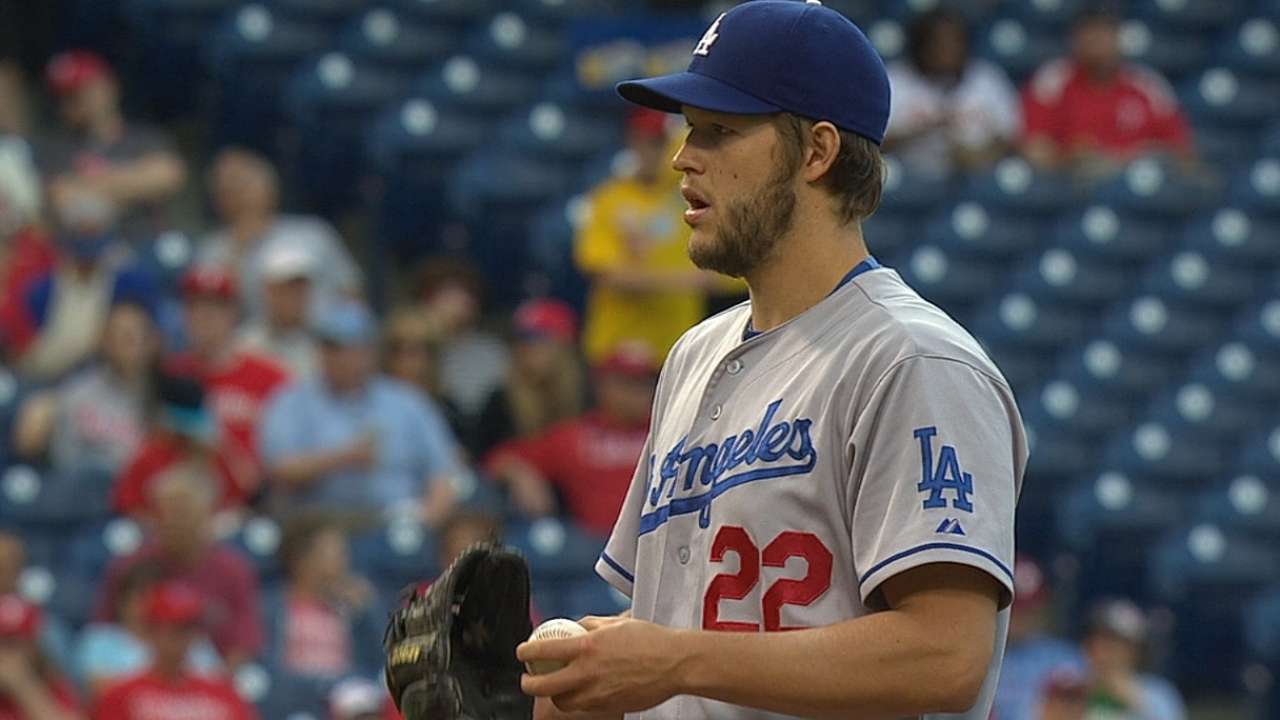 PHILADELPHIA -- The five days in between his last two starts were far from enjoyable for Dodgers ace Clayton Kershaw.
On May 17, Kershaw had one of the worst outings of his Major League career and he had to sit on that until Friday night when his turn came back around in the rotation.
It was worth the wait as Kershaw went six innings, overcame a 43-minute rain delay and some scary moments from his bullpen in the Dodgers' 2-0 win over the Phillies at Citizens Bank Park.
"Just pretty miserable," Kershaw said. "Those four days or five days in between, it's just not a whole lot of fun sitting on that game. I'm glad this day came. I'm glad we got a win and now this is my last start, and not that one, so it's good."
Yasiel Puig went 3-for-3 with a walk and Dee Gordon registered three steals as the Dodgers played a little smarter and more efficiently than their counterparts. Carl Crawford capped the scoring with a second-inning homer and made great catch with the bases loaded during a Phillies threat in the seventh.
"That's what we expect," manager Don Mattingly said. "That's what Clayton does. He's not going to be affected by one start. He came out with a sense of vengeance. His stuff was really good early. It was good enough later, but when you get asked to sit for 40-45 minutes that's going to happen."
The night could be best summed up by the seventh inning when Brandon League entered and promptly loaded the bases. League had been the Dodgers' most reliable reliever, having gone 14 straight outings and 21 1/3 innings without an earned run, but it appeared as if that would come to an end and ruin a solid effort by Kershaw.
Instead, J.P. Howell got a lineout -- on which Crawford made a nice diving catch -- fielder's choice at the plate to prevent a run and flyout to end the threat and keep the shutout intact.
"The objective is to get a groundout," said Howell, who after Crawford's catch on pinch-hitter Domonic Brown's line drive, coaxed a ground ball to third by Jimmy Rollins for the second out. "It's tough to get the guy at home but [third baseman] Chone [Figgins] made it look easy. It takes a lot of luck and it worked out."
"With Domonic's at-bat, that was set up good," Phillies manager Ryne Sandberg said. "Just some little things. He hit a rocket. I was surprised [Crawford] made a catch on it."
One game removed from a dismal start in which he allowed seven runs in just 1 2/3 innings of work in a loss to Arizona, Kershaw looked sharp through the first three innings -- his only blemish a walk to Darin Ruf. The lefty struck out three and had a manageable 44 pitches (28 strikes).
That's when nature intervened and the game was halted by rain with the Dodgers at the plate and two out in the top of the fourth. The ensuing 43-minute rain delay along with the Dodgers at bat kept Kershaw -- who made the last out of the inning on a groundout to short -- stagnant for close to an hour. All of which may have played a part in the bottom half of the fourth.
"He was down here throwing every few minutes," Mattingly said. "It really didn't end up being that long. He pitched well."
"I'm sure there was some time frame, but it wasn't that long," Kershaw said. "I tried to simulate an extra inning and fortunately they have a mound here. I didn't feel any different going back out so that was good."
Up 2-0, Kershaw walked Ruiz and then surrendered a double down the left-field line to Chase Utley. As the rain returned, Kershaw found his rhythm and struck out Marlon Byrd, Ryan Howard and Ruf to end the threat. All three strikeouts were pitches in the dirt that catcher A.J. Ellis completed with a throw to first. Kershaw's pitch count ballooned to 70 after four innings and while he had an easy fifth, he had to overcome another threat in the sixth.
Rollins led the inning off with a double into left and a walk to Carlos Ruiz had the Phillies in search of an elusive run. Kershaw got Utley to fly out to right, Byrd to pop out and Howard to strike out to end the threat as he reached the 100-pitch plateau.
"I was just mad at myself," Kershaw said. "I gave up another 0-2 hit [to Rollins]. I feel like I've done that way too often this year. Those mistakes are what get you and I'm glad I was able to get out of it."
The Dodgers got to Phillies starter Roberto Hernandez early with single runs in each of the first two innings.
Gordon led the game off with a single into right field. Gordon wasted little time in picking up his Major League-leading 26th and 27th steals and easily strolled home on a single into left by Puig for a 1-0 lead.
In the second, Crawford led off with his fourth home run of the year, a blast on an 0-1 pitch that landed just to the right of the bullpens in right-center.
Michael Radano is a contributor to MLB.com. This story was not subject to the approval of Major League Baseball or its clubs.