Nats bats unable to close gap against Pirates
Zimmermann allows four earned runs over six innings in loss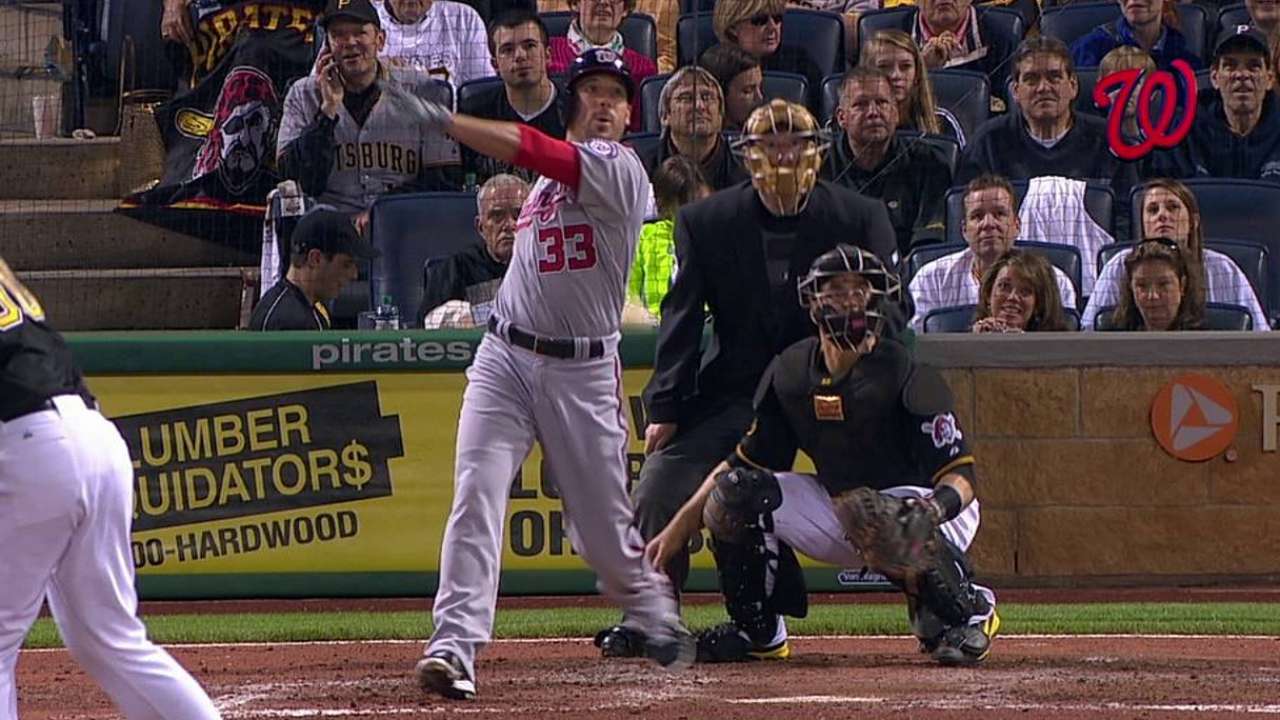 PITTSBURGH -- The Nationals are having a tough time scoring runs this season and Friday was no different at PNC Park. They went 1-for-9 with runners in scoring position and lost to the Pirates, 4-3.
Washington has lost four out of its last five games and is at the .500 mark at 24-24. A lot of baseball experts expected this team to be at least on top of the National League East after acquiring right-hander Doug Fister in a trade with the Tigers last winter. Add to that fact that the Nationals have a roster that includes Stephen Strasburg and Jayson Werth, it's hard to believe they are a team that is at the .500 mark.
"In that respect, it has been a disappointment," manager Matt Williams said. "But I think you can point to a lot of things that would contribute to our 24-24. And it doesn't deter us in any stretch from being ready to play tomorrow and being ready to play the rest of our games. That's a hard one to answer. I'm not shocked. I'm hopeful, I'm excited and enthusiastic about what's to come. That's all I can say about it."
The starting lineup Williams put out there on this day was tough to watch. It doesn't help that Adam LaRoche, Ryan Zimmerman and Bryce Harper are on the disabled list because of injuries. This was a lineup that had Zach Walters at third, Greg Dobbs at first and Nate McLouth in left. Williams refused to use the injuries as an excuse for the team's recent slump.
"I'm not even thinking about going there because it's not fair for the guys that are in here right now that are busting their tail every day to get to get this job done," Williams said. "We certainly welcome and want those [injured] guys as quickly as possible. But it's not fair to that group that sits in that locker room and say, 'Boy, if we had our guys.' They are busting their fannies. We will continue to do that."
The Nationals had chances to score early in the game against right-hander Charlie Morton.
In the first inning, when the Nationals had runners on first and second with two outs, Ian Desmond grounded out to end the threat. Two innings later, the Nationals had runners on first and third with one out, but Wilson Ramos hit into a double play to end the frame.
"It was a time for [Morton] to find a way to put a foot down and make the move that you're talking about. It has somewhat challenged him throughout this season," Pirates manager Clint Hurdle said. "A little over-amped coming in, I was hoping the 114 he threw in New York and coming in on regular rest would take some starch out of him, it really didn't. Then after the third inning, I thought he got in a much better rhythm."
Maybe the most disheartening inning was the sixth. Washington had the bases loaded with no outs. Dobbs came through with a sacrifice fly, scoring Werth. It was downhill after that. Walters struck out, while McLouth grounded out.
Washington did score two runs off reliever Justin Wilson. The Nationals had the bases loaded with one out. Pinch-hitter Scott Hairston hit a sacrifice fly, scoring Desmond. Kevin Frandsen then scored on a passed ball by catcher Russell Martin to make it a one-run game. After Danny Espinosa was hit by a pitch to put runners on first and second, Denard Span grounded out to reliever Bryan Morris to end the inning.
"We just haven't able to catch any breaks," Span said. "Guys [from opposing teams] are diving for balls -- left and right -- and are taking away some key hits that could change the game. We'll stand up and weather the storm."
Washington had a chance to at least tie the score in the ninth inning. With Rendon on first and closer Jason Grilli on the mound, Desmond hit the ball to deep right field. Josh Harrison jumped and caught the ball near the fence to end the game. It was the second consecutive night that Harrison saved the game because of a stellar play.
Asked if it was frustrating to miss so many opportunities, Williams said, "It's not frustrating at all. It's part of the game to create those opportunities. We didn't come through tonight. We have to play tomorrow. It's good that we had those opportunities. We'll go get them tomorrow again."
Right-hander Jordan Zimmermann started for Washington and he was OK, pitching six innings and allowing four runs on seven hits. Pittsburgh was able to get to Zimmermann in the second inning. With runners on second and third, Starling Marte grounded out, but Ike Davis scored on the play.
Zimmermann then threw a wild pitch, allowing Martin to score the second run of the game.
Pedro Alvarez then made it 4-0 after hitting a two-run homer over the center-field fence.
"If I could take one pitch back, it would be the changeup to Alvarez and we win the game, 3-2," Zimmermann said. "It's the changeup I left up. He put a good swing on it."
That proved to be the game winner as the Nationals try to figure out their offense.
Bill Ladson is a reporter for MLB.com and writes an MLBlog, All Nats All the time. He also could be found on Twitter @WashingNats. This story was not subject to the approval of Major League Baseball or its clubs.