Buchanan delivers for Phils to win MLB debut
Right-hander goes five solid innings; Utley belts early two-run homer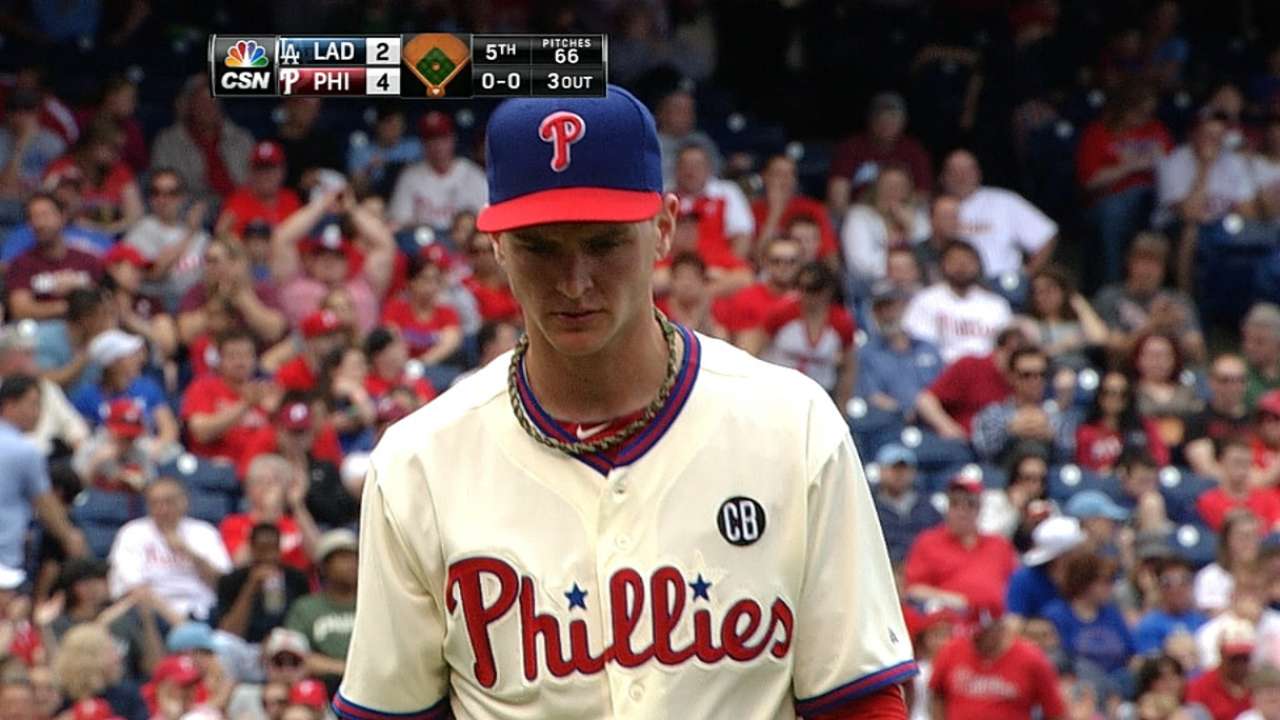 PHILADELPHIA -- David Buchanan positioned himself for this moment a few months ago in Spring Training.
Actually, it started in January when the Phillies invited some of their top Minor League players to town for a prospects seminar. Buchanan impressed manager Ryne Sandberg and others so much the organization offered him a late invitation to Spring Training. Once Buchanan arrived, he impressed everybody with his demeanor, work ethic and performance. He started the season in Triple-A, but it was only a matter of time before he reached the big leagues.
Cliff Lee landed on the disabled list Tuesday with a strained left elbow, Buchanan got the call to take his place and he pitched well in his MLB debut in Saturday's 5-3 victory over the Dodgers at Citizens Bank Park.
"A dream," Buchanan said. "Just to be out there, have my family out there and to do it in front of the home fans -- I'm overwhelmed with emotion right now. It was an experience of a lifetime."
Buchanan, 25, allowed five hits, two runs and struck out two in five innings to pick up his first big league win. He retired the first four batters he faced on ground-ball outs and nine of the first 10 batters he faced overall.
Buchanan seemed poised and to be completely in control.
"I kind of blacked out when the game started," he said.
Or maybe he just blacked out. However it happened, he helped the Phillies snap a three-game losing streak. Sandberg pulled him, despite throwing just 66 pitches, because he said Buchanan started to elevate his pitches in the fifth inning and a string of left-handed hitters were due to face him in the sixth.
"That's an outing he can build on as we need him," Sandberg said.
Buchanan went 1-1 with a 2.25 ERA in five Grapefruit League appearances and 5-1 with a 3.98 ERA in nine starts with the Triple-A Lehigh Valley IronPigs. The right-hander was the Phillies' best option to replace Lee and he delivered.
But it also helped that the rookie got some early run support.
The Phillies took a 2-0 lead in the first inning when Chase Utley hit a two-run home run to right field, his first homer since April 13.
Ben Revere, who tied a career high with four hits and scored three runs, hit a leadoff double down the right-field line to get the inning started. After Jimmy Rollins popped out on a bunt attempt, Utley fouled a 1-0 pitch near the Phillies' on-deck circle. Dodgers catcher A.J. Ellis pursued, but he could not hold onto the ball for a costly error. Utley had a second chance and took advantage, ripping Dan Haren's 1-1 cutter for the homer.
The Phillies took a 4-0 lead in the second with Revere and Rollins both hitting singles to score runs.
Buchanan allowed a run in both the fourth and fifth innings, but he kept his composure in each jam and avoided further damage, looking like the pitcher the club saw in Spring Training.
It has been a heck of a couple of days for Buchanan. He arrived in Philadelphia on Friday, got to the clubhouse, saw his last name above his locker, and grabbed the jersey with his No. 55 on it.
He savored the moment.
Buchanan said he handed out 15 tickets to family and friends with others purchasing their own tickets to the game, including his head coach at Georgia State, so he had quite a cheering section in the ballpark.
"It was very humbling that everyone went out and spent money for plane tickets and hotels, and took time out of their schedules to support me," Buchanan said. "It means the world to me."
Buchanan got word on Thursday that he would pitch last Saturday. He had allowed five hits, four runs, one walk and one home run in one inning in a "hiccup" start last Sunday against Triple-A Buffalo. IronPigs pitching coach Ray Burris called Buchanan into manager Dave Brundage's office to talk about it.
The three talked about 15 minutes when Brundage wrapped up the conversation saying he simply wanted to make sure Buchanan had the right mentality, had calmed down and was no longer worried about the start against Buffalo.
Buchanan said he was fine.
The right-hander got up to leave the room when Brundage added, "I just wanted to make sure you were ready so when Chooch [Carlos Ruiz] gives you that fastball, you're ready to throw it."
Buchanan stopped in his tracks, hearing the words correctly, but not really knowing if they were true.
Brundage repeated himself.
"I just want to make sure you're ready when Chooch gives you that pitch," Brundage said.
"What?" Buchanan replied.
Burris started laughing.
"Are you serious now?" Buchanan said.
"Yeah," Brundage said. "You're going up Saturday."
"My stomach just dropped," Buchanan said. "I went outside and called my family. It was a great time."
Saturday exceeded it.
Todd Zolecki is a reporter for MLB.com. This story was not subject to the approval of Major League Baseball or its clubs.