Dodgers can't get Haren off hook against Phillies
Right-hander fans seven, but two costly errors lead to shaky start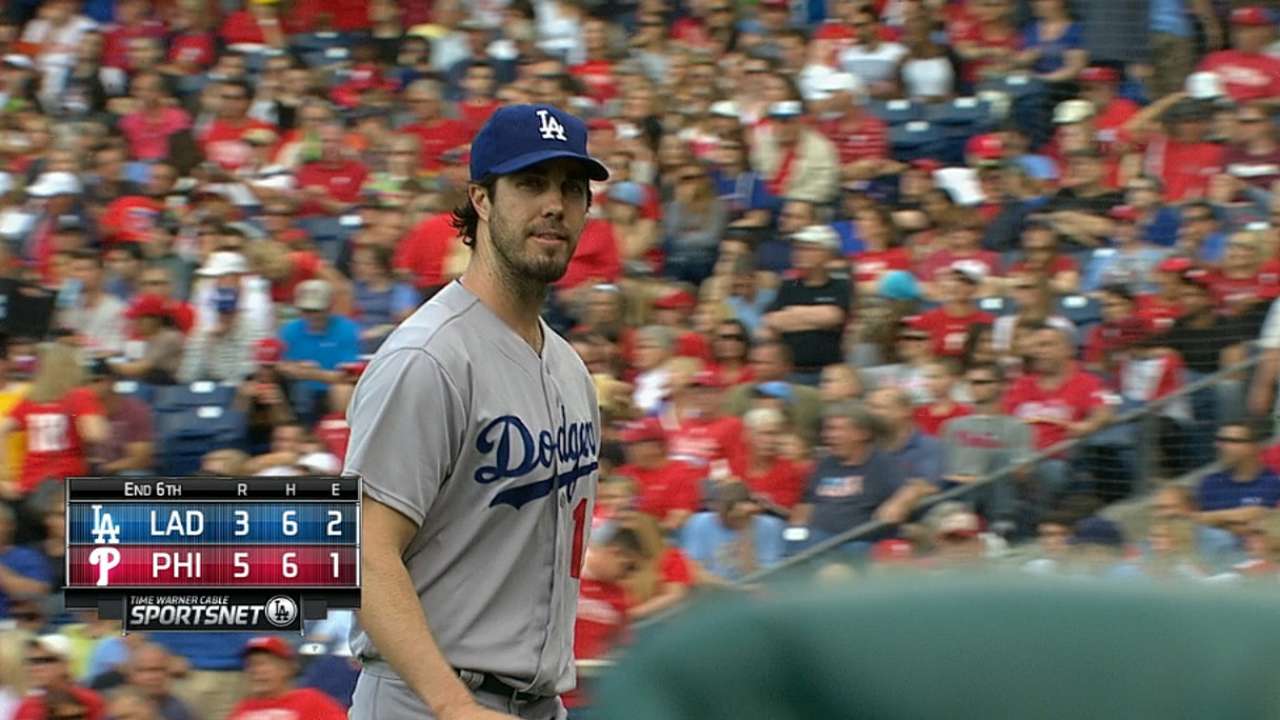 PHILADELPHIA -- Dodgers manager Don Mattingly has bemoaned the fact that his team has struggled defensively this season. It's led to daily lineup changes as Mattingly tries to find the best fit for each game and situation.
The latest victim of the shoddy defense is Dan Haren, who took the loss in the Dodgers' 5-3 defeat to the Phillies on Saturday afternoon. Haren went six innings, allowing five runs but only two were earned, with seven strikeouts as the Dodgers gave the struggling Phillies, who entered the afternoon on a three-game losing streak, extra outs.
"Danny has really been doing what we expect him to do," Mattingly said. "He keeps us in the game. He's a guy that keeps battling and changing speeds. He's not the guy with the 95-mph fastball anymore with the heavy split. He hits spots, he hits corners and he's going to keep fighting. He did that today. It wasn't pretty the first couple [of innings] but he's not going to quit on us and he gives us a chance to get back in the game."
The biggest run came in the fifth after the Dodgers had cut the deficit to 4-2 with solo runs in the fourth and fifth innings.
Ben Revere, who collected four hits in a game for the ninth time in his career, led off with a bunt. Haren came off the mound, but his throw sailed over Revere's head -- Mattingly argued Revere obstructed the throw as his route took him on the infield grass -- and off to the stands along the right-field line. Revere went to third on the two-base throwing error and scored on Jimmy Rollins' groundout to short. The Dodgers responded a half inning later with a run to make it 5-3, but that was the end of the day's scoring.
"Pretty clearly, you could tell after Dan picked the ball up, he didn't have anywhere to throw the ball," catcher A.J. Ellis said. "That's usually a pretty clear indication that the runner is inside the baseline."
"When I got the ball he was inside the line," Haren said. "I didn't really have anywhere to throw. I made a really bad throw. In hindsight, I probably should have just thrown at him and hit him with the ball. Then, umpires will call it more often than not. There was definitely no lane for me to throw, I know that."
"That's pretty cut-and-dry," Mattingly said. "I don't need to expand on it."
Haren battled a high pitch count throughout the day, but much of that was self-inflicted as he reached 114 pitches in six innings.
Revere got things going with a cue shot just inside the first-base line for a double to lead off the first. After Rollins pooped out on an odd bunt attempt, Revere, who doubled for the first time this year, scored on Chase Utley's fourth home run. Utley's homer took on added meaning since he had popped up earlier in the at-bat and catcher Ellis dropped the ball in front of the backstop for an error.
"For me that's just physical," Mattingly said. "That's a tough play. It's get over to that wall and then its one step one way or another. That's just physical, not mental. That's a tough, tough play. For me it's a tweener play."
"I just missed it," Ellis said. "It's just a bad defensive play by me and I put my team in a tough spot. Gave that team extra outs and then you give a Hall of Fame-caliber hitter an extra swing. I put Dan in a bad spot there and I feel awful about it."
After Haren (5-3) struck out Ryan Howard, the inning should have been over and both runs were unearned. Instead, a Marlon Byrd double extended the inning and even though Domonic Brown flied out to limit the damage, Haren had thrown 33 pitches and trailed 2-0.
In the second, Haren benefitted from a mental lapse by Phillies catcher Carlos Ruiz, in an inning that had the potential for a big crooked number.
Ruiz and Cesar Hernandez both walked to open the inning. Buchanan looked to sacrifice, but the first offering from Haren was high for a ball. Ellis took the opportunity to throw Ruiz out at second. Buchanan got the sacrifice down on the next pitch and Hernandez scampered over to second. Consecutive singles by Revere, who went to second on the throw home, and Rollins scored a pair of runs for a 4-0 lead.
Michael Radano is a contributor to MLB.com. This story was not subject to the approval of Major League Baseball or its clubs.