Full slate an opportunity for motivated owners
Waiver pickups can make or break week in which many teams play seven games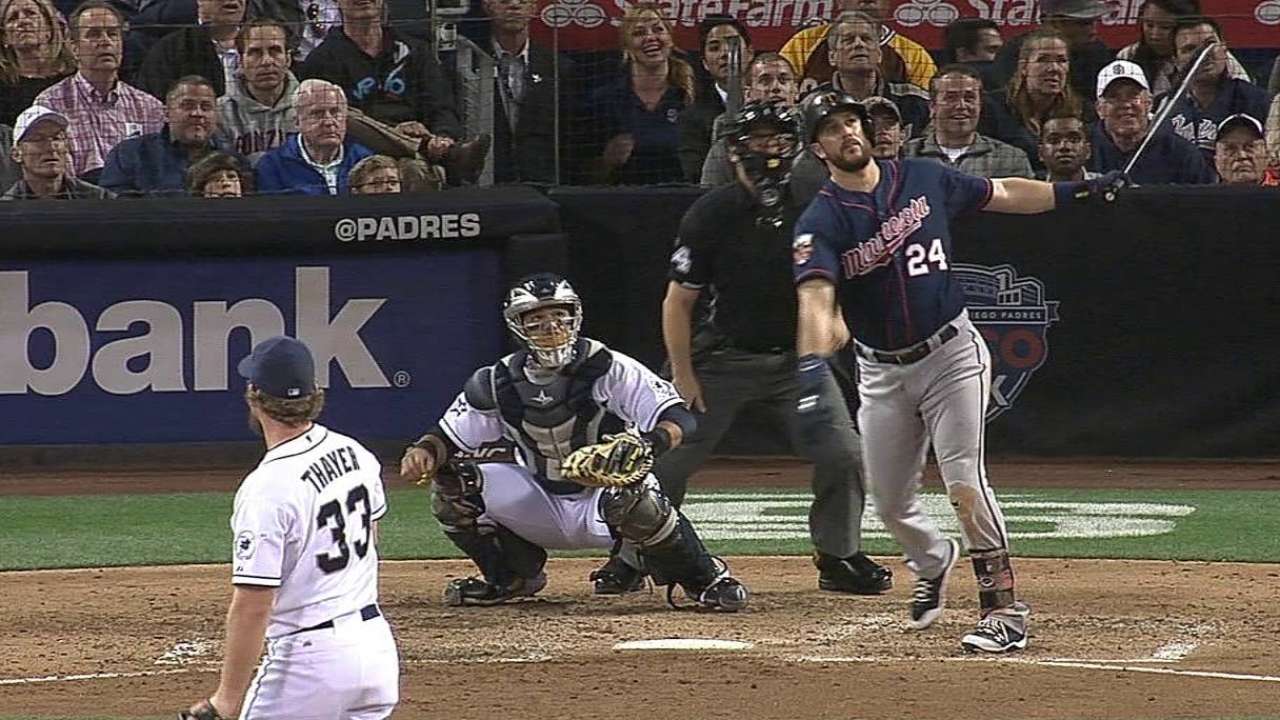 Many teams play seven games next week, so this is a key time for fantasy owners. Picking up surging hitters or effective two-start pitchers could result in a big move up the standings in the coming days. With that in mind, here are some options that are worth a closer look:
Catcher, Derek Norris (A's): His playing time has increased, and Norris offers a surprising blend of power and speed from the catcher position. If he can continue to hit for average, the 25-year-old can be a top-10 catcher this season.
First base, Garrett Jones (Marlins): The lefty masher is not needed in shallow formats, but his .279 batting average, six homers and 23 RBIs should get attention in deeper leagues. Jones has hit more than 20 dingers in three previous campaigns, so his power numbers should be there by the end of the season.
Second base, Kolten Wong (Cardinals): The 23-year-old has collected seven hits in five games since coming back from Triple-A. He has added two steals, and the Cardinals are regularly hitting him second in their talented lineup.
Shortstop, Stephen Drew (Red Sox): Drew hit 13 homers and drove in 67 runs last season, and he should be starting at shortstop for the Red Sox by the end of May. After his lengthy free-agent stalemate, Drew should be quite motivated this year.
Third base, Trevor Plouffe (Twins): Plouffe currently has the highest batting average and on-base percentage of his career. He has struggled to smack homers, but the power should eventually come from this 27-year-old, who launched 38 long balls in the previous two seasons.
Outfield, David Murphy (Indians): He struggles vs. lefties, but the Indians are managing Murphy's workload, and his .320 batting average and 20 RBIs in 103 at-bats against right-handers shows that he can be a major asset to owners in daily-transaction leagues.
Outfield, Gregory Polanco (Pirates): The 22-year-old phenom is hitting .373 with five homers, 10 steals and 40 RBIs in 44 games at the Triple-A level. Possibly the best hitter outside of the Majors, Polanco will likely be owned in 95 percent of fantasy leagues in two weeks. Grab him now.
Outfield, Kole Calhoun (Angels): Fresh off a DL stint, Calhoun is ready to remind owners that he hit .282 with eight homers and 32 RBIs in 195 at-bats with the big league club last season. The Halos have had some young players perform well in recent weeks, so Calhoun will have to earn back his full-time role, but he still owns the five-category upside that made him a popular sleeper in March.
Starter, Tyson Ross (Padres): The 27-year-old has allowed four runs across 28 innings with 29 whiffs in his past four starts. Next week's road matchups against the D-backs and White Sox are challenging, but if Ross can limit his walks, he should be a valuable asset.
Starter, Jose Quintana (White Sox): Quintana has been consistent, with eight quality starts in 10 tries. He has two home starts next week, and the Indians and Padres are not offensive juggernauts.
Starter, Tommy Milone (A's): The southpaw has turned his season around by allowing three runs in his past three outings. The Tigers and Angels are formidable foes, but he gets to face both lineups in spacious O. Co Coliseum.
Starter, Tanner Roark (Nationals): Roark loves home cooking, as he has allowed just three runs in four starts at Nationals Park this season. He will be happy to work at home when he faces the Marlins and Rangers next week.
Starter, Nick Tepesch (Rangers): The 25-year-old could be ready to break out. He was dealing in the hitter-friendly PCL to the tune of a 1.58 ERA and 0.98 WHIP. He will work on the road twice next week, but Target Field and Nationals Park are not imposing venues for visiting hurlers.
Starter, Phil Hughes (Twins): The former Yankee is among the hottest pitchers in baseball, as he has allowed four runs, one homer and zero walks across his past five starts. He should be able to handle a slumping Rangers lineup at Target Field, and he could have a big week if he can keep the ball in the yard when he makes his return to Yankee Stadium.
Starter, Drew Hutchison (Blue Jays): In his first full season, Hutchison has been able to work deep into games and pitch effectively in hitter-friendly venues at home and on the road. He recently picked up wins in Texas and Boston, and he could be primed for more success when he makes starts at Rogers Centre against the Rays and Royals next week.
Reliever, Zach Britton (Orioles): The left-hander was not an obvious choice to replace Tommy Hunter as the team's closer, but it seems he will get the first chance to assume the role. He owns a 0.76 ERA and a 0.89 WHIP this season, and he has not allowed a run since April 24. At age 26, Britton is young enough for owners to assume that he has made some improvements after early-career struggles.
Reliever, Sean Doolittle (A's): In Doolittle's past five appearances, he has three saves and a win, so he is the A's reliever to own. The 27-year-old owns an incredible 32-to-1 strikeout-to-walk ratio in 23 innings, and if he can continue to dominate hitters at the same pace, he could hold the ninth-inning gig all season.
Reliever, Ronald Belisario (White Sox): Matt Lindstrom is expected to miss three months after ankle surgery, and manager Robin Ventura has already said that Belisario will get the first shot at save chances. The 31-year-old has little experience in the role, and he allowed a run while converting his first save chance on May 20. However, those in deep leagues need to consider any reliever who can get save chances in the coming weeks.
Fred Zinkie is a fantasy baseball writer for MLB.com. This story was not subject to the approval of Major League Baseball or its clubs.