Robertson's first blown save costs Yankees
Closer unable to nail down four-out save, gives up game-winning HR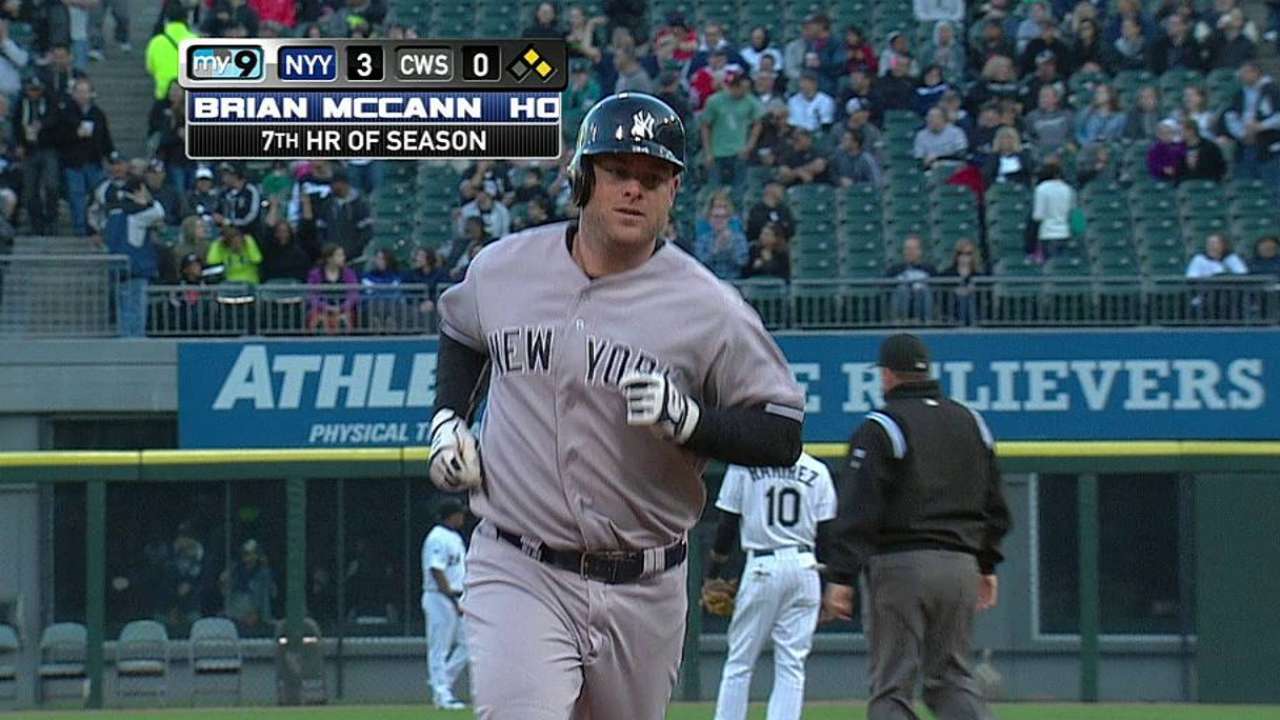 CHICAGO -- David Robertson wanted the pitch to nibble at the strike zone, aiming to spot it on the outside corner low and away. He raised his arms in agony as Adam Dunn instead sent the ball for a long ride, rattling around in the right-center-field seats.
Dunn pounced on a fat offering in the heart of the plate, launching a game-winning, two-run homer off the Yankees closer in the bottom of the ninth inning on Friday night, lifting the White Sox to a 6-5 victory over the Yankees at U.S. Cellular Field.
"As soon as I heard it hit the bat, I knew it was gone," Robertson said. "I mean, that guy has tremendous power. As soon as I turned around to look, it was out there in the seats, so it was a tough one to take."
It was Robertson's first blown save of the season and the Yankees' second squandered lead of the night. Robertson was trying to protect a one-run advantage after the White Sox had earlier rallied to erase a three-run deficit.
"We had the game where we wanted," Yankees manager Joe Girardi said. "We had it in Robbie's hands."
Robertson was trying for a four-out save but wasn't sharp in the ninth, getting ahead of Dayan Viciedo 0-2 and trying to bounce a curveball that was instead lashed into left field for a base hit.
He was ahead of Dunn, too, no balls and two strikes, but the slugger took advantage as Robertson missed his location badly. The Yankees have lost four of their last five games.
"It was definitely tough," Robertson said. "I got ahead on the first two hitters and just had nothing to put them away with. It's frustrating when you have a game like that. It should've been two quick outs, but it turned into a walk-off home run."
The White Sox estimated Dunn's homer, his eighth of the year, traveled 431 feet -- an appropriate conclusion to a night that also featured a postgame fireworks celebration.
"That's one of those that I hit pretty good, but it was just 0-2," Dunn said. "He's got the really good curveball and a really good cutter. I was just trying to look for something to put in play."
New York had reclaimed the lead with two seventh-inning runs, supported by a Jake Petricka wild pitch that allowed Brian Roberts to come home with the tying run. Jacoby Ellsbury then knocked in Alfonso Soriano with a sacrifice fly, his first RBI since May 4.
Dellin Betances and Adam Warren combined for three innings of scoreless relief behind starter Hiroki Kuroda, who allowed four runs (two earned) and eight hits in 4 2/3 innings.
"The relievers have been picking us up lately a lot," Kuroda said through an interpreter. "I wish I could go longer to lessen the burden."
Brian McCann slugged a first-inning, three-run homer off White Sox starter Hector Noesi. That provided an early lead for Kuroda, who was forced to work hard, but carried a one-run lead into the fifth, when he issued a two-out walk to Dunn.
Kuroda then left a sinker up to Alexei Ramirez, who crushed it over the left-field wall to give the White Sox a 4-3 lead.
"I've been giving up homers, especially in critical moments, so I think I should try to avoid that," Kuroda said.
Girardi acknowledged that the Yankees' defense made Kuroda grind for extra outs. Kelly Johnson had a rough night at first base; Chicago scored in the first inning as Adam Eaton singled, stole second and came home when Johnson was charged with an error for missing a throw from third baseman Yangervis Solarte.
In the fourth, Eaton's speed rushed Roberts into making a throw from second base that Johnson could not corral, allowing Alejandro De Aza to trot in with the second White Sox run. Gillaspie also hit a sharp grounder to first base in the third inning that scooted under Johnson's glove.
"He's a guy who can handle that position, I believe, but tonight he had a tough night," Girardi said. "They weren't the easiest plays in the world; one was a scoop and the other was a low throw and kind of into the runner a little bit, but he can handle it."
McCann's homer signaled that it might be a short night for Noesi, a former Yankee who was recently cast off by the Mariners, but Noesi battled through some jumpy command to keep the Yankees off the scoreboard from there. He wrapped up with six frames of four-hit ball around five walks.
"It's coming. We're battling right now," McCann said. "Things are going to turn around. Some of these hits are going to start falling."
Robertson's blown save loomed largest after the game, as the Yankees had the ball in their closer's hands three outs from victory, but New York squandered two run-scoring opportunities that haunted them just as much. The Yanks had runners at first and second with no outs in both the third and eighth innings, failing to score both times.
"It's a tough game, but our bullpen has been great all year," Jeter said. "David's been perfect. Those things happen. You don't want them to happen, but they do happen. It will happen again at some point. All losses hurt."
Bryan Hoch is a reporter for MLB.com. Follow him on Twitter @bryanhoch and read his MLBlog, Bombers Beat. This story was not subject to the approval of Major League Baseball or its clubs.