Zimmer, Conforto headline top outfielders in Draft
Pair of left-handed-hitting college juniors expected to be selected in first round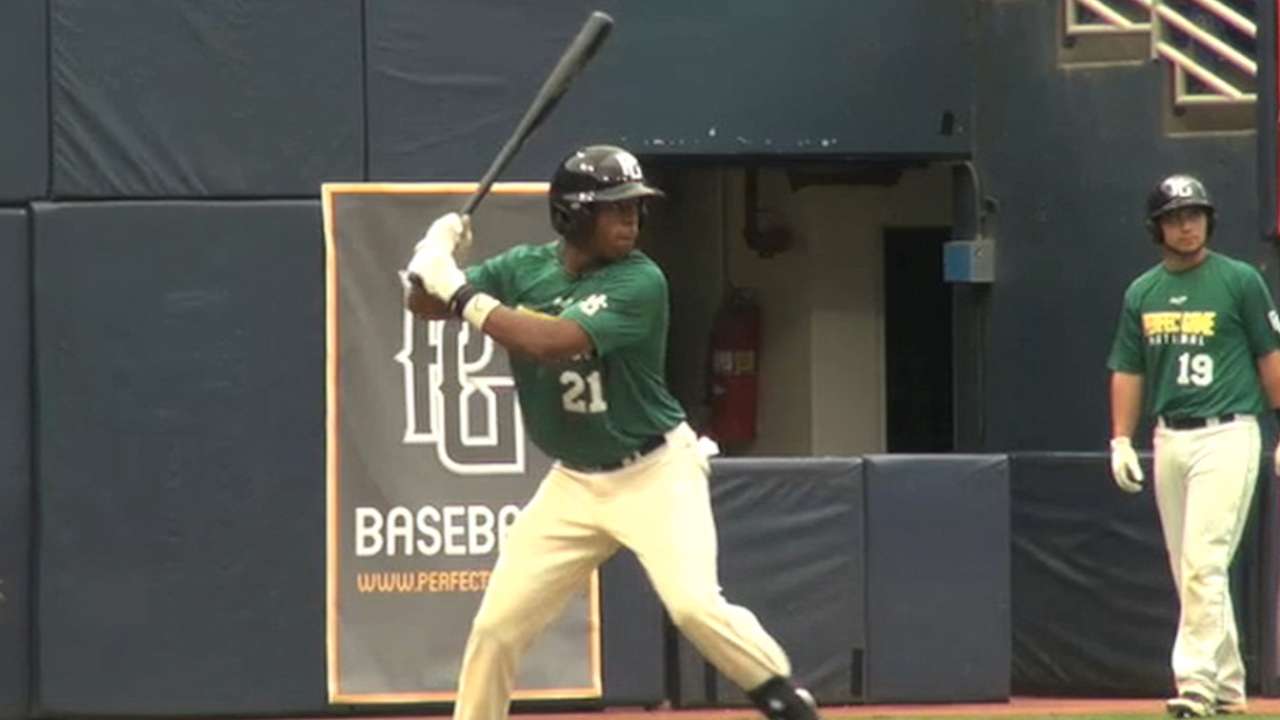 In each of the last two years, a high school outfielder from Georgia has been one of the most exciting prospects in the Draft class. In 2012, the Twins made Byron Buxton the second overall pick. Clint Frazier and Austin Meadows followed as top 10 picks a year later.
This year, however, not only is there no Georgia prep outfielder atop the Draft class, it is possible no high school outfielders will be selected in the top half of the first round of the First-Year Player Draft.
"With a lot of the high school outfielders, the bats are a little iffy," a scouting director said.
Instead, a pair of West Coast college juniors has distinguished themselves as the best available outfielders. University of San Francisco center fielder Bradley Zimmer, ranked No. 10 on MLBPipeline.com's Top 100 Draft Prospects list, and Oregon State left fielder Michael Conforto, No. 18, both have a chance to be selected in the top 10 picks and are expected to be off the board by midway through the first round.
The 2014 Draft will take place on June 5-7, beginning with the Draft preview show on MLB.com and MLB Network on June 5 at 6 p.m. ET. Live Draft coverage from MLB Network's Studio 42 begins at 7 p.m., with the top 74 picks being streamed on MLB.com and broadcast on MLB Network. MLB.com's exclusive coverage of the second and third days will begin with a live Draft show at 12:30 p.m. ET on June 6.
MLB.com's coverage includes Draft Central, the Top 100 Draft Prospects list and Draft Tracker, a live interactive application that includes a searchable database of Draft-eligible players. Every selection will be tweeted live from @MLBDraftTracker, and you can also keep up to date by following @MLBDraft. And get into the Draft conversation by tagging your tweets with #mlbdraft.
Zimmer's older brother, Kyle, was selected fifth overall by the Royals in 2012 and is now the club's No. 1 prospect. A freshman at the time, Bradley Zimmer got an early look at what his own Draft year would be like.
"It was very humbling watching my brother go through process," Zimmer said. "He had a great season here at USF. It was very fun getting a chance to play with him my first year."
Zimmer's junior season ended last weekend, when the Dons finished eighth in the West Coast Conference and missed the league's tournament. In 54 games this season, he hit .368 with seven home runs and 21 stolen bases.
Like Zimmer, Conforto comes from an athletic family. His father, Mike, was a linebacker at Penn State and his mother, Tracie Ruiz, won two gold medals in synchronized swimming at the 1984 Olympics.
Listed at 6-foot-2, 217 pounds, Conforto is built like a linebacker and brings a powerful bat to Oregon State's lineup. He enters the final weekend of the regular season hitting .369 with seven home runs and a 1.106 OPS.
Other well-regarded college outfielders include Virginia left fielder Derek Fisher, San Diego State center fielder Greg Allen and Oregon State right fielder Dylan Davis.
Though there is no clear star among the high school ranks, athletic players such as Monte Harrison and Derek Hill stand out. Harrison was a three-sport star at Lee's Summit West (Mo.) High School and is committed to Nebraska to play football and baseball. His raw tools are enticing, but scouts still have questions about his bat.
"His athleticism is ridiculous," a senior scouting official said. "The raw power/speed/athleticism combo, you're talking about elite level. Is he going to hit? That's the $2 million question. I feel a little bit better about Monte's bat than I did about Bubba Starling's."
Also expected to be lurking at the back of the first round is Gainesville (Ga.) High School center fielder Michael Gettys. He entered the spring with a chance to join Buxton, Frazier and Meadows as Georgia high school outfielders selected in the top 10 picks. Though he has impressive tools, he has struggled to hit good pitching, leaving scouts questioning his hitting ability.
In contrast, Hill is the son of Dodgers scout Orsino Hill and has the polish expected of a player with his background. The Elk Grove (Calif.) High School center fielder is one of the fastest and best defensive players in the Draft class. An Oregon recruit, he has played his way into the first-round conversation this spring.
"Hill is a very good center fielder with easy actions and is a well, well above average runner," the scouting director said. "You may have the least question marks with him."
It is possible the best outfielder in the class isn't even playing the position yet. Every year players change positions upon entering the professional ranks and scouts think some of this year's best position players may soon be headed to the outfield, including Indiana catcher Kyle Schwarber and Columbia (Miss.) High School shortstop Ti'Quan Forbes.
Rancho Bernardo (Calif.) High School catcher Alex Jackson is considered to be the best position player in the Draft class and some scouts think he'll eventually move to the outfield as well. His offense is enough ahead of his defense that a move to a less demanding position would enable his impactful bat to get to the big leagues faster. If he does change positions, he could follow the path blazed by Bryce Haper and Wil Myers to the outfield.
"You wonder if he'll stay behind the plate," a scouting director said. "He's a big guy and he'll be stronger three or four years from now. If he moves, it'll have to be a corner."
Teddy Cahill is a reporter for MLB.com. Follow him on Twitter at @tedcahill. This story was not subject to the approval of Major League Baseball or its clubs.